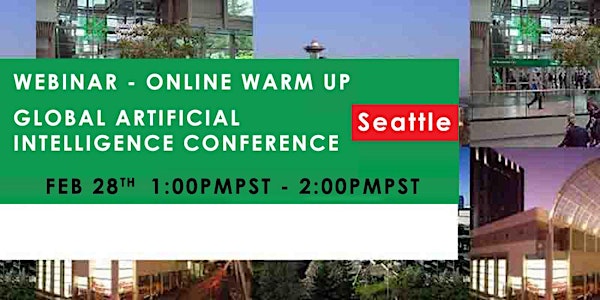 Global Artificial Intelligence Conference - Webinar - Online Warm-Up (Free)
When and where
Location
Washington State Convention Center 800 Convention Pl Seattle, WA 98101
Description
We are very excited to organize Global Artificial Intelligence Conference Seattle in April month! As we get closer to the conference, we want to invite you to participate in Global Artificial Intelligence Conference Webinar - Online Warm-Up.

We will features 4 speakers from our upcoming Global Artificial Intelligence Conference in Seattle each of which will present a 10 to 15 minute sessions including:


Schedule:
1:00PM-1:15PM : DeepBrew – AI at Starbucks (Brian Ames, Sr.Program Manager, Starbucks)
1:15PM- 1:30PM: rapids.ai (GPU) vs Spark (CPU) .. competitors and team mates(Claudiu Barbura, Director Engineering, Blueprint Technologies)
1:30 - 1:40PM: Workshop: Deep Learning by Design (Andrew Ferlitsch, Staff Software Engineer, Google)
1:40PM - 1:50PM : User Experience Now Includes Machine Experience (Marianne Sweeny, Principal, Daedalus Information Systems)
1:50PM - 2:00PM: Q&A

KRS Murthy (CEO, KRS Murthy) will moderate the webinar

Profile

Brian Ames, Sr.Program Manager, Starbucks
Topic - DeepBrew – AI at Starbucks


DeepBrew is the name of the first Starbucks AI Platform. This talk is by the Technical Leader of the project - from concept to Production system that is changing the culture at Starbucks.
Who is this presentation for?
Business Leaders, Technical PMs, and Innovators inside companies everywhere.
Prerequisite knowledge:
This talk is for anyone who has first hand knowledge of "all the challenges" of taking an AI concept - all the way to a Production platform supporting millions of dollars of revenue - and opening the door for an AI future.
What you'll learn?
How one giant company took a number of small steps - to build an AI future.

Claudiu Barbura, Director Of Engineering at Blueprint Technologies
Topic - rapids.ai (GPU) vs Spark (CPU) .. competitors and team mates


Profile
Claudiu is Director of Engineering at Blueprint Technologies, he oversees Product Engineering where he builds large scale advanced analytics pipelines, IoT and Data Science applications for customers in oil & gas, energy and retail industries. Formerly VP of Engineering at Ubix.io, automating data science at scale and Sr. Dir. of Eng, xPatterns Platform Services at Atigeo, building several advanced analytics platforms and applications in healthcare and financial industries, Claudiu is a hands on architect, dev manager and executive with 20+ years of experience in Open Source, Big Data Science and Microsoft technology stacks, frequent speaker at data conferences.


Andrew Ferlitsch, Staff Software Engineer, Google
Workshop: Deep Learning by Design


Abstract
Modern design of neural networks in computer vision using design patterns. Covering CNN, AutoEncoders, GANs, Object Detection. Will demonstrate principles using Composable pattern for Automatic Learning. All code examples are in TF 2.0/Keras.
Who is this presentation for?
Junior to advanced data scientists
Prerequisite knowledge:
Python TF 1.X Keras Deep Learning
What you'll learn?
1) How to construct models that are AutoML friendly and guide the search space. 2) General AutoML concepts "under the hood" 3) The TF.Keras functional API for coding models.

Profile
Andrew Ferlitsch is an expert on computer vision and deep learning at Google Cloud AI Developer Relations, and formerly a principal research scientist for 20 years at Sharp Corporation of Japan, where he has 115 issued US patents and worked on emerging technologies: telepresence, augmented reality, digital signage, and autonomous vehicles. Currently in his present role, he reaches out to developer communities, corporations and universities, teaching Deep Learning and evangelizing Google's AI technologies.

Marianne Sweeny, Principal, Daedalus Information Systems
User Experience Now Includes Machine Experience


Abstract
User experience now includes a new user segment, machines and software. This "machine experience" occurs when algorithms engage with human structures, designs and content. However, machine users do not act, engage or think like human ones. UX for machine intelligence is an experience that is calculated, not observed. It is predicted based on past behavior rather than informed by human understanding. It is determined by machine intelligence rather than guided by empathetic, collaborative design thinking. As artificial intelligence and machine learning increase in power and prevalence, how can we ensure that it serves human needs as well as fulfill its instructions? In this session, we will explore the intersections between AI, information architecture, design, user experience and content strategy.

Profile
Marianne Sweeny considers herself a Search Information Architect (IA), that would be an IA with deep experience in UX, search engine optimization (SEO) and content strategy. Marianne first started advocating the relationship between information architecture, user experience and search engines in 2007. Google converted her seeming heresy to dogma with its Panda update in 2011. She is passionate about dissolving the silos between information architecture, content strategy and Web development to create a more unified approach to solving user needs for an optimal user experience. Spring quarter finds Marianne teaching INFX 544 Introduction to Information Retrieval at the University of Washington Information school. She is past president of the Information Architecture Institute and a frequent speaker at UX and digital marketing conferences to further understanding and awareness of AI history and development. She is determined to get more IA, UX and content professionals aware of their influence over the development and performance of AI systems so that they can contribute to the development of these key technologies.