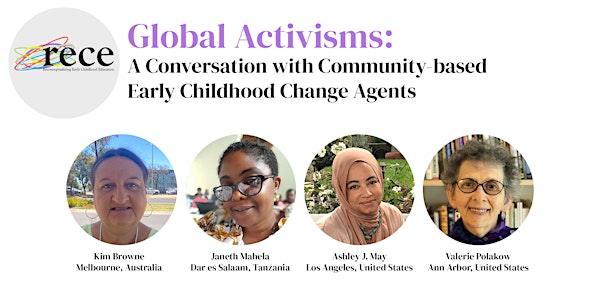 Global Activisms: A Conversation with Early Childhood Change Agents
We bring together change makers from three continents to share their experiences in field-based activism, organizing and change work.
About this event
We are excited to announce the first event in the 2023 RECE Global Conversations Webinar Series: Global Activisms: A Conversation with Community-Based Early Childhood Change Agents.
This event brings together change makers from three continents to share their experiences in field-based activism, organizing and change work. The event will be facilitated by long time activist educators and will unfold through conversation, Q&A and inter-presenter dialogue. Engaging in rich conversation across generation and location, our speakers and facilitators invite each other and the audience to explore critical questions, inspirations and strategies for change within, between and across communities.
This event is organized and chaired by Chelsea Bailey (chelsba21[at]icloud.com), RECE Virtual Events Chair/Organizer. University of North Texas is providing hosting services for the webinar.
Practitioner Activist Presenters:
Kim Browne, Melbourne, Australia
Kim Browne's academic work intersects across wide, but interconnective spaces. Kim is an Indigenous Knowledges lecturer at the National Indigenous Knowledges Education Research Innovation (NIKERI) Institute at Deakin University, Waurn Ponds campus on Wadawurrung Country in Geelong, Victoria, Australia. She is a proud descendant of the Adnyamathanha and Nukunu Peoples and Country in South Australia and actively works to speak to past and current colonizing harms experienced upon and to First Nations People and their Indigenous Communities in Australia. Kim is also an early childhood educator with vast experience in a wide range of services, actively bringing Indigenous knowledges to the foreground with all children, families and colleagues as part of challenging, reflective and just pedagogical practices. She also lives as a legally blind person and alongside her assistant dog Raya, has been working as an early childhood teacher and actively writing about her lived experiences and how it is to live with disability and work as a teacher as part of her current PhD studies.
Janeth Mahela, Dar es Salaam, Tanzania
Janeth C Malela is a Founder and Managing Director of Anjita Child Development Foundation, a not for profit organization that operates in the Early Childhood Development area in Tanzania by providing child care services to marginalized children in rural and urban settings. Prior to that, she worked with Plan International, BRAC, Save the Children and Right to Play where she successfully managed and coordinated Early Childhood Development initiatives. She has played key roles in developing the Tanzania National ECD Care worker guide, National Play and Learning Materials guide and National guideline for Community Based ECD and Day Care Centres guidelines. Through the Anjita Child Development Foundation, she worked with over 1200- Child care providers from Day Care Centres and Community Based ECD centres in 6 regions of Tanzania. She holds a Masters of Public Health from University of Dar es salaam and BSc from Sokoine University and completed online Leadership in true Play course organised by Anji play-China and the "Play maker" course organized by Play360 (UK). Janeth has travelled and presented programme issues on how to advocate for children's early learning in the UK, Bangladesh, China, USA and Denmark. Her passion lies in Early Childhood Development in developing countries.
Ashley J. May, Los Angeles, United States
Ashley J. May is an ethnographer of childhoods and the Founder of the Grassroots Morning Garden Project in so-called South Los Angeles, California—the ancestral, unceded territory of the Tongva people. Through a community grounded, Black feminist ethnographic praxis, she explores place, kinship, culture, alongside histories of displacement and dispossession that form a distinct, collective memory and identity for Black children and their kin across the diaspora. Ashley's work began with community based, woodland gatherings organized to better understand informal networks of care within the South Los Angeles community. And, it has grown into a collective effort to re-imagine how we take care of each other outside of and in opposition to formalized systems of care and the red tape that binds us. Ashley archives her current experiments in community engaged ethnography through a three-volume research zine and oral history project titled Thirty Sunsets and a Moon. This work is held at the University of Massachusetts, Amherst Black Feminist Archive and the Barnard College Special Collections Zine Library.
Interviewers/Provocateur:
Valerie Polakow, Ann Arbor, United States
Valerie Polakow is currently Professor Emerita of Early Childhood, Educational Psychology and Educational Studies at Eastern Michigan University. As a public educator, advocate, and activist on behalf of low-income women and children, her scholarship has focused on poverty, inequality, and social policy and their impacts on children and families in both the United States and cross-national contexts. In her writings she has documented the lived realities of those who have been shut out— from early childhood, primary, secondary, and post-secondary education, in order to give voice to those whose rights have been violated by poverty, race, ethnic, and gender discrimination. Valerie Polakow's work encompasses the impact of public policies on educational equity, welfare, homelessness, children's rights, and access to child care in marginalized communities. Her many books and articles include Who cares for our children? The child care crisis in the other America; Lives on the edge: Single mothers and their children in the other America; Diminished rights: Danish lone mother families in international context (with T Halskov and P.J. Jørgensen); and The Erosion of Childhood.