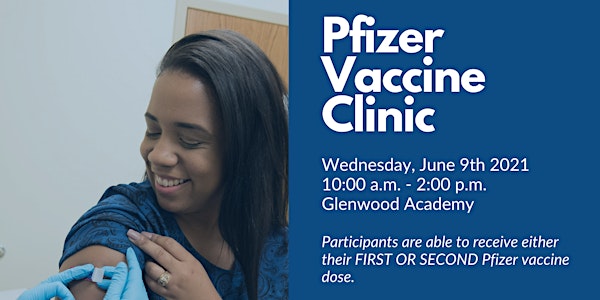 Glenwood Academy Pfizer Vaccine Clinic
Location
Glenwood Academy
500 West 187th Street
Glenwood, IL 60425
Thank you for registering for the Pfizer Vaccine at Glenwood Academy on June 9th
About this event
About this event
Glenwood Academy is proud to once again partner with Roseland Community Hospital to host a Pfizer Vaccine clinic on Wednesday, June 9th.
Who qualifies: Anyone 12 years of age or older (anyone under 18 must be accompanied by a parent or legal guardian).
There are limited appointments available and are on a first-come first-serve basis. Registration is required. On-site appointments or walk-in registrations will NOT be available.
PLEASE READ OVER THE FOLLOWING DETAILS CAREFULLY:
1. Limited vaccine supply available. Registration is required.
2. Participants are able to receive either their FIRST OR SECOND Pfizer vaccine dose
3. For individuals receiving their first dose, you must return on June 20, 2021, to receive your second dose in order for the vaccine to be effective. Your second dose will be administered on June 20, 2021 at the same time as your first appointment.
4. Masks are required. If you are sick or have been exposed to anyone with COVID-19 in the past 14 days, please stay home.
5. You MUST bring a copy of your event ticket, insurance card and picture ID. If you do not have insurance you may still receive the vaccine, but you will need to provide a photo ID.
6. Please look for a follow up email prior to your appointment from nsheahan@glenwoodacademy.com - it will have important information you will need to complete for your appointment.
7. Plan to be at the appointment for at least one hour.