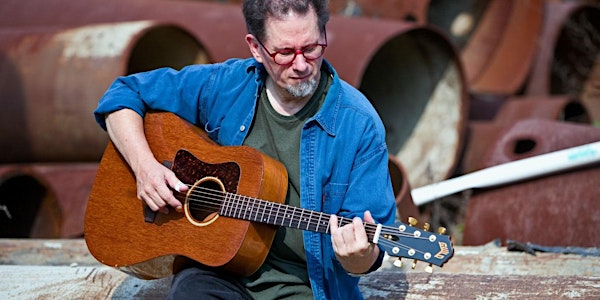 GLENN JONES with special guest Jen Starsinic at the Susquehanna Art Museum
Location
Susquehanna Art Museum
1401 North 3rd Street
Harrisburg, PA 17102
Refund policy
Contact the organizer to request a refund.
Eventbrite's fee is nonrefundable.
Glenn Jones (from Boston) returns to Harrisburg! With special guest Jen Starsinic. At the Susquehanna Art Museum, Friday April 8th, 7PM
About this event
FRIDAY APRIL 8th, 7PM: GLENN JONES (from Boston)
Legendary 6 and 12 string guitarist brings his American Primitive style of guitar to the Lehr Gallery at the Susquehanna Art Museum.
Glenn's album, "Fleeting" was named as one of the "Top 10 Solo Guitar Records of 2016" by NPR.
Premier Guitar Magazine writes, "Whether he's channeling ecstatic visions of his youth—dappled with hazy vestiges of Jimi Hendrix, Captain Beefheart, Harry Partch, Tim Buckley, and Can—or paying direct tribute to his friend and mentor, John Fahey, Jones can make a guitar sing with an almost otherworldly expressiveness that only comes from years of practice, dedication, and experimentation"
Glenn is touring in support of his new album "Vade Mecum" which will be released on Thrill Jockey Records this year.
Also on the bill is Jen Starsinic, a musician from Harrisburg, now residing in Nashville, Tennessee.
Doors at 6:30, show at 7pm. $10. More information at www.moviate.org
MORE PRESS for Glenn Jones:
"...establishes the guitar aficionado as nearly being in a world of his own as far as technical prowess and emotional resonance goes... a wonderful and mesmerizing album of masterful guitar work from one of contemporary music's finest... a graceful, nuanced, tranquil affair..." -Audiversity.com
"...captivating... Jones' slide work on the resonator guitar sounds especially meaty, and when all six, and sometimes 12, strings start chiming as he fingerpicks, the effect is shimmering." -Mike Shanley, Harp
"Besides his determined, dexterous finger picking, Jones uses half-capos and alternative tunings to create incandescent sitar-like sounds... these shimmering musical meditations evoke a wondrous tranquility that's simply soulful." -Linda Laban, Boston Globe
Note: No food or drink will be allowed in the Lehr Gallery where the performance will be held.
more information at: www.moviate.org