Location
#glendonfest
101 Street Place Road
Glendon, NC 27325
Glendonfest is a gathering of musicians and music lovers at a rural and rustic 21 acre farm, deep in the heart of Moore County...
About this event
WHO WANTS A T-SHIRT?!?! 😍 a beautiful souvenir, this once only run of shirts will NOT last (limited quantities! if we have any left from the pre-order we will certainly sell them at the event, however, there aren't many, so don't hesitate!)
They are $20 each, but you can fluff up that donation if ya want! 😊
please follow the ordering/pre-payment instructions on this form/link and fill it out as completely as possible so we can make sure we reserve your shirt(s)! any further questions about this can be sent to thefarmacyllc@gmail.com. THANK YOU!!!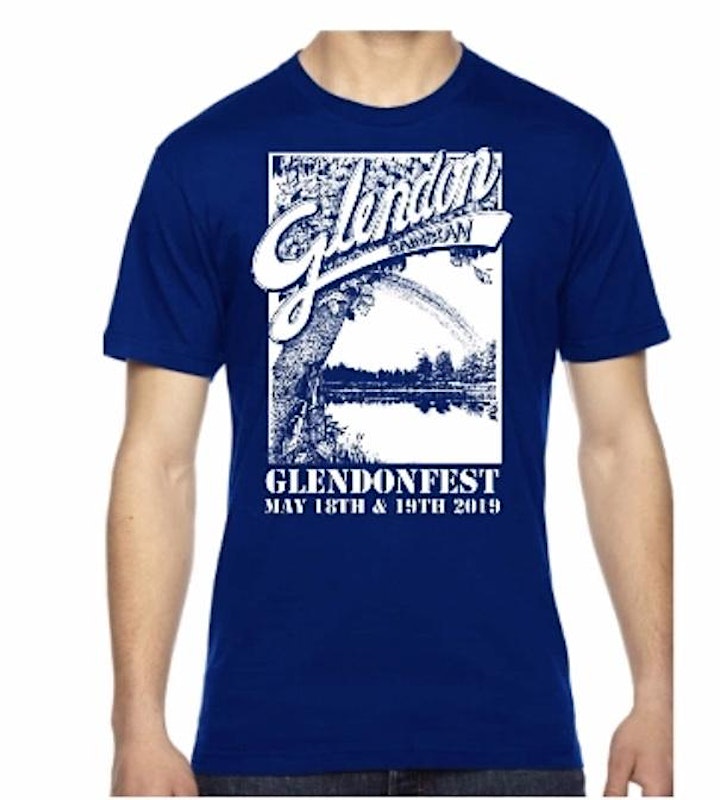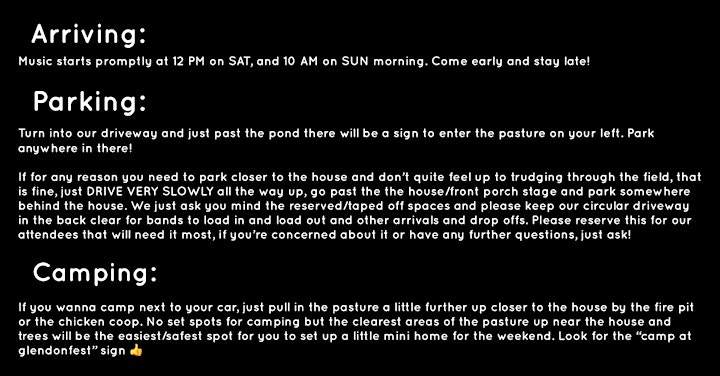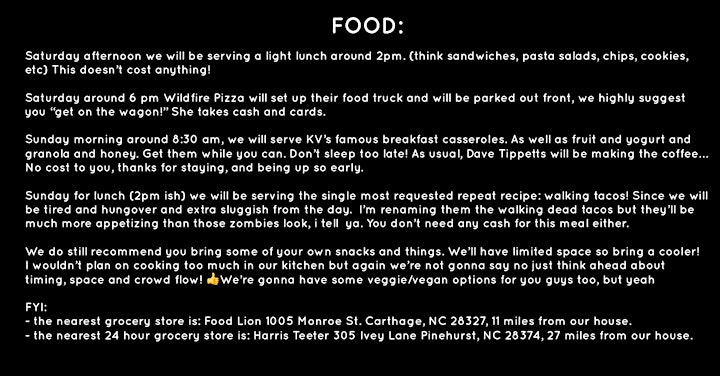 SATURDAY MAY 19TH 12 NOON - 9 PM &
SUNDAY MAY 19TH 11 AM - 4 PM
"I love this kinda carrying on..."
Please join us this spring for the 7th installment of our little homegrown music fest. This May, we're giving you TWO FULL DAYS of fantastic fun. Starting at high noon on Saturday the 18th, and ending on the lazy Sunday afternoon of May 19th, you'll get a chance to come spend some time with your friends and family, explore the rural surroundings, soak in the history of the buildings on the property, even camp out under the stars if you feel so inclined to stay all weekend, and most importantly... you'll get to hear ORIGINAL LIVE MUSIC FROM 24+ BANDS AND ARTISTS! (Some artists have been announced - see the pics below. Full lineup posting soon!)
We will also have some incredible art on display by our beloved "artist in residence" James Beddard, plus other fun activities to keep you entertained. We'll even be serving you delicious snacks and getting a couple food trucks out here to satisfy your more rumbly cravings.
We welcome you to bring your family & your friends, and feel free to share the info with other people you think might enjoy this. Be sure that you encourage them to RSVP, give them the heads up about these details, and check out our simple rules list below. We live here, so we just ask that you think about who you're bringing into this community and if you also would invite them into yours.
We do not charge, however we do ask that if you're able to, PLEASE donate to the musicians to help us pay them for their time and talent, we will gladly be providing several easy as pie ways to get us that spare change, before, during, and after the event, digitally or in leafy green cashy spending money
*****
We only have three simple rules:
1.) HANDLE YOUR SCANDAL -
Be cool, ya'll... you know what we mean! BYO whatever, but take care of yourselves and each other.
Don't forget, LV and Dave, your hosts, do not drink alcohol, but it's no problem at all if you do! Bring enough, there's limited selection for purchase in the area, to say the least. Wouldn't hurt to bring a little extra to share with a friend who doesn't plan well either, cause late night beer runs are kinda difficult.
2.) KEEP THIS SPACE SAFE -
No hate speech, absolutely zero discrimination, and respect for ALL artists and attendees, is mandatory. There is a beautiful mix of folk of diverse people of all ages, cultures, orientations, backgrounds and beliefs that attend this event, and every single one of them deserves your best behavior.
Also, keep yourself, your pets or your kids safe too! Both are welcome, but there's some rustic buildings and items laying around out here, and the property is not really securely fenced in. So keep an eye out for those adventurous curious little ones, and bring a leash for your pet if you think they would get a little too stoked about the wide open spaces and run off, or just in case they get into a political argument with another dog.
3.) IF A ROOM IS CLOSED OFF OR MARKED PRIVATE, DON'T GO IN IT -
We have plenty of space for you to wander, however sometimes there's a reserved room with a closed door, or a sign marked private cause we have some neurotic animals that need their seclusion, and let's be real, no one needs to see the hot mess that is our general event storage room/prep area. :)
I'll also note here that we ask you respect the privacy of our neighbors. They are more than kind and so very chill about us throwing this party, some attend and hang out with us, but please don't wander into their yards, or on their property. Stick to the designated parking and camping areas, wander back into our own acres, and if you're up to it, you can even go hang out in your van down by the river, but let's stay "off those lawns" of others, please and thank you.
*****
We hope to see you there. We will be announcing the music line up, and various other details soon, so stay in touch! Join our social media group so you don't miss anything (www.facebook.com/groups/glendonfest) or include your email address when RSVP-ing so we can keep you in the loop.