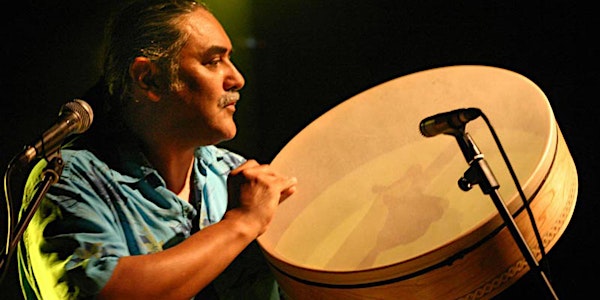 Glen Velez Handance Ensemble: Excerpts from Doctrine of Signatures
Event Information
Location
Hogan Ballroom, College of the Holy Cross
1 College Street
Worcester, MA 01610
United States
"A galaxy of timbres and inflections …remarkable rhythmic fireworks" —The New York Times
About this event
Silkroad artist and percussionist Shane Shanahan returns to Holy Cross with his long-time mentor, percussion master Glen Velez, exploring the universal link between rhythm and spirituality. A four-time Grammy Award winner, Velez is regarded as a leading figure in the modern frame drum movement. Velez's virtuosic combinations of hand movements, finger techniques, along with his original compositional style, which incorporates stepping, drum language and Central Asian Overtone singing (split-tone singing), has undoubtedly opened new possibilities for musicians around the globe. Shanahan and Velez are joined by percussionist Yousif Sheronick, rhythm vocalist Loire Cotler and Raman Kalyan, a leading flautist in the Indian Carnatic style, in an hour-long presentation with conversation and excerpts from Velez's 1989 composition "Doctrine of Signatures," a seminal work that inspired John Cage to compose for Velez.
FEATURING
Glen Velez, Frame Drums, Mbira, Voice, Overtones, Riq
Yousif Sheronick, Frame Drums, Voice, Riq
Shane Shanahan, Frame Drums, Voice, Riq
With special guests Loire Cotler, rhythm vocalist, and Raman Kalyan, Indian bamboo flute
HANDANCE WORKSHOP with Glen Velez and guests immediately following (60 minutes)
Open to community percussionists of all levels. Free registration with ticket purchase; space is limited.
HEALTH & SAFETY
We are taking every possible precaution for the safety of all.
Upon arrival, patrons must show PHOTO ID and PROOF OF FULL VACCINATION, including a BOOSTER SHOT. MASKS ARE REQUIRED indoors for all patrons and staff, regardless of vaccination status, and they must be surgical masks (or better).For additional details, visit us at www.holycross.edu/atb/visit.
Date and time
Location
Hogan Ballroom, College of the Holy Cross
1 College Street
Worcester, MA 01610
United States