Glaucoma Symposium Optometry Continuing Education
Description
GLAUCOMA SYMPOSIUM
Western University of Health Sciences
HEC Bldg, 701 E. 2nd Street, Pomona, CA 91766
Earn 6 CE Credit Hours
---
Topics
Imaging of the Eye: Life with Advanced Gadgets, 1 CE Credit Hour
Clinical Diagnosis and Management of Glaucoma, 2 CE Credit Hours
Advances in Imaging of the Eye – OCT-Angiography, 1 CE Credit Hour
Updates in Glaucoma Pharamcology, 2 CE Credit Hours
---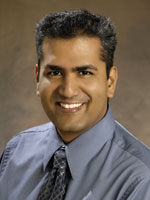 Speaker: Pinakin Davey, OD, PhD, FAAO
Dr. Pinakin Gunvant Davey, Professor and Director of Research at Western University of
Health Sciences, College of Optometry. He received his PhD from Anglia Ruskin University in
Cambridge, England, in the area corneal measurements and its influence on glaucoma. His
post-doctoral research fellowship was on improving imaging techniques in glaucoma at the
University of Louisville. He graduated with his Doctor of Optometry from Southern College of
Optometry. He is a fellow of the American Academy of Optometry and member of Optometric
Glaucoma Society. Dr. Davey's primary research interests are in the area of glaucoma,
particularly improving diagnostic abilities and clinical management of patients.
Dr. Davey has authored over 50 journal publications and book chapters, and has given over
200 conference and invited presentations both nationally and internationally.
---
Agenda
8:00 am-9:00 am Registration and Breakfast

9:00 am-9:50 am

Imaging of the Eye: Life with Advanced Gadgets- 1 CE Credit Hr

9:50-10:00 am Break

10:00 am -12:00 pm Clinical Diagnosis and Management of Glaucoma- 2 CE Credit Hrs

12:00 pm-1:00 pm Lunch

1:00 pm- 2:00 pm Advances in Imaging of the Eye – OCT-Angiography -1 CE Credit Hr

2:00-2:10 pm Break

2:10 pm- 4:00 pm

Updates in Glaucoma Pharmacology, 2 CE Credit Hours
---
For additional information please contact Tiffany Witherspoon, Director of Continuing Educationa at 909-706-3493 or twitherspoon@westernu.edu.

---
Eye Experience Free Monthly Webinar's
www.westernu.edu/optometry/ce