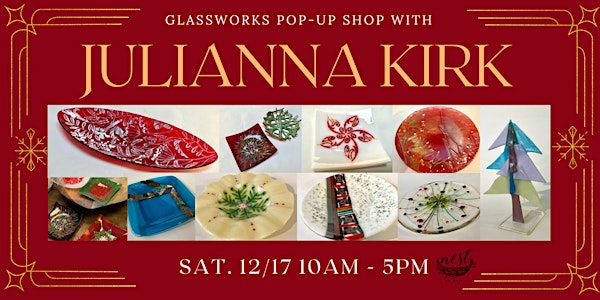 Glassworks Pop-Up Shop with Julianna Kirk
Meet Julianna Kirk a Glass Artist
When and where
Location
Nest on Main 135 Main Street Northport, NY 11768
About this event
On December 17th, we invite you to the Glassworks Pop-Up Shop with Julianna Kirk. She specializes in creating glass art pieces and exhibits her work at local galleries. As an educator, she passionately shares her knowledge and offers opportunities for others to appreciate the craft of glasswork. Julianna brings her craftmanship to Nest On Main with her unique handmade glass dishes, plates, large serving platters, and funky Holiday trees. All glass art will be available for purchase during the event.
Julianna Kirk is an artist and educator living on Long Island, NY. She has exhibited her work throughout her life, and her primary love is glass though she is proficient in multiple art media. Her visual influences have been from her travels, personal relationships, and her reaction to environmental issues. Currently, her work is represented by the Gallery North on Long Island and the b.j. Spoke in Huntington, NY. Her glass, photography, drawing & collage work has garnered awards and was recognized at The Society of Illustrators, Salmagundi Club, Nat. Assoc. of Women Artists, Taipei Institute, Williamsburg Art Center, and Brooklyn Waterfront Artists Coalition. She has had solo exhibits, and remains the Glass media chair in the Long Island Craft Guild.
To learn more about Julianna Kirk and her work we look forward to seeing you at the event!