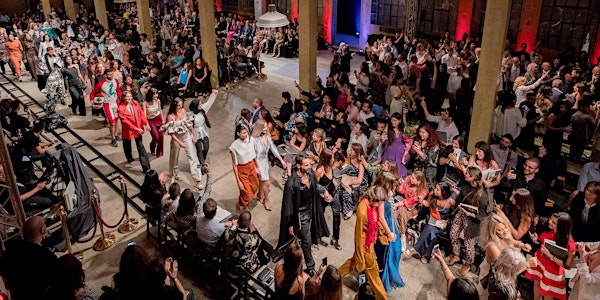 Glass Slipper or Glass Ceiling? Connecting the Fashion Industry and Gender Equality
When and where
Location
Lebanese American University New York Headquarters and Academic Center 211 E 46th Street New York, NY 10017
Description
Glass Slipper or Glass Ceiling? Connecting the Fashion Industry and Gender Equality
Gender equality is a critical issue – now more than ever. It is embodied in the United Nations Sustainable Development Goals, as well as global movements such as #MeToo, and others who are working to end inequalities, promoting empowerment of women and girls, ending discrimination and eliminating all forms of violence. While the movement continues to make gains in all aspects of political, economic, and public life – much still needs to be accomplished.
Fashion can be a force for change and has the clout to advance women's empowerment and gender equality. LAU NY, in collaboration with London College of Fashion at UAL, and Parsons School of Design at The New School, is proud to host a panel discussion at the LAU New York Headquarters and Academic Center, bringing together key players shaping the global fashion industry to explain why fashion matters, and how it can be used to advance this cause.
Moderator:
Dr. Lina Abirafeh, Executive Director of the Arab Institute for Women at the Lebanese American University. Her background is in gender-based violence prevention and response in development and humanitarian contexts. In 2018, Lina was listed as one of the Gender Equality Top 100: The Most Influential People in Global Policy - one of only two Arabs to make the list.
Panelists:
Frances Corner, OBE, is Head of London College of Fashion, and Pro-Vice-Chancellor, University of the Arts London. She is a fashion activist, committed to using the power of fashion to tackle social, environmental, economic and ethical issues. She is a key voice in shaping the global fashion industry.
Burak Cakmak is Dean of Fashion at Parsons School of Design at The New School. His agenda includes educating the next generation of fashion creatives about the importance of social responsibility to tackle wider political and social issues including feminism and inclusivity.
Dayle Haddon is a model, actress, author, and speaker with a long career in the fashion and beauty industry. She is also a UNICEF Ambassador, member of Council on Foreign Relations, Gender Equality Advisor at the G7, and founder of WomenOne for global girls' education.
Jason Steel leads the B.A. in Fashion Design program at Lebanese American University. Steel has taught in the UK, Beijing, Taipei, Singapore and Hanoi. When he is not in Beirut, he is in his native York with his dachshund Walter.
The discussion will be moderated by Dr. Lina Abirafeh, Executive Director of the Arab Institute for Women at the Lebanese American University.
Co-sponsors:
London College of Fashion, University of the Arts London is a world leader in fashion design, media, and business education. In boundary-pushing research where fashion intersects with science, engineering, and technology, and in enterprise, where it partners with top brands and helps launch new businesses. It has been nurturing creative talent for over a century, offering courses in all things fashion. Across every subject, it encourages students to examine the past and challenge the present. To have inventive, assertive ideas that challenge social and political agendas. It gives them the skills, opportunities – and above all, the freedom – to put those ideas into practice.
Parsons School of Design, known colloquially as Parsons, is a private art and design college located in the Greenwich Village neighborhood of Lower Manhattan in New York City. It is one of the five colleges of The New School. The school is widely regarded as one of the most prestigious art and design schools in the world and ranks consistently as the top art and design school in the United States.
LAU's Bachelor of Arts in Fashion Design, the goal of the Elie Saab Bachelor of Arts in Fashion Design is to provide for the development of inspiring artifacts in various fashion fields in response to different cultural settings. The program offers a comprehensive range of courses that foster creativity and expand students' educational, cultural and artistic knowledge and skills. The program also develops students' practical training in design, in addition to developing their knowledge of management of design products in a globalized world.
Registration for this event is mandatory. Please arrive on time. Registration through Eventbrite does not guarantee late admission, and seats may be given away to wait-listed guests after the start of the event. LAU has limited capacity and reserves the right to turn away patrons, if necessary, for the safety of our guests.