Description
Two Hour Experience for Two People
About the workshop: Bring a friend and create memories and art together. Participants will begin by each blowing an ornament and then can choose a cup or bowl each. Instructor George-ann Greth will guide you both and you get extra knowledge as you help each other complete the pieces. You must where closed-toe shoes, no flip-flops allowed. Long hair should be tied back. Cotton clothes recommended.
You will learn the vocabulary, and about the tools and skills involved in basic glass blowing and get hands-on with guided demonstrations to put those skills in action! Items made will cool over-night in an anealing oven and may be picked up later. You have an option to pay an additional $8 at the event to have your mug shipped to you if you are coming from further away.
How much is it? The workshop is $300.00 + eventbrite fee of $9.49 for two people if reserved through eventbrite in advance and $325.00 at the door (if sessions are still available). This fee includes all materials and instruction to make one item with custom colors.
Who can participate? This workshop is for adults, teens (aged 14 to 18 with parental permission), or children as young as 7 with supervision of a responsible adult. Glass Blowing involves hot furnances, hot glass, and sharp tools. You will receive safety instruction but we ask that you please keep tabs on any children you bring with you (participating or observing.)

Details: Your two-hour session begins with safety instructions and an overview of the process. Please arrive no later than five minutes before your scheduled time. If you haven't checked in by then, your session may be sold to someone else who is on site. There is nothing for you to bring, all safety equipment and tools will be provided. Again, you must where closed-toe shoes, no flip-flops allowed. Long hair should be tied back. Cotton clothes recommended.
This workshop will be conducted both outdoors and indoors. Glass blowing is outdoors (under a tent), safety lessons and color picking may be indoors. You are welcome to hang-out indoors before and after your workshop session. This event will be conducted rain or shine. In the event of adverse weather or bad driving conditions we will reschedule this workshop and/or grant credit for future sessions for those who can not attend.
Feel free to take photos or record videos. If you post anything online related to your visit please tag @STEAMJunction and use the hashtag #SteamJunctionGlass

Sign Up Soon: Sessions are two hours long. You may make your project(s) as an individual or with the help of your family or a friend.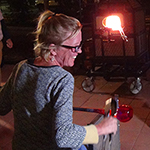 About the Instructor: George-ann Greth is an experienced and accomplished artist, glassblower, and educator and is wonderful at including all in the acitivity. She has taught glass blowing to beginner and highly advanced students for over twenty years. Past workshop participants have commented on how entertaining and fun George-ann is during her workshps here. We're very happy to have her back at STEAM Junction!
Make a day of it, explore Downtown Burlington! While you are Downtown Burlington make sure to support locally owned downtown businesses. Grab lunch or dinner, coffee, ice cream or a snack at great places like Valerio's Italian Restaurant, Smitty's Home Made Ice Cream, The Blend & Co, Danny's Cafe, Zack's Hotdogs, and more. Check the schedule at the Paramount Theater. Visit May Memorial Library. Night life in Burlington includes the Rusted Bucket and the Burlington Public House on Davis. Support Downtown Burlington! #GetInDtownBtown