Sales Have Ended
Ticket sales have ended
Thank you for your interest in our glass blowing workshop. Although ticket sales have now ended, it is possible that someone may cancel or not show up for their session. We advise that you call STEAM Junction to ask about possible empty slots that may still be available. We will try to fit in walk-ins if possible. (material availability, kiln space, and time are our limiting factors)
Sales Have Ended
Ticket sales have ended
Thank you for your interest in our glass blowing workshop. Although ticket sales have now ended, it is possible that someone may cancel or not show up for their session. We advise that you call STEAM Junction to ask about possible empty slots that may still be available. We will try to fit in walk-ins if possible. (material availability, kiln space, and time are our limiting factors)
Description
Celebrate Christmas in July
Make your own hand blown glass ornament for yourself or as a gift!
Workshops offered as 1-hour sessions starting on Friday, July 27 at 4pm to 8:30pm and continuing on Saturday July 28, at 11am to 5:30pm. Pick the day/session that is best for your schedule.
About the workshop: Instructor George-ann Greth, a glass blower for 29 years will guide you through the process of blowing glass. Glass, colors, and tools will be provided. Each student will chose their colors and apply their colors to the bubble. Then students will blow and form the ornament shape.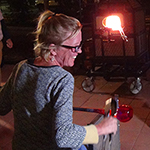 How much is it? The workshop is $50.00 + eventbrite fee of $3.24 and $60.00 at the door (if sessions are still available).
Who can participate? Class is open to students ages 7 and up.
Observe for Free: Sessions are open to the public for observation. If you would like to watch the glass blowing but will not participate, you are free to watch and learn.
Details: Your one-hour session begins with safety instructions and an overview of the process. We recommend you arrive early to check-in and observe the previous session. Please arrive no later than five minutes before your scheduled time. If you haven't checked in by then, your session may be sold to someone else.
The workshop is both outdoors and indoors and will be conducted rain or shine. In the event of adverse weather or bad driving conditions we will reschedule and/or grant credit for future sessions for those who can not attend.
Feel free to take photos or record videos! Tag @STEAMJunction and use the hashtag #SteamJunctionGlass
Important for Safety: Glass Blowing involves hot furnances, hot glass, and sharp tools. You will receive safety instruction but we ask that you please keep tabs on any children you bring with you (participating or observing.)
Make sure to wear proper clothing! You must wear closed toed shoes. Flip-flops are not allowed. We also recommend long pants, that you tie back long hair, remove all jewelry, and wear safety glasses or goggles (we provide safety glasses).
Christmas in July: Other downtown activities at Fourth Friday, July 27
There will be free live music at the Historic Depot, food trucks, recreation and parks activities for the whole family, multiple vendors and exhibitors around the historic train station, and many of our downtown businesses will be hosting special events and promotions, including other Christmas in July events. Check out Game Night and Winter Ice Cream Flavors like Egg Nog and Pepermint at Smitty's Home Made Ice Cream, Book Signings at Persnickety Books, and many other fun events around town. A great reason to come in on Friday Night, come to blow glass, stay for all the celebrations!
More Christmas in July at STEAM Junction
In addition to glass blowing STEAM Junction will also have more Christmas in July events going on this same weekend:
Tyler Dalton AKA #ArtisanPirate will do demonstrations of hand-woodworking on the scroll saw by making nativity scenes and other Christmas Themed projects. He will have his Christmas and religiously themed art on sale at the Maker-Made store. Tyler will be available one-on-one scroll saw lessons for anyone aged 7 and up.

Local artist Alec Poteat will lead a Walk-up Workshop to make custom laser-engraved Christmas ornaments using the MUSE laser cutter. Pick from colored acrylic or wood, and walk away with four custom Christmas ornaments that include your custom text or even laser engraved photographs. ($20)

Saturday only: Get yourself or your loved one 3D Scanned and 3D Printed. Learn more and sign up here!
Make unique Christmas presents! Join STEAM Junction as a member to make gifts between now and Christmas. Don't know where to start? We can help and guide you every step of the way.
Follow the STEAM Junction Eventbrite Page and Facebook Page to stay up to date.