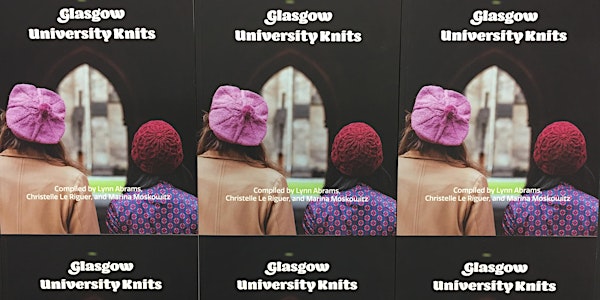 Glasgow University Knits Pattern Book Launch
Join us to celebrate the launch of the pattern book and meet the designers inspired by the university's architecture.
About this event
The origins of this book of knitting patterns inspired by the built environment of the University of Glasgow lies in research carried out by the 'Fleece to Fashion' team of historians in the School of Humanities into the economies and cultures of hand knitting in Scotland from the eighteenth century to the present - www.fleecetofashion.gla.ac.uk
The pattern book is the result of a collaboration between historians, the University Archives and a talented band of independent Scottish knitwear designers. Their designs are inspired by old and new elements of our buildings, from the 'gothic' tower and cloisters to the modern perpendicularity of the University Library.
The book was compiled by Lynn Abrams, Christelle Le Riguer and Marina Moskowitz and features designs for garments and accessories modelled by our staff and students.
A link will be sent to all ticket holders before the start of the event.