Glasgow Mini Maker Faire 2018

Sunday, 29 July 2018 from 11:00 to 16:30 (BST)
Event Details
Enjoy a fun day of invention and creativity on the Clyde!
Glasgow Mini Maker Faire is a gathering of fascinating, curious people who enjoy learning and who love sharing what they can do. From engineers to artists to scientists to crafters, Maker Faire is a venue for these "makers" to show hobbies, experiments, projects.
We call it the Greatest Show (& Tell) on Earth—a family-friendly showcase of invention, creativity, and resourcefulness.
Glasgow Mini Maker Faire will take place on Sunday, July 29th at the Tall Ship at Riverside, Glasgow.
http://glasgow.makerfaire.com/
Attendance is Free!  Why sign up for a ticket?
Signing up for a ticket will help us to gauge how many people will be coming and will help us plan our exhibits and interactive displays so that we will have enough materials for everyone to take part and enjoy.
Support Glasgow Mini Maker Faire and your Maker Community
Help support the operations of the Faire by donating along with your registration. Donations help us pay for all of the equipment, supplies, printing, and elbow grease that goes into planning and hosting this awesome event. Every contribution is essential, and we appreciate your interest and involvement in the Glasgow Mini Maker Faire!
What day(s) and hour(s) will Glasgow Mini Maker Faire be open to the public? 
The Glasgow Mini Maker Faire will be open to the public on Sunday, July 29th of 2018 from 11 am to 5 pm.
Where can I park? 
You can park at the Riverside Museum parking lot. You can find more information here: https://www.glasgowlife.org.uk/museums/venues/riverside-museum

Where is the handicap parking located?
The handicap parking is at the Riverside Museum parking lot. You can find more information here: https://www.glasgowlife.org.uk/museums/venues/riverside-museum
Is public transportation available? 
By Subway: One of the quickest ways to travel to The Tall Ship from around Glasgow is by Subway. It's only a short 7-minute walk from Partick Subway Station.
By Bus: The most frequent service to the Riverside Museum is Garelochhead Coaches' service 100 George Square – SECC – Kelvingrove Museum – Riverside Museum. Bus departing from the north side of George Square near the City Chambers in the city center every 30 minutes throughout the day. The bus stop for the Riversider is in Beith Street, near Partick Station – follow the signposts.
By Train: The nearest rail station for mainline trains is Partick Station. From there, it is a 7-minute walk to The Tall Ship, or you can catch the Service 100 Riversider bus from the bus stop in nearby Beith Street.  
Will you have bike parking? 
There are bicycle racks to secure up to 28 bikes located close to The Tall Ship. You can ride on the National Cycle Route 7.
Can I volunteer at the Mini Maker Faire? 
We have a diverse range of volunteer opportunities, which you can apply here http://glasgow.makerfaire.com/volunteer/
Most roles are for only the day of the event, Sunday 29th July 2018, however, we have some room for our organising team if you want to be involved in pre-event activities.
What if it rains? 
The show will go on! Bring rain gear to keep you dry when walking outdoors. Fortunately, we will have many indoor exhibits to keep the family dry.
What can I expect?
To have a fantastic time! You'll be surprised and intrigued with every corner that you turn.
Rain or Shine. No Refunds/Exchanges. Tickets cannot be replaced.
Glasgow Mini Maker Faire is independently organized and operated under license from Maker Media, Inc.  
I understand that by registering here,  Maker Media may provide me with updates and information about Maker Faires, other events, and products of interest to the maker community.  I understand that I may opt out of these communications at any time.
 
When & Where

The Riverside Museum and The Tall Ship at Riverside
150 Pointhouse Pointhouse
G3 8RS Glasgow
United Kingdom


Sunday, 29 July 2018 from 11:00 to 16:30 (BST)
Add to my calendar
Organiser
About Glasgow Mini Maker Faire:
Glasgow is a city of innovators, creators, and problem solvers.
To celebrate and showcase this, in 2018 we're launching Glasgow's Maker Faire. An annual summer event for everyone to come along and enjoy a fun day of invention and creativity on the Clyde.
Maker Faire is a community festival bringing together engineering, arts, crafts, music, inventions, science and performance by a variety of makers. A gathering designed to promote idea sharing, learning, workshop participation, and hands-on creative activities.
It's one fun-filled day exploring all the cool projects often hidden away in basements, garages, labs, and makerspaces. This event teases out all that creativity and showcases the passion of the people who build marvelous things. Expect to leave amazed and inspired to make.
About Maker Faire:
Maker Faire is the Greatest Show (and Tell) on Earth—a family-friendly showcase of invention, creativity and resourcefulness, and a celebration of the Maker Movement. It's a place where people show what they are making, and share what they are learning.
Makers range from tech enthusiasts to crafters to homesteaders to scientists to garage tinkerers. They are of all ages and backgrounds. The aim of Maker Faire is to entertain, inform, connect and grow this community.

The original Maker Faire event was held in San Mateo, CA and in 2016 celebrated its eleventh annual show with some 1300 makers and 150,000 people in attendance. World Maker Faire New York, the other flagship event, has grown in five years to 900+ makers and 90,000 attendees. Thirty-one larger scale Maker Faires occur in cities around the world—Detroit, Atlanta, Berlin, Paris, Rome, Tokyo, and Shenzhen to name a few— and over 150 community-driven, independently organized Mini Maker Faires are now being produced in the United States and in 34 other countries around the world.
About Make: Magazine: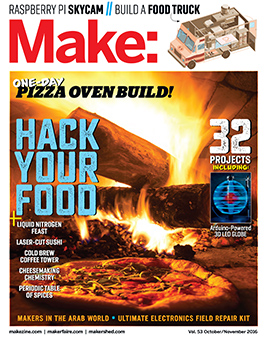 Make: is the first magazine devoted entirely to Do-It-Yourself (DIY) technology projects. Make: unites, inspires, informs, and entertains a growing community of resourceful people who undertake amazing projects in their backyards, basements, and garages. Make: celebrates your right to tweak, hack, and bend any technology to your will. Download a free issue here.
Besides the magazine and the faire, Make: is:
a vital online stream of news and projects, blog.makezine.com;
a retail outlet for kits and books, the Maker Shed;
a steady stream of fun and instruction via our YouTube channel;
Make: Projects, a library of projects with step-by-step instruction;
a publisher of best-in-category titles via Make: Books, including introductions to electronics, Raspberry Pi, 3D printing, Arduino and more.