Glappitnova

Thursday, July 9, 2015 at 6:00 PM

-

Wednesday, July 15, 2015 at 9:00 PM (CDT)
Event Details
Glappitnova unites entrepreneurs, creatives, and influencers of different industries and races highlighting Millennial culture, sharing industry perspectives, and providing a diverse stage for some of Chicago's best and undiscovered talent. Some call our festival a mixture of South By Southwest and TED Talks with a Coachella vibe. 

Get your "The Big Night" ticket now, before it's too late.

 Some of our event are hidden on Eventbrite, and you can subscribe for 

access

. The Big Night showcase July 9th held at Moonlight Studios will kick off the festival. Ticket sales are final, and non-refundable.
All information can be viewed at
www.glappitnova.com/tickets


Glappitnova has over 25 Big Night participants here are a few:
Harper Reed (Former CTO Obama's 2012 Re-election campaign, CEO Modest Inc.)

Afrobella (Award winning beauty blogger, Ebony Magazine's Power 100, Founder of Afrobella)

Emerson Spartz (World expert on internet virality, INCs 30 Under 30, CEO Spartz Media)

Spikeball & LuminAID founders (ABC's Shark Tank alumni)

Cameka Smith (Founder of The Boss Network, Jet Magazine 40 under 40 Entrepreneur)

Seth Kravtiz (CEO of Technori, which is the third largest business pitch stage in America)

Anna Hovet (Fashion Designer, TEDx Speaker, So You Wanna Be A Designer contestant)

Anna Russett (Influential Mixed Media millennial artist with over 300k following)

Christian Picciolini (Emmy-nominated, former violent extremist turned peace advocate) 

WTF Founders (Women Tech Founders)

Gina Venier (Winner of Bar1 Big Break Singing Competition, American Idol Participant) 

Tanner Woodford (Co-Founder of Chicago Design Museum, #2 Newcity's Annual Design 50)

Micae Brown (Urban Business Roundtable for WVON Radio Talk Show Host)

Corbett Drummey (CEO of Popular Pays, Y Combinator accelerator alumni)

Aaron Frazin (CEO of Charlie, Kauffman Global Scholar)

Daniel Novaes (CEO of MobileXLabs top 30 startups to watch by Entrepreneur Magazine)
Glappitnova has over 15 panelists & teachers participants here are a few:
Fabian Elliott (Global Co-Chair of the Black Googler Network)

Lisa Schumacher

(Chicago Director of Startup Institute)

Riana Lynn (CEO of Food Trace, Google backed Code2040 recipient)

Daniel X O'Neil (Executive Director of Smart Chicago)

Kristiana Rae' Colon (Founder of Letusbreathe Collective, poet from HBO's Def PoetryJam)

Will Misloski (SVP of Raise, Former VP & GM at Orbtiz Worldwide)

Emmanuel Pratt (Executive Director of Sweet Water Foundation)

Nicole Yeary (Founder of Ms. Tech, 100 Top Innovators Chicago Tribune)

Jimmy Odom (CEO of WeDeliver, Winner of Techweek's Launch 2013)

Shelby Rodeffer (Designer, DigitasLBi, 2014 Cannes Young Lions Winner)
Festival Tracks
Check Individual Events For The Lineup
The Big Night, July 9th: 
Experience some of Chicago's best, and emerging talent through unfiltered 10 minute talks, intimate live performances, non-salesy networking, and a silent disco party with DJs spinning hip hop, funk, house, and electronic music at Moonlight Studios. Beer provided by MillerCoors for the festival's signature event.
The Good, Bad and Ugly of Minorities In Chicago, July 13th - Forums:
Get up to speed on a minority's perspective spanning business, technology, and urban planning held at General Assembly Chicago.
The Battle of Learning vs Job Placement In Education, July 13th - Forums:
Explore ideas and challenges around teaching, learning, and alternative educational methods for employment held at General Assembly Chicago.
Protesting and Activism In The Informational Age, July 14th - Forums:
Understand the ethics, evolution, and effectiveness of protesting and activism and question when those lines get blurred held at Google Chicago. 
Access For All, America's Last Mile Problem, July 14th - Forums:
Discussion from experts on impacting remote areas, bridging the digital divide gap, and America's last mile problem altering the face of humanity held at Google Chicago.
Marketplaces and Currencies That Are Shaping The Future, July 15th - Forums:
Discover cutting-edge marketplaces and currencies experts discussing how the world transacts through futuristic platforms, social currencies, bitcoins, and peer-to-peer lending held at WeWork River North.
How To Build A Better Chicago For Startups, July 15th - Forums:
Discuss growing, refining, and mixing the entrepreneurial and creative startup communities of Chicago at WeWork River North. 
Technori Pitch, July 10th - Affiliate Event:
Expose yourself to Chicago startups pitching their business around Culture, Society, and Frameworks. It's the third largest startup pitch stage in the US held at the Chase Auditorium. Use code "glappitnova" for 25% off and RSVP here. 
Sunday Funk-Raiser, July 12th - Affiliate Event:
Pop into the vibrant Chicago Arts, Culture & Start-up scene through live art, music & booze while supporting The Simple Good non-profit. ThreadMeUp's merchandising platform is sponsoring the creation of The Simple Good's t-shirt designs that tells a different story derived from youth living in the South and West-sides of Chicago. During the fundraiser, 10 Chicago visual and performing artists will use the inspiration from the stories of each t-shirt to create their own art live at the event. In order to attend, purchase a Simple Good T-shirt  here, or donate at the door. Full event description can be found here. 
Sound Off Yoga, July 11th - Class: 
Immerse yourself into beginner Yoga with customizable wireless headphone technology for enhancing your experience held at Brooklyn Boulders Chicago.  
Learn To Boulder, July 11th - Class: 
Get expert instruction on beginner techniques to build a solid foundation of climbing knowledge held at Brooklyn Boulders.
The Secrets To Social Media Campaigning, July 15th - Class:
Learn critical ingredients for a successful social media campaign including the strategy, planning, content creation and leveraging paid social advertising held at DigitasLBi.
Beginner Hand Lettering & Design, July 15th - Class:
Learn beginner hand lettering techniques, and implemented design skills while networking. It will be super hands on and totally amazing held at DigitasLBi.
Glappitnova has a variety of sponsors to help grow diversity with the city of Chicago but being relevant to the needs of millennials, entrepreneurs, creatives, and influencers.
Sponsors
Crain

'

s Chicago Business

The Chicago Reader

MillerCoors

Brooklyn Boulders

Technori

DigitasLBi

General Assembly

WeWork

Tint
To purchase tickets, view the lineups for various events for the week, subscribe for updates, and learn more about Glappitnova, visit www.glappitnova.com.
Contact
Nick Brown nick@glappit.com 
---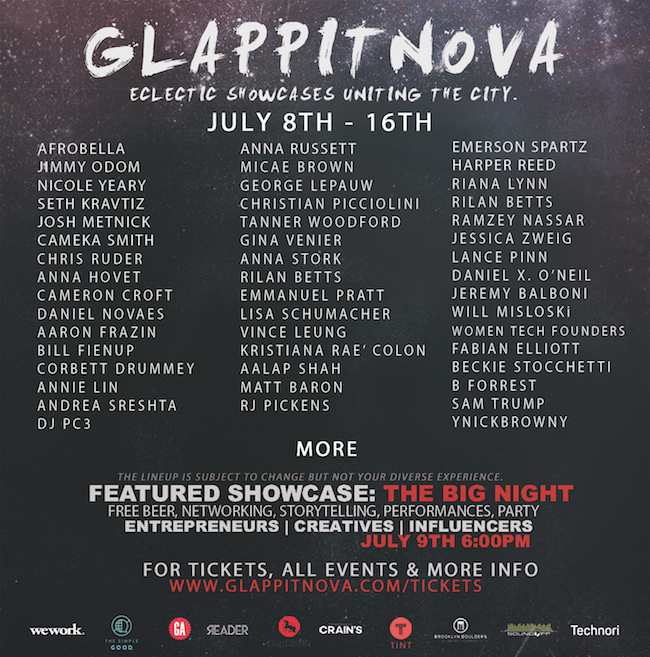 Here are some of our released participants. More will be added later.
Afrobella
Afrobella
Award Winning Blogger
Founders
Women Tech Founders
Jeremy Balboni
Brooklyn Boulders
CEO
John Bracken
Knight Foundation
VP/Media Innovation
Micae Brown
WVON
Radio & Video Host
Kristiana Rae Colon
Letusbreathe Collective
Founder
Cameron Croft
Youtopia
COO
Corbett Drummey
Popular Pays
CEO
Fabian Elliott
The Black Googler Network
Global Co-Chair
Bill Fienup
Catalyze Chicago
President
Aaron Frazin
Charlie
Founder & CEO
Antonio Garcia
Gravitytank
Associate Partner
Anna Hovet
Anna Hovet Designs
Fashion Designer
Seth Kravtiz
Technori
CEO
George Lepauw
International Beethoven Project
Founder & Artistic Director
Vince Leung
Mentor Mob
Co-Founder & CTO
Annie Lin
General Assembly
Chicago Director
Riana Lynn
FoodTrace
Founder & CEO
Ramzey Nassar
Threadmeup
Founder & CEO
Daniel Novaes
MobileXLabs
Founder & CEO
Jimmy Odom
We Deliver
Co-Founder & CEO
DJ PC3
Scratch Academy
Music Producer & Teacher
RJ Pickens
VESTED
Music Producer & DJ
Lance Pinn
Brooklyn Boulders
Founder & President
Emmanuel Pratt
Sweet Water Foundation
Founder & Executive Director
Harper Reed
Modest Inc.
CEO
Chris Ruder
Spikeball
Founder & CEO
Anna Russett
Online Influencer
Mixed Media Artist
Lisa Schumacher
Startup Institute
Chicago Director
Cameka Smith
The Boss Network
Founder & CEO
When & Where

CHECK THE TICKET DESCRIPTION FOR THE LOCATION

Chicago


Thursday, July 9, 2015 at 6:00 PM

-

Wednesday, July 15, 2015 at 9:00 PM (CDT)
Add to my calendar
Organizer
Glappitnova
We are a community of entrepreneurs, creatives, professionals, and influencers from different backgrounds and industries. Every year we unite in multiple cities at the same time. It's our approach to global inclusion. Check out what happened 
here
.