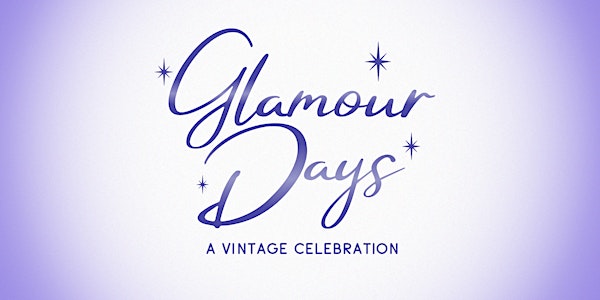 Glamour Days - A Vintage Celebration
Come celebrate the glamourous days of yesteryear!
By SchwinnGEN Entertainment
Date and time
Saturday, March 7, 2020 · 12 - 9pm PST
Location
Spiegeltent @ Wolf Creek Brewery 25108 Rye Canyon Loop Santa Clarita, CA 91355
About this event
Glamour Days is a festival like no other. While many vintage events focus solely on shopping, Glamour Day's purpose is to bring the era to life. Attendees will feel as if they have stepped back in time, experiencing first-hand the sights and sounds of the mid 1940s-60s.
With plenty of photo opportunities throughout the grounds, USO style musical acts, dance lessons, celebrity impersonators to meet, and exhibitors & artists to visit, guests will have a full day of activities.
Upon arrival, rows of classic cars are free for all to enjoy. Grab a program and make your way inside. As you enter, you'll catch your first glimpse of Glamour Day's pride and joy, the Magnificent Spiegeltent.
What wonders await inside? Why the Main Events, of course! Grab a Wolf Creek Brew or wine and head to a table for the shows. A full day of vintage entertainment awaits! Make it an extra special day by reserving a VIP booth for you and 5 guests.
Don't have an outift? Need a new hat? Vendor-Town's the place for you. Featuring one dozen hand picked exhibitors, you'll be sure to find an array of clothing, makeup and souvenirs to love!
Show off your favorite vintage trappings in the Glamour L'amour Fashion Show! Don't worry, while vintage outfits are encouraged, they are not required for entry.
Meet professional photographers and visual artists in Artist's Alley, and commission your next holiday card or portrait to hang above the fireplace. Grab a quick snapshot in front of the glorious paper moon, and make your way to the dance floor!
Once the evening settles in, the last-hurrah dance party in the Spiegeltent begins, with golden oldies, swing and rock to twist the night away!
Find the full schedule of events on glamourdaysfest.com
Legal Stuff
By buying and/or accepting this ticket, ticket holder agrees to release, waive and discharge 9L815 LLC dba Goose On The Loose Productions, The Belgians Are Coming, SchwinnGEN Entertainment, Marilu Productions, DENDER 67 LLC dba West Coast Spiegeltents, Spiegelpaleis bvba, Mirror Palace bvba, the City of Santa Clarita, WCRB Inc. dba Wolf Creek Brewery, Valencia Biomedical Park LLC, Intertex Property Management Inc., Oaktree Capital Management LP, Bank of America N.A. and/or its or their Shareholders, Directors, Managers, Officers, Employees, Agents, Promoters, Sponsors, Volunteers and Insurers ("Released Parties"), from any and all injuries, damages, losses or claims, whether known or unknown, which arising out of or result from ticket holder's participation in the show, regardless of whether or not caused in whole or in part by the negligence or other fault of any of the released parties. Ticket holder releases, discharges and covenants not to sue the released parties for any such claims.
Ticket holder understands that participating in the show may involve certain risks (some of which may not be fully appreciated), and that, injuries, death, property damage or other harm could occur to ticket holder or others. Ticket holder accepts and voluntarily incurs all risks of injuries, damages or harm which arise out of or result from participation in the festival, regardless of whether or not caused in whole or in part by the negligence or other fault of any of the released parties.
Pets are not allowed in the Spiegeltent at any time, with the exception of animals trained and used for medical reason or law enforcement (Service animals pursuant to the Americans with Disabilities Act).
Goose On The Loose Productions, West Coast Spiegeltents, Wolf Creek Brewery, SchwinnGEN Entertainment and Marilu Productions retain the right to photograph, videotape, and record (with any media) all activities, participants, and guests at the festival for use in advertising, marketing, and promotional materials.
The event will take place rain or shine.
NO REFUNDS OR EXCHANGES. ALL SALES ARE FINAL.
PLEASE BE RESPONSIBLE, DON'T DRINK AND DRIVE.