An exclusive Glam Bar experience, designed for you, the masquerader.
About this event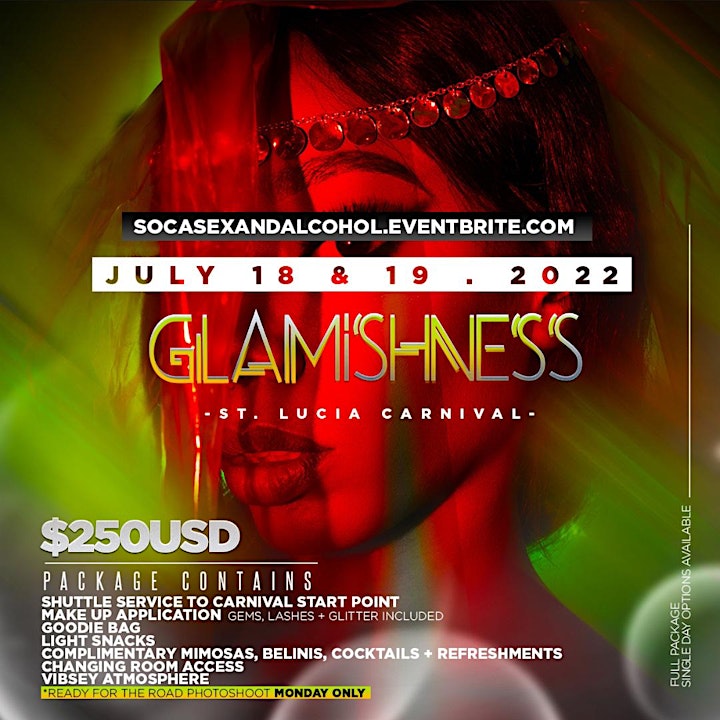 To our Glamishness St. Lucia Patrons,
For those unable to join us for Glamishness St. Lucia 2022, the SSA team is saddened to lose you, but appreciates the fact that you chose us for, and trusted us with, the fate of your PumP.
PLEASE NOTE: Refund requests will be honored and must be made via the Eventbrite platform by July 20th, 2021. All refunds (less Eventbrite fees where applicable) will be processed by August 20th, 2021. Failure to submit a refund request by July 20th, 2021, shall result in an automatic "rollover" of a patron's ticket to 2022.
An exclusive Glam Bar experience designed for you, the masquerader.
You are not a snack,
You are the main course.
You do not need to level up,
Uptop boss on gawdddd.
You my darling, are ready for the road,
The road is not ready you !
Glam dem...
SERVICE INCLUDES:
Makeup (gems, lashes, glitter)
Goodie bag
Light refreshments 
Complimentary Champagne cocktails
Changing Room Access
Shuttle Service from Coco Palm to Carnival starting point (8am-12pm)
Our Makeup Artists (MUAs) are seasoned carnival vets. You will be scheduled with one of the MUAs below:
@justgizzy_el
@kissandmakeupthebrand
@heidipaulartistry 
@camouflage_makeupartistry
Plus more
You will be contacted to schedule your appointment in the order booked. Spaces are extremely limited so group bookings Myst be done together.
NOTE: There is an additional $50 fee to select your own MUA.
IMPORTANT: If you arrive late, you leave late. Please don't be late. Priority will be given to customers who arrive on time.
ALL PAYMENTS ARE FINAL.
NO REFUNDS.