Location
Coco Palm Resort
GM 605
Rodney Bay Village, Gros Islet
Saint Lucia
An exclusive Glam Bar experience, designed for you, the masquerader.
About this event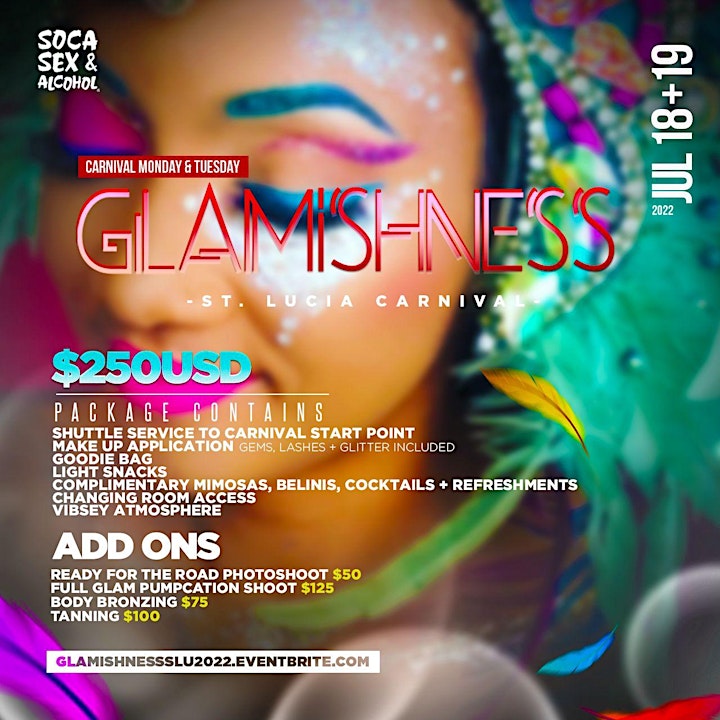 An exclusive Glam Bar experience designed for you, the masquerader.
You are not a snack,
You are the main course.
You do not need to level up,
Uptop boss on gawdddd.
You my darling, are ready for the road,
The road is not ready you !
Glam dem...
GLAM SERVICE INCLUDES:
Makeup (gems, lashes, glitter)
Goodie bag
Light refreshments 
Changing Room Access
Shuttle Service from Coco Palm to Carnival starting point approx every 30 mins between 8am-12pm
All our MUAs are seasoned carnival vets. You will be scheduled with one of the makeup artists below. If you would like to pick your own MUA, you may add this option for an additional charge.
@justgizzy_el
@makeupbychelsea15
@kissandmakeupthebrand
@shaquillabeautycreations_
@celestet.beauty
ADD ON SERVICES:
Body Bronzing by Dane Ragbir @bodyblitzbydaneragbir
Tanning by Dane Ragbir @bodyblitzbydaneragbir
Ready for the Road Photo Shoot by Retoucher Marc @remarc.psd
Full Glam Carnival Shoot
Pick your own MUA
(PUMPCATION PACKAGE ATTENDEES )
Ready for the Road Photo Shoot is included in Pumpcation Full Pump Package.
Bronzing ,Tanning, and Full Glam Carnival Shoot is included in Pumpcation VIP Pump Package
IMPORTANT: If you arrive late, you leave late. Please don't be late. Priority will be given to customers who arrive on time.
QUESTIONS: Contact Organizer via Eventbrite.
ALL PAYMENTS ARE FINAL. NO REFUNDS.
DISCLAIMER: By taking part in this event you grant the event organizers full rights to use the images resulting from the photography/video filming, and any reproductions or adaptations of the images for fundraising, publicity or other purposes to help achieve the group's aims. This might include (but is not limited to), the right to use them in their printed and online publicity, social media, press releases and funding applications.
Follow us on IG at @glamishness
FREQUENTLY ASKED QUESTIONS
Do you have single day appointments?
No, we are only booking for both days.
How can I contact the organizer if I have questions?
You may click "Contact" under the organizer info at the bottom of this page.
What is the refund policy?
Payments are non-refundable.
What happens if I arrive late to my appointment?
We will still provide your service however if you arrive late you leave late. Be prepared to wait as priority will be given to those arriving on time.
Can I change my appointment time after paying my deposit/full payment?
Please contact organizer and we will do our best to accommodate, however no changes will be allowed after June 30th.
Is this the first time organizing a Glam Bar?
No, we held Glamishness St. Lucia in 2019 but this year we're bringing you a better experience. Take a look:
https://www.facebook.com/media/set/?set=a.2789150947784862&type=3