Hooligan Racing has influenced and opened the sport to the "common folk" embracing anyone with two wheels wanting to race an oval track.
About this event
WHAT'S IT ALL ABOUT?
Our event will be brought to you BY the Moto community, FOR the Moto community. We'll be the first and only event and race of its kind in South Florida — an event LONG overdue. I could not be more stoked to introduce "Hooligan Flat Track" racing to you and your company.
ALL GENRES OF RIDERS AND SPECTATORS ARE WELCOME!!!!
We'll have: Live Music – Premium Vendors – Food and Beverage –
Motorcycle "Show and Shine" – Skate Ramp – Motocross Exhibition –
Fun Give-A-Ways... and of course, Flat Track Racing.
(Extensive parking for all spectators as well as exclusive motorcycle parking)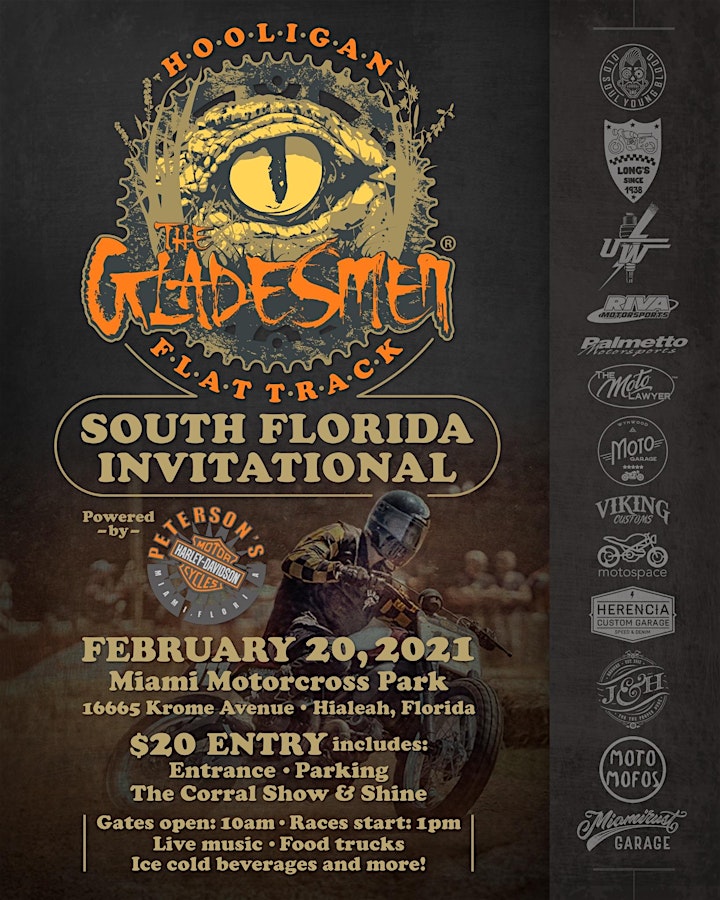 HOOLIGAN RACE CLASS
Our event will be professionally organized by current and former racers as well as those who've created and directed events such as this. Liability documents will be required in order to participate, along with tech and safety review which will insure the safety of all racers.
Classes:
A: Young bucks : 85cc - (50cc-85cc)-2 stroke or (70cc – 150cc)-4 stroke, (Ages 6 -15) Knobbies are allowed . This class is designed as the stepping stone for Youth riders to continue racing with other Youth before moving on to an adult class.
B: Vintage Open - (125cc – OPEN) - 2 or 4 stroke, (Min age is 18) Motorcycles must be from 1992 or earlier, Rotax engines are allowed. Rims must be minimum diameter of 17". Multi-cylinder engines are allowed. Specialized flat track racing frames are allowed. If you ride pro you can't ride this class.
No nobbies
C: Pro - (250-450cc) (Min age 16) engine, Frame mods allowed. Dirt track tires only
No nobbies
D: Mad Dawg class : stock /modified and or mini bikes and Groms. (0-150cc 4stroke)(0-85cc 2 stroke)(min age 16) This class is intended for small displacement engine for pure fun with close elbow rubbing competition. Knobbies are allowed but flat track tires are encouraged.
E: Scooter class : open to all scooters , Intended for plain good fun all scoots welcome. (150cc max)
F: Hooligan (125cc – Open) - 2 or 4 stroke, (Min age is 18) Street Bike that can be registered as a street bike. the minimum rim diameter is 17". This class is for riders who now how to flat track race and take it a tad bit serious . Vintage bikes are eligible for this class. Must have flat track tires. If you ride Pro you can't ride this class. Knobbies are not allowed. street/flat track tires are encouraged
Flat track tires are not required but highly encouraged. Must have working kill switch. Must have front number plate
Pre-Register:
All racers interested in participating will need to register and be sure to fill out all appropriate paperwork, including the motorcycle class you choose to participate in.
Racer submissions with be carefully reviewed and the racer with receive details for times, racer expectations, tech and safety from the Longevity Race Team/Long Motorcycle Co.
Racer Fee:
$75 - Paid at Will-Call
**NO RACER WILL BE ABLE TO PARTICIPATE WITHOUT PRE-REGISTRATION