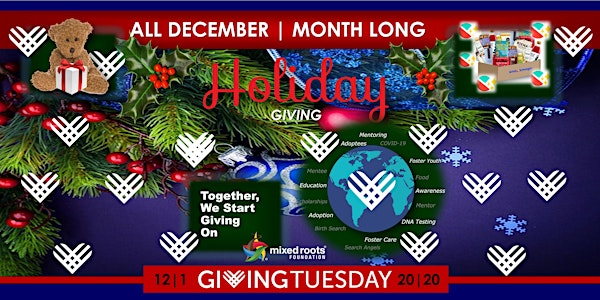 #GivingTuesday - All December | Month Long Virtual Fundraiser 2020
Please Join Us as We Start Giving Together on #GivingTuesday, December 1, 2020 - Help Celebrate the Holidays & Give Back to those in Need!!
About this event
It's #GivingTuesday and It's also the beginning of December, so we thought we would utilize this very Special Day to also Kick Off our Month Long Virtual Fundraiser - An Opportunity to Give Back and Make a Difference...
As we close out 2020, Please consider making a donation to further support our fellow adoption and foster care community and their families during this difficult Holiday season.
Your donation will make a Huge difference including helping us raise funds to increase and hopefully double the number of Mentoring Scholars (10 - $1,200) for our Dr. Joseph L. White Pioneering the Way Mentoring Scholarship, provide DNA Test Kits to those in need and Providing Emergency Funds via our newly established #FosterChallenge Emergency Fund to cover expenses for Food, Housing, and Education and Employment resources for Foster Youth as well as Important Back to School Supplies for next year...
You have a few fun options to Give Back this year Virtually:
1. Donate Only any amount - Suggested amount is min. $25 - Every dollar matters! You will also have a chance to Win a New Set of Mixed Roots Facemasks!
2. Take the SnackMagic (SM) Challenge by Donating a Min. of $25 AND Donating a Toy to a Child in Need and Get a Chance to Win a SnackMagic Healthy Custom Snack Box! Click on the SnackMagic Challenge Button and You will be directed for more details/instructions
3. Donate a Toy Only (UNWRAPPED Toys Only) - Click on this option and We will contact you for further instructions on how you can donate a toy. You will also have a chance to Win one of our New Mixed Roots Facemasks - Good Luck!! Participating Team Cities include Los Angeles, San Francisco, Minneapolis and New York.
Again, We are very grateful for your continued support this year...and We look forward to sharing some exciting news and announcements soon as we prepare to celebrate our 10 Year Anniversary in 2021 - Please Stay Tuned!
Until then, We Hope you Have a Wonderful, Safe and Healthy Holidays From Grass Roots to Mixed Roots!!!