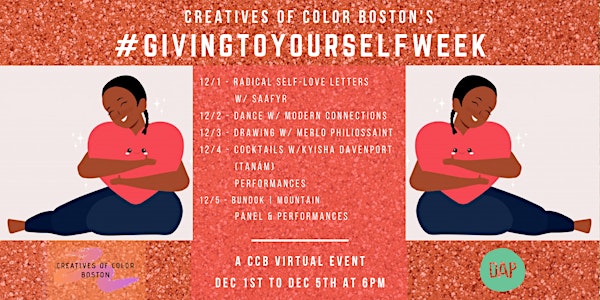 #GivingToYourselfWeek 2020
Creatives of Color Boston invites you to #GivingToYourselfWeek, which kicks off on Giving Tuesday!
Refund Policy
Contact the organizer to request a refund.
Eventbrite's fee is nonrefundable.
About this event
This year has been quite the rollercoaster ride. Join Creatives of Color Boston for a week of self-care, movement, art, bubbly, and more! This week will conclude with a showcase and panel for Bundok | Mountain: An Exploration of Inter-generational Healing.
A link to join each event will be sent out via email 1-hour before the scheduled start time.
12/1 - Radical Self-Love Letters w/ Saafyr
During this wild year, we have been faced to ask questions and some can include, what does it mean to be radical? Who is self? What is Love? Folks are welcomed to learn what SOS: Radical Self-Love Letters can offer on your healing journey. We will explore the five steps, build trust, and lean on the unknown. You deserve to feel good, and it can absolutely come from you!
12/2 - Dance w/ Jenny Oliver of Modern Connections
Using the Horton technique and methodology as a guide, #KitchenClasses is designed to condition our bodies and maintain strength. They'll be a guided warm up and stretch, conditioning exercises for the core and coordination and a short phrase that can be done in a small space.
12/3 - Drawing w/ Merlo Philiossaint
In this 30 minute workshop/discussion you'll interact with Merlo Philiossaint as he goes through his thought process as he creates a piece. During this workshop he will explore the idea of what a self-portrait can be and how creating a self-portrait can be used as a tool for self-reflection.
12/4 - Cocktails w/Kyisha Davenport (Tanám) & Performance Hour
Equal parts cocktail class, a Sagittarius birthday party, and a reminder to treat yourself (responsibly!), we're linking up and learning how to make the perfect cocktails for a shelter in place ki! We'll make one *easy* drink, one a little more complex, and close out with a homemade Gatorade recipe...because ion know who needs to hear this, but that bounce back after 30 hit different like whew chillay!
Afterwards, let's sit back and watch the Performance Hour, where we've invited some amazingly talented local performance artists do their thing!
12/5 - Bundok | Mountain Panel & Performances
Bundok: A Tagalog word which translates to "mountain."
Just as trauma can affect families for many generations, healing can ripple through and soothe those wounds. Whether it's a child deciding to go to therapy, or a father admitting that they have caused pain, or is in fact the one who is in pain, it's beautiful when a family is able to find a way to push forward together. In this exhibition, artists will share their victories in climbing over a mountain of inter-generational trauma and what that means for them.
This exhibition will be hosted on the Kunst Matrix platform, and on the Creatives of Color Boston website from December 5th to February 1st with an Opening Reception on December 5th. Accepted performing artists will only perform during the opening reception and will have up to 15 minutes for their performance.
These workshops and events are Pay-What-You-Can with a suggested donation of $5.
30% of all Eventbrite donations will go to all artists involved in #GivingToYourself Week.