Description
"Giving Voice - EmpowerSurvivors 2016 Conference"
is an event put on by the peer to peer nonprofit organization EmpowerSurvivors
( www.EmpowerSurvivors.net) located in Stillwater,MN. And local survivors of childhood sexual abuse.
We believe, that as a society ,we need to come together to support those affected by this crime , provide peer to peer support groups, educate survivors and communities on the issues pertaining to sexual abuse and do our part to help in the prevention of this crime and when prevention fails to recognizing signs and symptoms so survivors can get the supportive help they need and deserve.
This year's conference includes keynote speaker Matthew Sandusky who survived the childhood sexual abuse perpetrated by his father, Penn State assistant coach Jerry Sandusky.
Matthew Sandusky has revealed the truth, exposing the silent victimization that continues across this country and around the world, not by "stranger danger" or "monster predators," but by those we admire, trust and love. If you pay attention, you might just be part of the groundswell that is capable of protecting the children of your community from it rather than the "conspiracy of silence" that helps it fester and propagate in the darkness. The Jerry Sandusky case ultimately had very little to do with football and everything to do with the fact that the most common and insidious danger to our children comes from those we willingly hand our children over to because we trust them. -Jim Clemente, Retired FBI Supervisory Special Agent/Profiler Survivor of Childhood Sexual Victimization.
Also included in the days events are speakers from the local nonprofit Cornerstone, free acupuncture provided by Aimee of Healing Within Acupuncture, Yoga information with Marilyn of Compass Center For Healing, and local vendors such as Counseling Care, Fitness by Bridget, EmpowerSurvivors , Unchained, Essential Oils, Local Author Dody Johnson,, books by Matthew Sandusky, Breakthrough to Glory, Paint-Sip-Nosh, Restoring Hearts Ministeries, Thrivent, and a end of the day panel Q and A made up of local survivors , a boxed lunch and more!
Hope to see all of you at this year's event! Check out our website for more information on EmpowerSurvivors, conference details, purchasing tickets and peer support group information.
*****Tickets will not be sold the day of event**** Order today for your limited seating tickets! www.EmpowerSurvivors.net
Conference Contact:
Elizabeth Sullivan
651-300-9180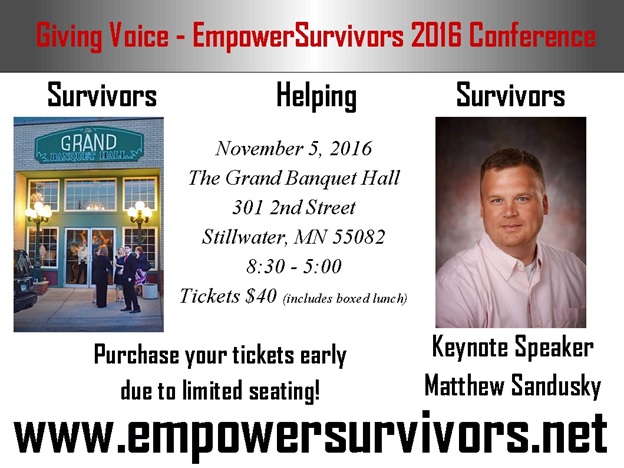 Conference Schedule
8:30am Registration/Check In. No tickets sold day of the event
8:50am Welcome By MC Julie Good
Introduction to Founder of EmpowerSurvivors
Elizabeth Sullivan
Speaker Cheryl Kolb-Untinen, MS, LCPC
Cornerstone Community Services Program Manager speaking on the definition of Childhood Sexual abuse, effects , signs and symptoms. How abuse affects the whole person. Common issues amongst survivors.
Break
Keynote Speaker - Matthew Sandusky
Survivor, Author,advocate, husband, father and founder of the Peaceful Hearts Foundation http://www.peacefulheartsfoundation.org/ . In this first half Matthew will tell his story of childhood and sexual abuse at the hands of his adoptive father, Penn State Assistant Coach ,Jerry Sandusky.
Break For Lunch / Visit Vendor Tables
Speaker Youa Yang, MSW, LICSW
Cornerstone Children, Youth, & Families Program Manager-Speaking onThe definition of PTSD, how it affects the adult survivor of childhood sexual abuse, Signs and symptoms of PTSD and how reduce PTSD side effects.
Break
Keynote Speaker - Matthew Sandusky
Going from Victim, to survivor, to thriver,and founder of the Peaceful Hearts Foundation
Break and Final Thoughts
Question and Answer Panel Discussion
We will finish up the day with a panel discussion on childhood sexual abuse. This panel is made up of adult survivors of childhood sexual abuse all at different places on their healing journeys. Bring your questions!
A word to my fellow survivors of childhood sexual abuse:
For many this will be the first time coming to an event that talks about childhood sexual abuse. This is a tough subject but know there will be fellow survivors here with you that get it and understand. Although we will not have therapists on hand the day of event we will have survivors that are available if you are trigerred, have questions or support. You matter and so does your story. Can't wait to meet all of you at this first of hopefully many conferences to come! It's time to give voice. Give voice, shed shame and gather as a survivor community - Elizabeth Sullivan
FAQs
Do I have to bring my printed ticket to the event?
Yes.