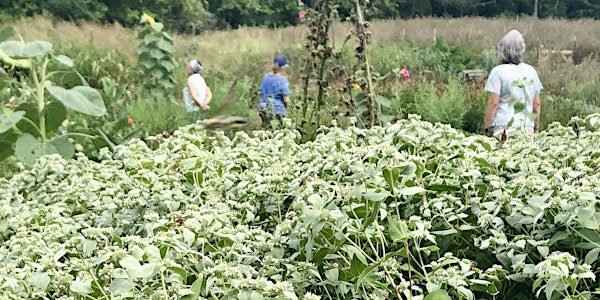 Giving Thanks for the Plants!
It's always a joy to wander the gardens of Sacred Roots. We hope you can be with us to offer thanks to plants who give us so much!
When and where
Location
Sacred Roots Herbal Sanctuary 1799 Persimmon Lane Shepherdstown, WV 25443
About this event
"In some Native languages the term for plants translates to 'those who take care of us.'" ― Robin Wall Kimmerer
Join Us as we gather in the beauty of the herbal sanctuary as we share with each other and get to know the plants. This is a day to celebrate these lives who offer food, medicine, and life to all earthly beings. We'll remember our connections and give thanks for "those who take care of us."
Our time together will follow a spacious rhythm of introductions to each other and the theme, music and poetry, and a half-hour walk (or sit if you prefer) in silence among the trees and herbs of this land. We will close with an opportunity for shared reflection.
Bring your camp chair or blanket, water bottle, bug spray and journal, if you wish. If you have a favorite poem or quote in honor of plants, bring that too! We will be outdoors, but feel free to wear a mask if you prefer. We will have the donation jar out to contribute to the work of Sacred Roots. Please bring cash or check if you'd like to contribute.
When you arrive, look for Sacred Roots parking signs first. Then leave your car and follow the signs that point to Church of the Wild. We'll be meeting at the pavillion which is a few minutes walk up the road from the parking area. If you need accommodations, send an email to the address below and we'll provide further directions.
Church of the Wild ~ Two Rivers forms as a community in real-time and meets in the midst of and shares with the abundant life all around us. Our intent is to deepen our connection to the Sacred by being more fully present, open and available in each moment. We learn from the earth and trees, the water and sky, and from all living beings, human and non-human.
You are welcome! We welcome anyone who seeks to deepen their spirituality through time in nature. Whatever your religious tradition, or if you have none, no matter your gender identity or sexual orientation, you are welcome here. Children are welcome too; email us ahead of time so that we can offer suggestions to make this time more meaningful and relevant for them. Dogs are not permitted at the site.
Email: churchofthewild2rivers@gmail.com
www.churchofthewild2rivers.com