Description

Recently, the Humane Society of Greater Dayton transferred in two litters of puppies from a high-kill shelter we work with to save lives. These six lovable puppies quickly began showing signs of parvo, a disease that if left untreated can be fatal to puppies.
These six puppies were rushed to numerous local vet clinics including the CareCenter, Bigger Road Veterinary Clinic and Paws Inn Animal Hospital. While here, these puppies underwent intense supportive care, which included IV fluids, injectable antibiotics, round-the-clock care as well as additional medicines. Each case was slightly different, but their stay at these vet clinics averaged anywhere from two days to two weeks.They were fighting for their lives and we were doing everything we could to save them. Sadly, one of the six did not win the battle and succombed to the disease after fighting for weeks.
To keep the dogs in our kennels safe from this highly contagious disease, once the puppies were stabalized, they went into the homes of our amazing fosters. Here they were able to continue to shed the virus from their systems while receiving the TLC they needed to stay strong and continue to recover.
In a process that has lasted 6 to 8 weeks, the remaining five puppies (Archie, Zeke, Maddie, Liv and Mary Ann) are doing much better and Liv and Mary Ann have already made a full recovery and found their forever homes! Still, Archie, Zeke and Maddie are awaiting their forever homes.
The care for these puppies ended up costing the Humane Society of Greater Dayton $8,650.26. This is where your help comes in!
If 433 people gave just $20 to the Humane Society of Greater Dayton, you will help us pay for the life-saving treatments these six puppies received.
It is because of these treatments that they are here today! Please consider giving your support and help us show these puppies what unconditional love truly is!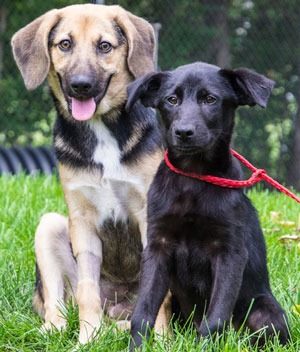 The Humane Society of Greater Dayton is proud to be the area's largest no-kill animal welfare agency. With an average save rate of 98%, we do everything in our power to ensure all animals are valued and free from suffering. However, the work we do wouldn't be possible without your help! Caring for the sick and injured animals is something we do regularly, but in special cases like this, the financial strain can be felt by our organization.
Please consider sending your most generous gift today.
Want to help us paw-it-forward to help animals at our shelter who come in sick or injured? Consider also adding a Paw-It-Forward donation today.
Thank you for your support and for helping these amazing puppies!
---
Did you know, the Humane Society of Greater Dayton is a 501(c)(3) nonprofit organization? We receive no government funding and are not affiliated with any other organization on a local, state or national level. All of our programs and services are provided through the generous support of individuals, companies and grants.