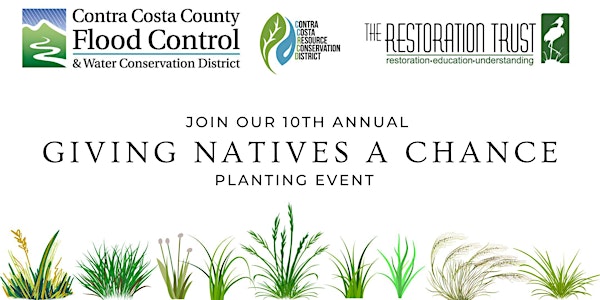 Giving Natives a Chance - NEW DATE IS JANUARY 21
Please Re-register at the following link: https://www.eventbrite.com/e/giving-natives-a-chance-rescheduled-date-is-january-21-tickets-490802
When and where
Location
Clayton Valley Drain Olivera Rd & Grant St, Olivera Rd Concord, CA 94520
About this event
EVENT POSTPONED: This event has been cancelled due to forecasted unsafe weather conditions on December 10th, 2022.
The rescheduled date is Saturday, January 21, 2023. To sign-up for this rescheduled event, please visit :
https://www.eventbrite.com/e/giving-natives-a-chance-rescheduled-date-is-january-21-tickets-490802933787
Join us for a fun morning outdoors, planting native grasses with other community members!
Giving Natives a Chance is an event where we remove invasive species from certain areas in Contra Costa County while at the same time replacing them with native plant species to balance the local ecosystems. This event was envisioned and started by former Flood Control District Deputy Chief Engineer Mike Carlson, who is no longer with us.
Please park at the Hillcrest Community Park and walk from the parking lot along the Via Delta de Anza Trail to the pop up tent.
Event Details:
Age under 12 Must be accompanied by an adult
No experience required
Tools provided
Fulfills community service requirements
Planting, pick up trash, and removing invasive plants
What to bring:
Clothes that can get dirty
Long pants
Closed toed shoes
Sun protection
Water bottle
Gardening gloves
Small garden shovel
See below for the full event poster, a map to help guide you to the location, and the liability waiver you will sign electronically while registering for the event.