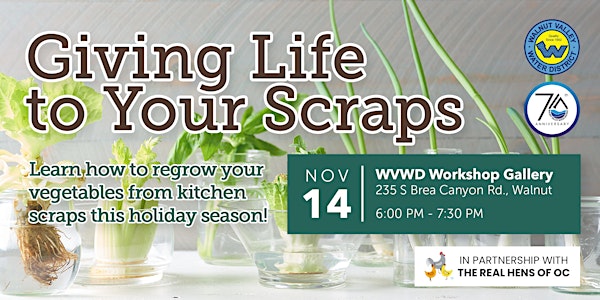 Giving Life to Your Scraps Gardening Workshop
Learn how to regrow your vegetables from kitchen scraps this holiday season! Please note this workshop is for WVWD customers only.
When and where
Location
Walnut Valley Water District Workshop Gallery 235 South Brea Canyon Road Walnut, CA 91789
About this event
In partnership with The Real Hens of OC, join us for a FREE hands-on workshop where you learn how to regrow your vegetables from kitchen scraps this holiday season! All materials are provided in the activity and you will be able to take home the seeds and produce scraps to replant.
Topics covered in this workshop will include, but may not be limited to:
Rethink your veggie scraps as you prepare holiday meals
Learning which ones have seeds that can be saved for planting
Learning which ones can be replanted
How to plant and save certain excess produce for planting
What things to plant in November in Southern California
At the end of the workshop, you will:
Totally be able to think of the produce you use over the holidays in a different way
Know how to propagate scraps from produce like scallions, beets, lettuce, carrots, etc.
Know how to save seeds from produce like tomatoes, peppers, pumpkins, etc.
Know how to plant produce like potatoes, sweet potatoes, shallots, garlic, etc.
WVWD is also hosting a holiday canned food drive that will benefit our local food bank. Please feel free to bring any non-perishable or non-expired canned food to this workshop.
Please note this class is for WVWD customers only. A valid WVWD Customer Account Number is required. Customer information will be verified and if you do not live in our service area, you will be notified and placed on a waiting list to accommodate our customers first.
Registration is required. Walk-ins will NOT be accepted. Local COVID guidelines are enforced.