Giving Feedback & Difficult Conversations: Half-Day Training
Description
Giving Feedback - Half-day Training Workshop
Why is it so hard to have difficult conversations?
Most people hate having difficult conversations. We go out of our way to duck and dodge these conversations until it becomes critical. This "lag" time that we allow to happen prevents truth, transparency, and accountability from occurring. This topic is one of the most frequently requested topics for training. Join us and learn why difficult conversations are delayed, what you can do to prepare for these conversations, and how to remove the emotional angst from having them.
Training Objectives
As a result of this training, participants will be able to:
Identify behaviors and situations that lead to having difficult conversations
Identify personal barriers that keep difficult conversations from happening
Analyze the SAID model for giving feedback
Practice writing positive and corrective feedbacks
Presented by: Lorraine Medici, Director of Training and Development, Express Employment Professionals
Lorraine Medici is the Director of Training and Development at Express Employment Professionals of Grand Rapids. She has successfully launched Purpose-Driven Leadership Training, a Leadership Academy targeted at helping develop managers and leaders at all levels in manufacturing and other industries. Lorraine is also certified in DISC and Emotional Intelligence training. She is an approved Training Partner with the Human Resource Certification Institute (HRCI). She is also an Associate Certified Coach and Master Practitioner for the Energy Leadership Index (ELI) Assessment. Lorraine has extensive experience as a personal development coach and workshop facilitator in the areas of leadership, teambuilding, and sales.
As a certified coach, Lorraine works closely with clients to help diagnose company challenges and provide action plans to enhance employee engagement, build stronger leadership teams, increase retention, and bring about cultural awareness through workshops and personal coaching.
---
Event Details
Date: Friday, June 16, 2017
Location: Express Employment Professionals Training Center:
1760 44th St. SW, Suite 10, Wyoming, MI 49519
Time: 8:00am-12:00pm
Cost: $149, Includes all training materials and Full Hot Breakfast
Class size is limited to 24 participants—register early to guarantee your spot.
If you have any questions, need help registering, or would like to be invoiced for this event, please contact: Lorraine Medici, Director of Training and Development 616.281.0611, Lorraine.Medici@expresspros.com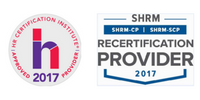 This training is approved for 4 HRCI and SHRM general recertification credits!