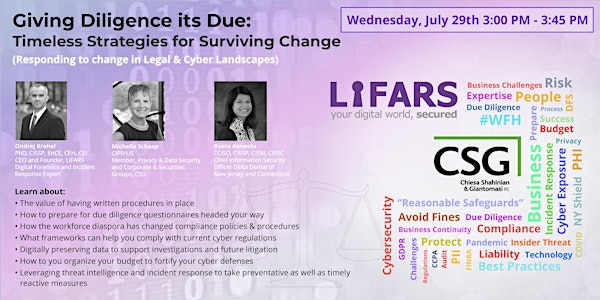 Giving Diligence its Due: Timeless Strategies for Surviving Change
Sales Have Ended
Registrations are closed
Registration is closed.
Sales Have Ended
Registrations are closed
Registration is closed.
45 minutes of actionable insights and expert Q&A
About this event
Due diligence has always been a best practice in vetting vendors and managing your own workforce and environment, and under several states' laws, is now a requirement. Covid is not an excuse. Instead, it should be a driving force
With privacy and cybersecurity regulations coming into effect, business technology deployment at all-time highs, a remote workforce diaspora, and malicious actors wreaking havoc in an escalated cyber threat landscape, cyber security and data protection strategies require a return to basics.
Join Ondrej Krehel, CEO & Founder, Digital Forensics Lead at LIFARS, Michelle Schaap, Member, Privacy & Data Security and Corporate & Securities Groups at CSG, and Roota Almeida, Chief Information Security Officer at Delta Dental of New Jersey and Connecticut for a discussion of strategy for surviving the latest legal and heightened cyber threat landscape.
Learn about:
• The value of having written procedures in place
• How to prepare for due diligence questionnaires headed your way
• How the workforce diaspora has changed compliance policies & procedures
• What frameworks you can help you comply with current cyber regulations
• How to you organize your budget to fortify your cyber defenses
• Leveraging threat intelligence and incident response to take preventative as well as timely reactive measures
• Assessing cyber risk through network visibility
• Digitally preserving data to support investigations and future litigation
This free webinar is powered by LIFARS and CSG
Lifars.com | CSGlaw.com