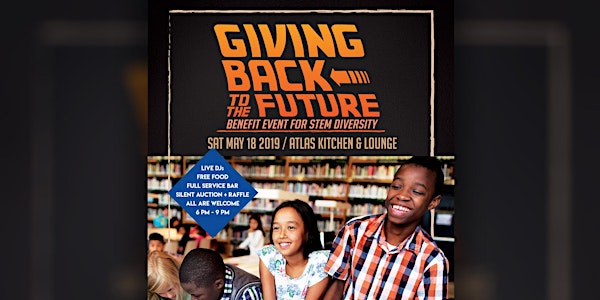 GIVING BACK TO THE FUTURE 2019 ~ Silent Auction & Raffle Benefiting STEM Diversity
When and where
Location
Atlas Kitchen & Lounge 621 1/2 Queen Anne Avenue North Seattle, WA 98109
Description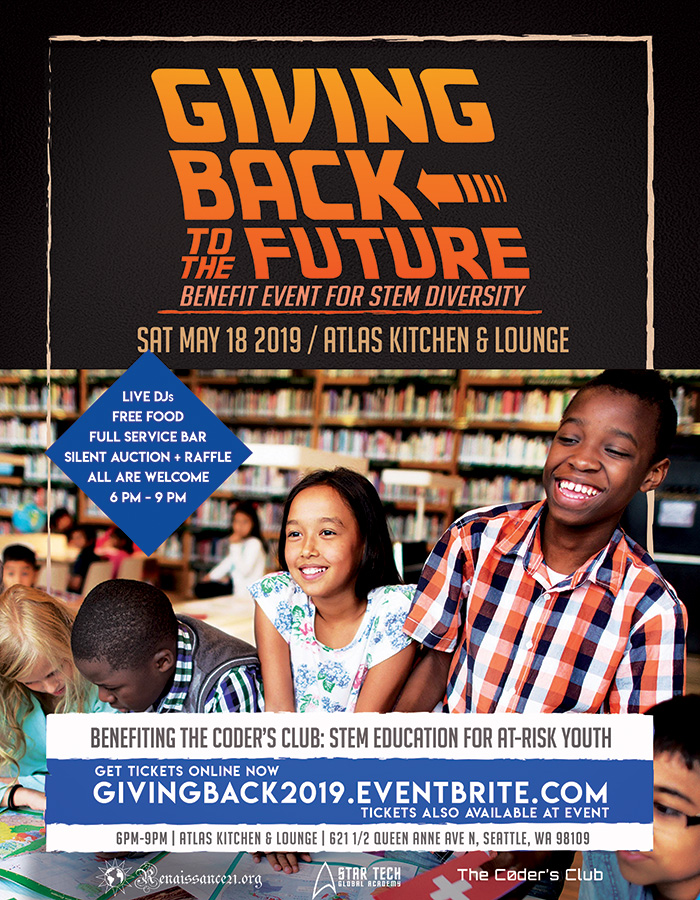 JOIN US!
Saturday May 18, 2019, 6:00pm @ Atlas Kitchen & Lounge 621 1/2 Queen Anne Ave N, Seattle, WA 98109
Come join us for our fundraising mixer: Giving Back to the Future: Spring 2019 Silent Auction & Raffle, with all proceeds benefiting the nonprofit program "The Coder's Club", providing STEM education to at-risk and homeless youth! Event details:
~ Each ticket comes with: Complimentary Food, 1 Complimentary Drink, 2 Raffle Tickets, Auction Access
~ Full Service Bar
~ Live DJ Sets
~ Hosted Appetizers & Light Fare
~ Silent Auction
~ Varied Multi-Item Raffle
~ Casual Evening Attire Recommended
~ Each event ticket includes silent-auction access and 2 free raffle tickets.
GET TICKETS
Individual tickets are $25 each, or $20 each if you buy two or more. Each event ticket includes access to the silent auction and TWO Raffle Tickets which can be picked up at the door upon entry. We are a 501(c)(3), so all event and raffle tickets are fully tax deductible donations. Additional receipts are available upon request. Get your entry tickets now using the "Tickets" link above!
LEARN MORE: StarTechGA.org
THANK YOU!
Over 25 Local Businesses Have Pledged Donations!
Atlas Kitchen & Lounge ~ AxSM Art ~ Beer Authority ~ Ben Guterson ~ Central District Ice Cream Company ~ Chuka Glass ~ DeLille Cellars ~ Dojo 3 ~ Elije & Sound Dialect ~ Emerald City Fired Arts ~ Eterna Studios ~ Fairwood Martial Arts ~ Ivars ~ Jessica Vaughan Customer Cakery ~ Julep ~ Kayla Pet Sitting ~ Kitanda ~ Laced by Liv ~ Learning Express ~ Mariners ~ Mary Kay ~ Meadow Landscaping ~ MoPOP ~ My Closet ~ Nate's Wings & Waffles ~ Pacific Science Center ~ Page 2 Books ~ Red Robin ~ Seattle Sounders ~ Slate Clothing ~ Seattle Sounders ~ Sport Clips x 10 ~ Terero's Landing ~ Tutta Bella ~ Un Bien ~ Wild Fin ~ Woodland Park Zoo ~ Yasmine

GET INVOLVED
Donate or Volunteer
It's not too late to get involved! Donating tangible items, discounts & gift cards, and giveaways are a great way to raise awareness about your business and highlight your community involvement. To pledge a donation or to volunteer simply email contact@renaissance21.org and say "I want to get involved." To donate cash, use our PayPal here: http://renaissance21.org/donations/ All donations are fully tax deductible.
Get your tickets now and we'll see you there!
[Star Tech Global Academy's "The Coder's Club" is an initiative of Renaissance 21, a 501(c)(3) non-profit corporation. All donations are fully tax deductible. Receipts available upon request.]