Description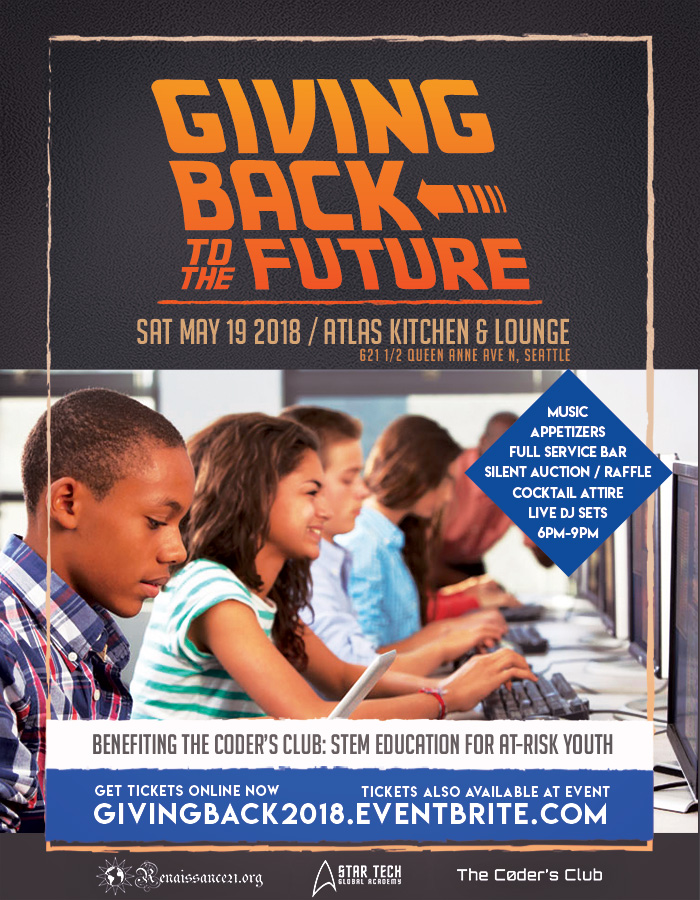 JOIN US!
Saturday May 19, 2018, 6:00pm @ Atlas Kitchen & Lounge 621 1/2 Queen Anne Ave N, Seattle, WA 98109
Come join us for our fundraising mixer: Giving Back to the Future: Spring 2018 Silent Auction & Raffle, with all proceeds benefiting "The Coder's Club", providing STEM education to at-risk and homeless youth! Event details:
~ Full Service Bar
~ Live DJ Sets
~ Hosted Appetizers & Light Fare
~ Silent Auction
~ Varied Multi-Item Raffle
~ Cocktail Attire Recommended
~ Each event ticket includes silent-auction access and 2 free raffle tickets.
GET TICKETS
Individual tickets are $25 each, or $20 each if you buy two or more. Each event ticket includes access to the silent auction and TWO Raffle Tickets which can be picked up at the door upon entry. We are a 501(c)(3), so all event and raffle tickets are fully tax deductible donations. Additional receipts are available upon request. Get your entry tickets now using the "Tickets" link above!
THANK YOU!
Over 25 Local Businesses Have Pledged Donations!
Amber Restaurant & Lounge ~ Arcaro Boxing ~ AxSM Art ~ Bumbershoot Books ~ Community Fitness ~ Dojo 3 ~ Drae's Lake Route Eatery ~ Emerald City Fired Arts ~ Green Meadow Landscaping ~ Hot House Spa & Sauna ~ Hunt Men's Wear ~ iFly Indoor Skydiving ~ Lash Addict Boutique ~ Learning Express Toys ~ Music & Arts ~ Page 2 Books ~ Pet Sitting by Kayla ~ Phase Two Interiors ~ Poolside Junkies Swimwear ~ Renton Laundry ~ Rue 21 ~ Social Skins Tattoo ~ Skoah ~ The Museum of Flight ~ The Oilerie ~ The Point Liquor & Eats ~ The Rock Wood Fired Kitchen ~ Victitious ~ ZymoGenetics

GET INVOLVED
Donate or Volunteer
It's not too late to get involved! Donating tangible items, discounts & gift cards, and giveaways are a great way to raise awareness about your business and highlight your community involvement. To pledge a donation or to volunteer simply email contact@renaissance21.org and say "I want to get involved." To donate cash, use our PayPal here: http://renaissance21.org/donations/ All donations are fully tax deductible.
Get your tickets now and we'll see you there!
[Star Tech Global Academy's "The Coder's Club" is an initiative of Renaissance 21, a 501(c)(3) non-profit corporation. All donations are fully tax deductible. Receipts available upon request.]