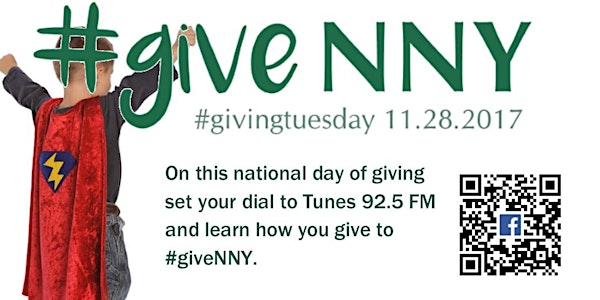 Location
Tunes 92.5
242 Washington St
Watertown, NY 13601
Sales Have Ended
Registrations are closed
Thank you for supporting #giveNNY. Your donation will make a difference in the lives of many.
Description
#giveNNY is an online, global day of giving focused on giving back to non-profit organizations through celebrating generosity! This year, there will be a community effort in which local non-profits have decided to come together to help initiate and strengthen partnernships during the charitable season. All donations will be evenly divided between all of the organizations.

• ACR Health
• Anchor Recovery
• CREDO Community Center
• Disabled Person's Action Organization
• Hospice of Jefferson County
• Jefferson County Historical Society
• Jefferson Rehabilitation Center Foundation
• NNY Cerebral Palsy Association
• North Country Family Health Center
• Northern Regional Center for Independent Living, NRCIL
• Northern New York Community Foundation
• Planned Parenthood of the North Country New York, Inc.
• Samaritan Medical Center Foundation/Children's Miracle Network
• SUNY Jefferson Community College Foundation
• Thousand Island Habitat for Humanity
• Transitional Living Services, TLS

• United Way of NNY
• Volunteer Transportation Center, Inc.
• Watertown Urban Mission
• YMCA
Thank you for your support!