Description
Want to gain more fulfillment from your work/life balance? Want to connect with women who go beyond #girlboss and define leadership?
Join Glow Effect at #GiveGrowthLA: Create Abundance for the Social Good, which will feature moderated roundtable discussions with:
Monica Marquez, Global Head of Community Advisory, Diversity & Inclusion Lab | GOOGLE
Michelle Egdar, Founder/CEO + Agent | The XX Project + ICM Partners
Megan Sette, Founder/Managing Director + Co-Founder | MCollaborative + The Heart Series
Jess Puccinelli, Founder/CEO + Sr. Marketing Manager | Haute Hope + Everytable
Virtual Leader: Sanjana Shrestha, Country Director | READ Nepal
We're gathering changemaking mentors, peers, and partners that expand your brilliance whilst shaking the world!
Tickets include access to the #GiveGrowth Marketplace, dinner, + a glowy swag bag!
AGENDA
Check-in + Marketplace

Moderated conversation at roundtables, facilated by Featured Leaders and moderated by Saren Stiegel, Founder of Glow Effect.

Dinner + virtual conversation with Featured Leader, Sanjana Shrestha, Country Director of READ Nepal.

Final action planning, connecting + Marketplace
FEATURED LEADERS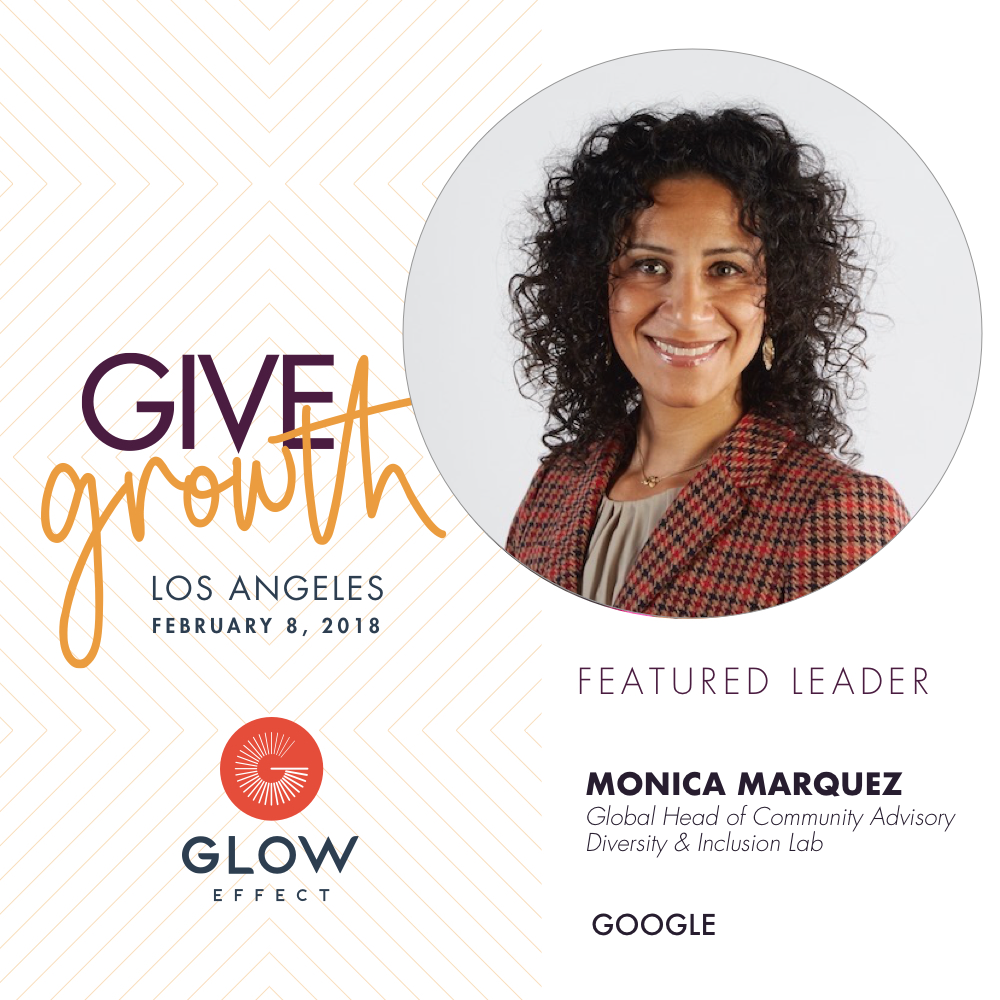 Monica

currently serves as the Global Head of Community Advisory for the Community & Business Inclusion pod at Google.
The Google Community & Business Inclusion team envisions a Google where every Googler plays a role in fostering a fair and inclusive culture within the organization and beyond Google's walls.
Prior to joining Google,

Monica

served as the West Region Inclusiveness & Flexibility Leader at Ernst & Young . In that role, she helped leaders shape culture, organizations, teams and talent through diversity and inclusion programs and initiatives. Before joining EY,

Monica

was a SVP at Bank of America Merrill Lynch on the Global Banking and Markets Leadership Development team within Global Human Resources.



Monica

is active in a variety of diversity focused non-profits and currently serves on the Hispanic Scholarship Fund Advisory Board, the Corporate Advisory Board for the Texas Tech Career Services Center and the NAFOA Education Advisory Board.
Monica
earned a BS in Biology and a M. Ed. in Higher Education Administration with a concentration in Student Development Theory from Texas Tech University.

In addition to her professional and academic achievements,

Monica

is also an accomplished singer and a former morning radio show host. And in her spare time, you will find her running, hiking, spinning or doing acrobatic aerial silks.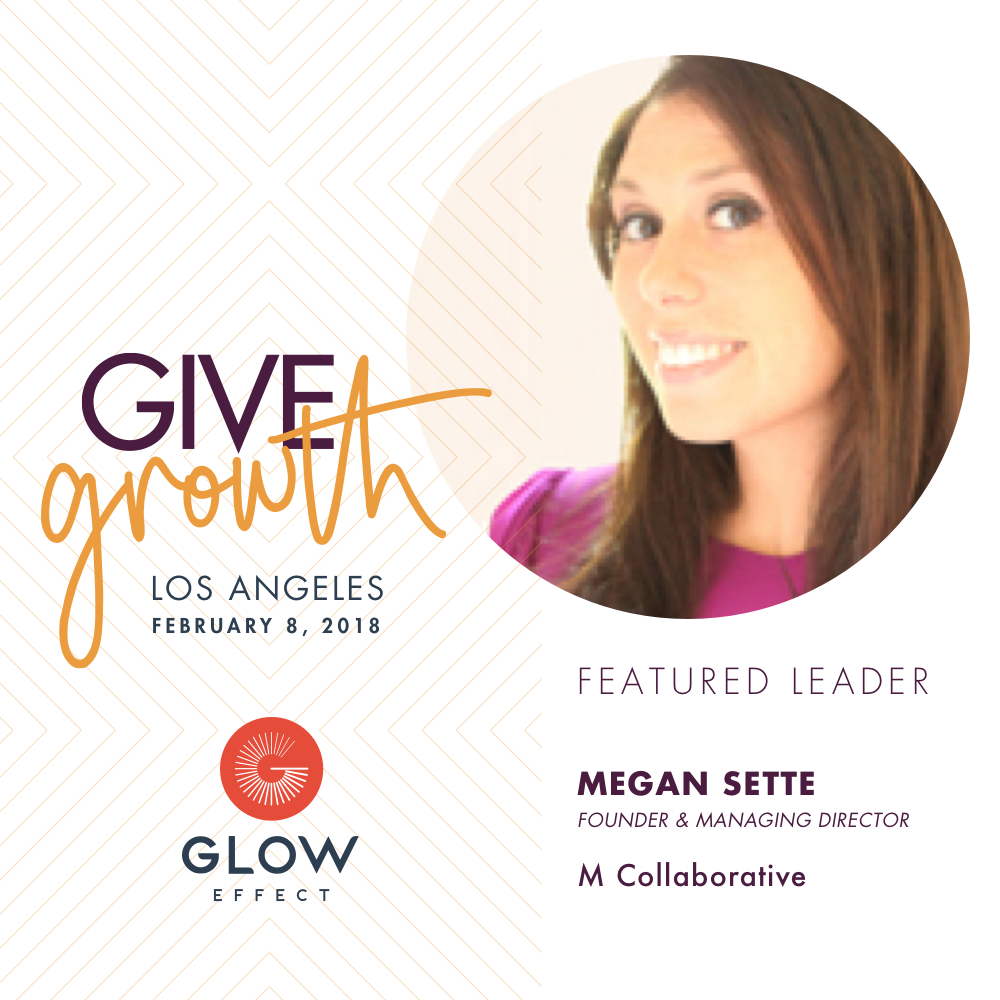 Megan Sette is the founder and managing director of M Collaborative, a boutique marketing + communications consultancy that works with companies to build community and make a greater social impact, both online + offline. Throughout her career she has worked with a range of businesses, from fortune 500 companies, to NGOs, and has lent her consulting expertise to everything from apps, to political campaigns. Additionally, she is a co-creator of The Heart Series, a conference on business x bettering the world, which brings together brand innovators, nonprofit leaders, and social entrepreneurs to discuss best practices for making an impact. She is also a co-founder and sits on the board of directors for GRID110, an economic and community development organization, in partnership with the Los Angeles mayor's office, dedicated to accelerating the startup ecosystem in downtown LA through programs, mentorship and essential resources.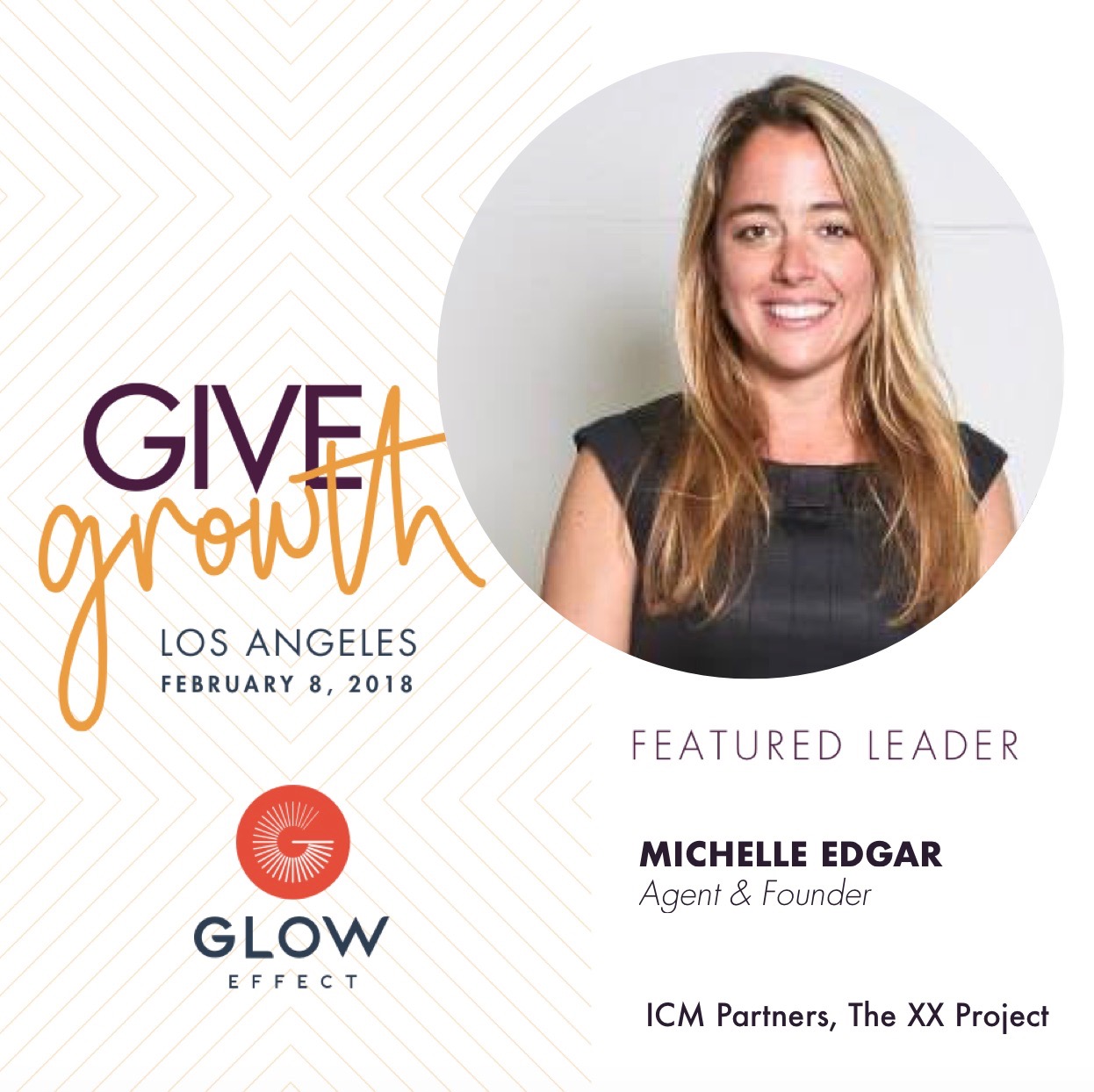 Michelle Edgar founded The XX Project over 5 years ago and has made it part of her everyday life to inspire and empower women in business through this network and platform by providing women with resources and tools to enhance their lives. She is an agent at ICM Partners in Global Branded Entertainment and Concerts. Michelle's expertise and focus is securing partnerships for ICM Partners artists across all genres of music.Clients range from Mary J. Blige, Bozoma St. John, JD McCrary, Cody Simpson, Luvvie Ajayi and Tina Knowles' WACO Foundation.

As an executive in the music business for over five years, Michelle has previously worked at FRUKT, KIDinaKORNER, Red Light Management and Warner Bros Records, focusing on strategic partnerships and artist development. She has worked on campaigns for the likes of Imagine Dragons, The Black Keys, Skylar Grey, Theophilus London, Gary Clark Jr., Steve Angello, Miguel and Mariah Carey.

Michelle also founded Music Unites: a non-profit organization funding sustainable music education programs in underserved public schools. The organization launched the Music Unites Academy program in partnership with the Compton Unified School District. Her love for music stems from her training as a concert pianist at Manhattan School of Music and Northwestern University.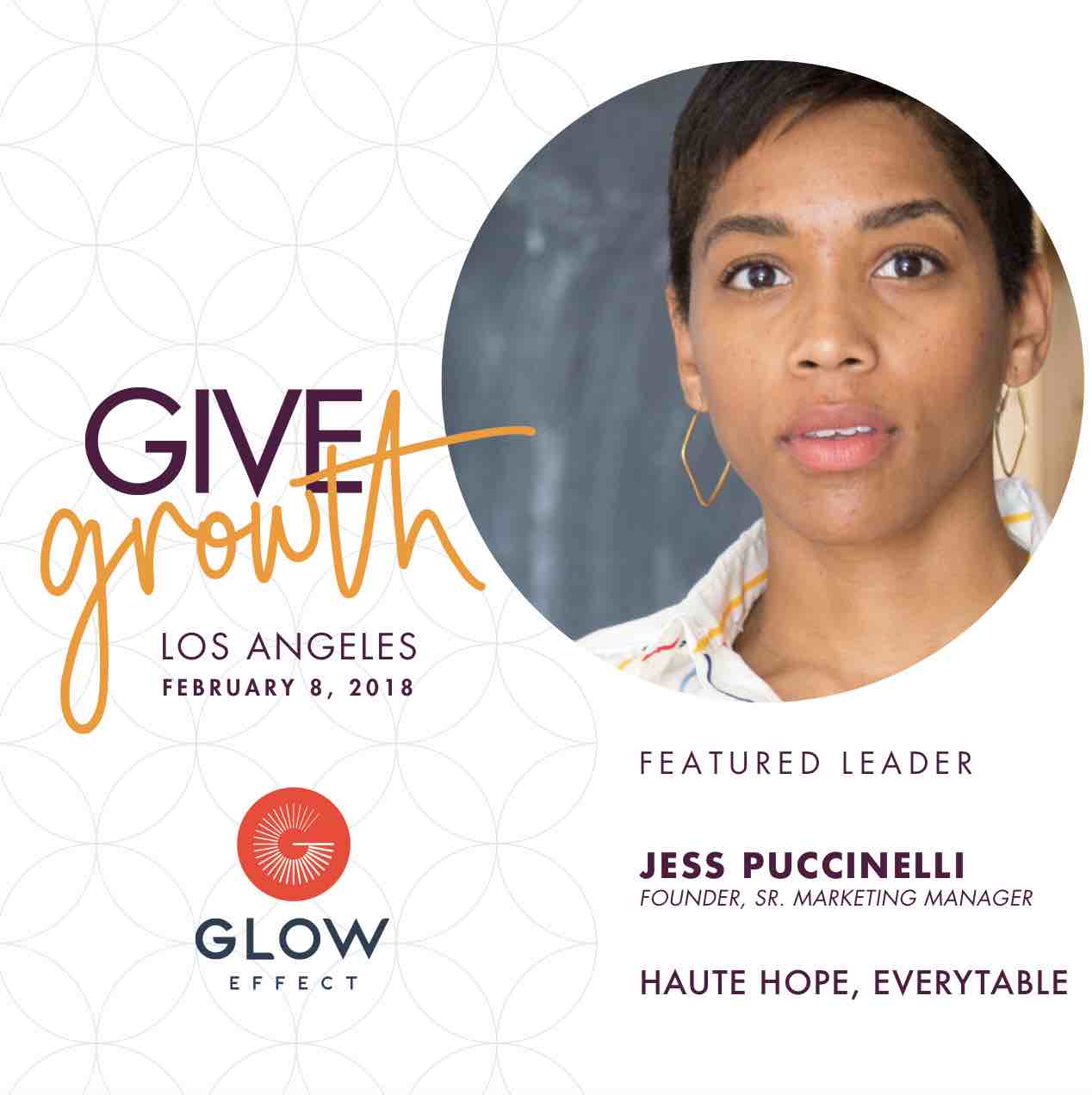 Jess Puccinelli can't sit still. Founder of Haute Hope, a socially conscious gifting studio - she spends her days working with companies that give back, speaking on entrepreneurship and dreaming up dope collaborations. In between that she can be found riding her 1986 Peugeot, running/hiking L.A. trails, and scouring thrift stores with her husband for one of a kind pieces.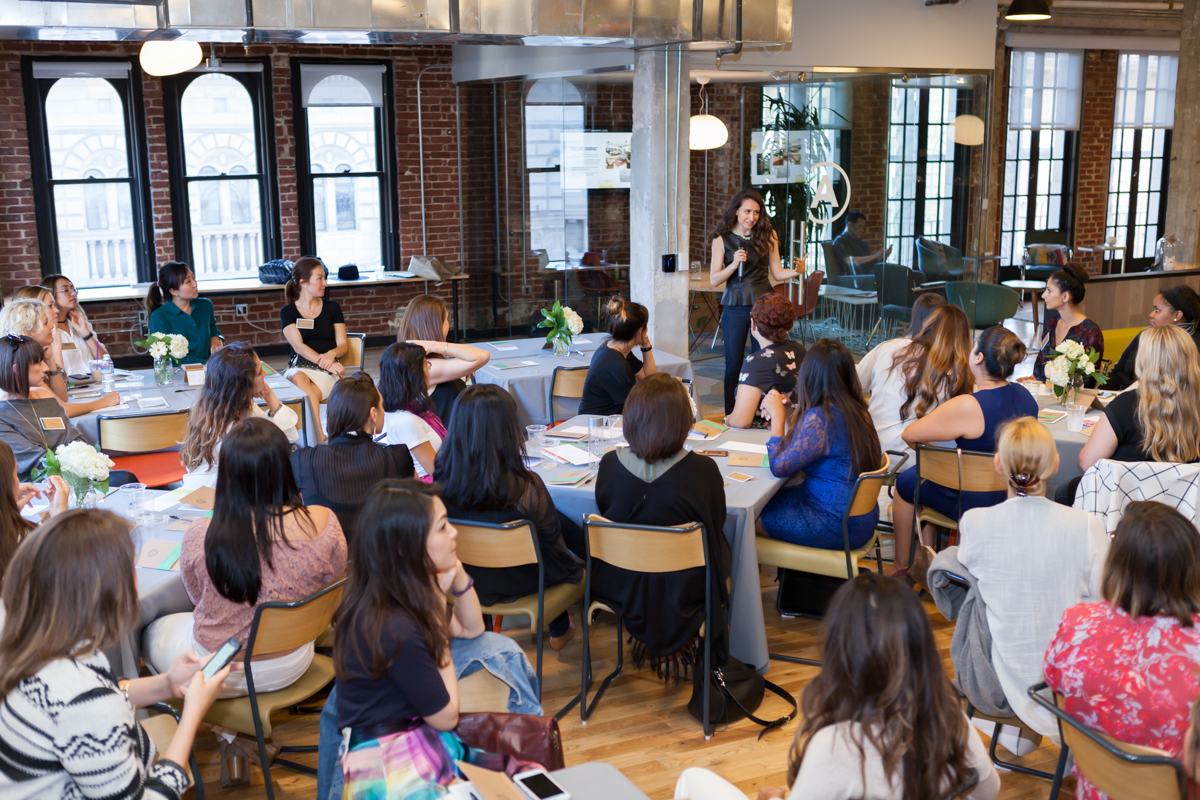 "There were people from massive companies who, I could tell, are very high up in their roles, to women that are wives and on start-up number three. Coming from the events world, I know we always hope for a great turn out, but it's always surprising when it's that good."
Elizabeth Freise
Senior Manager of Brand Strategy, POPSUGAR

"Women, a lot of times, we feel like we are frauds. I feel like it pretty much every day when someone asks my opinion on something, but when you're in a room like [this] and there are other women who feel the same way you do, have similar stories, and can learn from each other – that's how we change."
Tracy Gray
Founder, 22 Capital Group & We Are Enough
#givegrowthLA