Event Information
Location
"The Pink Cafe" Afghanistan
"The Pink Spot"
Description
The Race:
Come out and run with us in support of families with breast cancer! Give Cancer the Boot Foundation is hosting Half-Marathon, Team Half-Marathon (Relay), and 5K runs on October 20, 2017!
Registration is absolutely free, and the first 75 registrants will receive a free t-shirt the night before the race.
If you can't join us for the race, but would like to help financially support a family with breast cancer, you can make donations at our GoFundMe page:
https://www.gofundme.com/give-cancer-the-boot-halfmarathon
Race Shirt free for the first 75 participants to register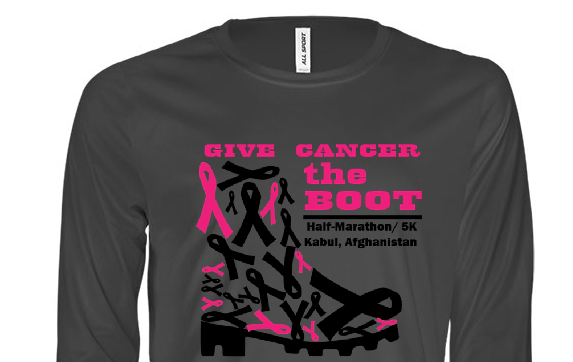 Additional information:
Those who register after the cut off can purchase a shirt at the event for $15.
Race Schedule:
August 15, 2017: Donation drive start
September 30, 2017 @ 2359: Deadline for Free T-shirt
October 19, 2017 @ 1800: Kick-off dinner at Destille Gardens & T-shirt pickup
October 20, 2017 @ 0600: Run start for all events
October 31, 2017: Donation drive end
About us:
It is the mission of the Give Cancer the Boot Foundation to provide financial assistance to a family suffering from breast cancer. Our half marathon and 5K during Breast Cancer Awareness Month will raise awareness for our donation drive.
Why we do it:
1 in 8 women will be diagnosed with breast cancer during their lifetime (Susan G. Komen Foundation)

Breast cancer costs $23,000-$62,000 to treat annually with insurance (National Cancer Institute)

In addition to medical costs, families lose income due to lost wages and increased child care costs (breastcancer.org)

Cancer patients are 2.7 times more likely than the average person to file for bankruptcy (National Cancer Institute)


Date and Time
Location
"The Pink Cafe" Afghanistan
"The Pink Spot"
Refund Policy