This instalment is an outdoor screening of Thulani Rachia's ambitious and beautiful site-specific installation 'of sugar and Bones'
About this event
We are delighted to announce the fifth instalment of GIVE BIRTH TO ME TOMORROW, this year's Artists' Moving Image Festival, which has been co-programmed by artists and writers Tako Taal and Adam Benmakhlouf.
This instalment is a sharing of the moving image elements of Thulani Rachia's ambitious and beautiful site-specific installation of sugar and Bones, originally presented in 2019 in Civic Room, Glasgow. Originally presented as a duo of works, Ukhumbula Khuphi (Where Do You Remember?) and Ukhumbula Kanjani (How Do You Remember?) for this screening the work had been adapted as a single channel piece which patiently tracks the changes in Glasgow's cityscape. Rachia films outside a construction site, showing the stages of deconstruction as an instance of the city's colonial architecture is unceremoniously torn down to make way for a four-star boutique hotel. Textual interjections are made throughout, coming from African (Nguni) dream theory, which "recognises dreaming as central to an individual and a community's wellbeing and positions dreams and the body as a site of ancestral knowledge." Rachia's filmic response tracks the choreography of the crane, as it becomes a stiff and careful arm, methodically pulverising the building's remains.
Work details: 22 min, HD video, silent
Location: The Hidden Gardens, Tramway, 25 Albert Dr, Glasgow G41 2PE
Access:
The film will be screened outdoors, it is 22 minutes long and silent.
For information on how to find Tramway you can find information on their website: https://www.tramway.org/visit-us/
The Hidden Gardens is an urban green space adjacent to Tramway, entrance to the screening will be through the main Tramway door.
Seating: Seating will primarily be on grass. There will be a limited number of chairs available for those who require them. To book a seat, please email scotland@lux.org.uk 
Floor Surfaces: The Hidden Gardens has a gravel path bordered with concrete flagstones, and a concrete patio area.
Toilet facilities: There will be access to Tramway's toilet facilities. There are gender neutral toilets located on the ground floor and mezzanine level, and separate male and female toilets on the upper foyer. An accessible toilet which is suitable for wheelchair users is available on each level.
Weather: In case of bad weather preventing the screening going ahead, we will be in touch with ticket holders by 12noon on Thursday 23 September to advise of cancellation. 
Image descriptions:
1. A landscape graphic with protest placard like shapes emblazoned with the words 'GIVE BIRTH TO ME TOMORROW' in capitalised san serif font. The rectangular shapes splay out across an intense reddish pink background, overlapping one another.
2. A video still showing a building demolition in progress. An orange excavator takes up most of the frame, it's arm, and worn red bucket dominate the foreground. In the background to the right a two-story red brick building is in a state of demolition, it's rooms are open to the air. To the left another building is covered in scaffolding while a tower block rises in the distance.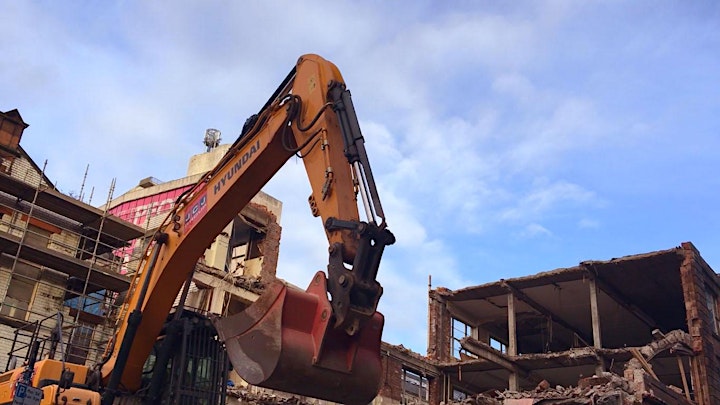 Organizer of GIVE BIRTH TO ME TOMORROW| Part 5: Thulani Rachia