| | |
| --- | --- |
| GIVE A FREE $25. GIFT CARD COURTESY WWW.VISIONBOARDINSTITUTE.COM | |
Event Details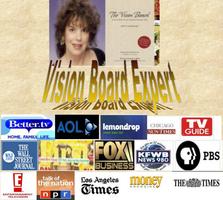 Message from Joyce Schwarz, bestselling author, THE VISION BOARD book, joyceschwarz@gmail.com, 310-822-3119
GIVE THE GIFT OF VISION THIS HOLIDAY season -- yes, continuing a tradition for our 5th year we are offering you a FREE $25.00 GIFT CARD to give as a gift to a favorite person on your list -- or go ahead gift it to yourself!  ACT NOW -- no free gift cards will be issued after 12 midnight December 31, 2014 Pacific Time.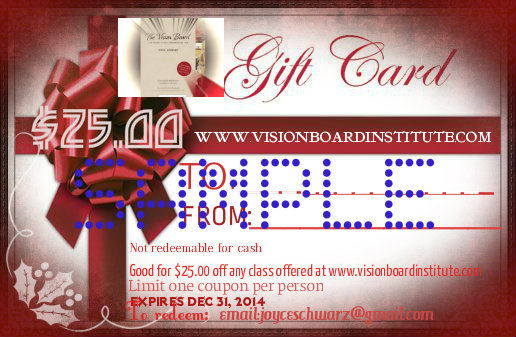 We know the economy is tough -- and you may not have had a chance to get a gift for someone you really care about -- so we want you to gift them with this gorgeous Vision Board Institute gift card www.visionboardinstitute.com
Good for $25.00 off on any of our upcoming courses -- expires on December 31, 2013 --- sign up here and we will send you the actual NUMBERED gift card to print out and give to your friend or family member or client. 
SORRY -- limited to one per person --note all gift cards must be hand numbered by Joyce Schwarz --and your people must email: joyceschwarz@gmail.com to redeem the card.
Any questions, email: joyceschwarz@gmail.com   All free gift cards MUST be requested prior to January 1, 2014. 
PS want to buy a gift card or gift your friend with the wondrous gift of a Certified Vision Board Coach course or Certification as an Accredited Vision Board Coach -- please call 310-822-3119 and talk with Joyce personally.
OTHER SPECIAL DEALS: -- see our deals on gift certificates for hourly coaching and for a special 6 week private VIP coaching program that Joyce offers. 
JOIN our 2014 VISION BOARD CLUB before January 1, 2014 and get more than $500 in online bonuses -- more than 12 hours of monthly coaching, free vision board templates, free VIP infocalls on visioning and LIVING YOUR VISION. 
Organizer
THE VISION BOARD INSTITUTE founded by Joyce Schwarz offers the following services:
*Creation of Giant Vision Boards for Charity Benefits & Corporate events (call for details and price list)
*Accreditation as a Certified Vision Board Coach joyceschwarz@gmail.com
*Vision Board creation classes and workshops for corporations, churches, nonprofits and community groups and private parties & events, joyceschwarz@gmail.com