Description
Dear friends,
We are very excited to invite you to another special house concert we are hosting in Brookline, MA on Friday September 22, 2017.

Doors open at 6:30pm (food and drinks provided)
Concert starts at 7:30pm.
Giuseppe Paradiso (Italy): drums & compositions
Mark Zaleski (USA): saxophones, flute and clarinet
Utar Artun (Turkey): keys
Jussi Reijonen (Finland): fretted and fretless guitars, oud
Max Ridley (USA): bass
Malick Ngom (Senegal): West African percussion
Meridian 71 is a collective of a very eclectic and international roster of Boston-based musicians, led by drummer and composer Giuseppe Paradiso. The collective has been active since 2012 and has published its first album "Otherness Collection" during the same year, featuring all original compositions by G. Paradiso.
The original music performed by Meridian 71, is the result of an extensive research into various musical genres and styles, traditions and cultures, combining composed material and improvisation with influences that range from Jazz and American music to European, African and Middle Eastern harmonies and rhythms.
"Music that talks to the listener, rich of several and different cultural elements that Giuseppe and his magnificent band blend wonderfully together with sweetness and energy. Encounter and fusion of melodies, harmonies and rhythms that evoke arcane atmospheres, intense sentiments and distant landscapes, but strongly present and real. Music that makes you travel beyond the boundaries of imagination to offer you swirls of deep emotions."
Marcello Pellitteri
Drummer, Educator
Professor at Berklee College of Music



G. Paradiso started his musical studies on drums at the age of five. He graduated from Berklee College of Music in Boston and from the Italian conservatory of music "N. Piccinni" in Bari (Italy), where he also studied classical composition and piano.
He has performed and recorded internationally both as a sideman and a leader with several renowned artists, groups, and orchestras from different countries and across a wide variety of music genres. Among these artists and groups are seven-time Latin Grammy-award winner and Spanish producer Javier Limon; percussionist-singer and Grammy-award winner Arto Tuncboyaciyan (Peter Gabriel, Chet Baker, Joe Zawinul); pioneer guitarist David Fiuczynski (Jack Dejohnette, Jo Jo Mayer); Orchestra Sinfonica della Provincia di Bari; jazz trumpeter Phil Grenadier (John Scofield, Kenny Barron, Steve Swallow); Marco Pignataro (Director of the Global Jazz Institute at Berklee College); four-time Grammy-award-winning Latin bassist and educator Oscar Stagnaro; jazz bassist John Lockwood (Gary Burton, Joe Henderson, Freddie Hubbard); Italian artists Daniele Sepe, Vito Di Modugno, Vince Abbracciante, Mario Rosini; Syrian award-winner clarinetist Kinan Azmeh; Lebanese New York City-based composer and multi-instrumentalist Bassam Saba (Yo Yo Ma, Quincy Jones); award-winning Chinese virtuoso Yazhi Guo; gospel artist Gabriel Eziashi and British singer-songwriter William Topley.
Giuseppe's performances include multiple festivals, major venues, and institutions such as Panama Jazz Festival (Panama City, Panama); Newport Jazz Festival (Newport, Rhode Island); Les Journee de la Percussion at Conservatoire Superior de Paris (France); Equinox Music Festival at Berklee College of Music, where he premiered his composition in solo percussion, commissioned for the same festival; Festival Duni (Matera, Italy); Festival Paleariza (Reggio Calabria, Italy); Teatro Piccinni and Stadium San Nicola (Bari, Italy); Le Giornate Della Percussione at the Conservatory G.B.Pergolesi (Fermo, Italy); Northeastern University (Boston, Massachusetts); Isabella Stewart Gardner Museum of Boston; Dante Alighiery Society of Boston; The Austrian-Canadian Cultural Centre (Calgary, Canada); Old Town School of Folk Music (Chicago, Illnois); Regatta Bar (Cambridge, Massachusetts); The Stone (New York City); Twins Jazz (Washington, DC); Gregory's Jazz Club (Rome, Italy); Ueffilo Jazz Club (Gioia del Colle, Italy), among many others.
In 2013, he co-founded the In Momentum Concert Series with vocalist Gabriela Martina and vibraphonist Andria Nicodemou, a series based on free improvised and creative music. In Momentum produced collaborations among a large number of local and international musicians, growing a strong community and a unique environment to enhance freedom in music creation.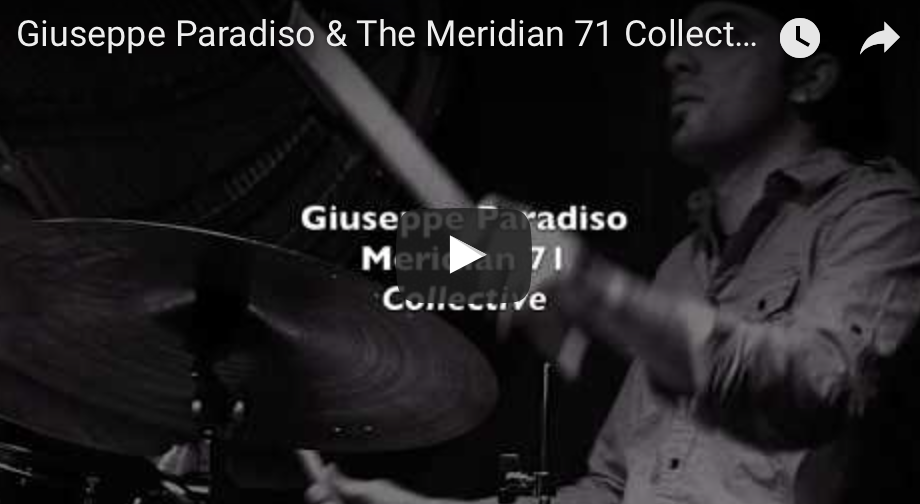 An evening of live music, food and drinks!!!
Attendance is RSVP only. Capacity is limited to 50 people and may quickly sell out.
Please, make sure to RSVP in advance to ensure your participation and do not hesitate to extend invitation to relatives and/or friends.


Free street parking | Suggested donation $25 at door
For any additional information, please feel free to call or text Giuseppe at +1 857.654-3004 Email:.giupa.83@libero.it
Until then, be well!
The Chelsea