Description
Your team wants to build better software, faster. We want to help. That's why we're introducing the GitHub Enterprise Summit: a one-day event that brings together enterprise leaders, GitHub customers and local innovators who are transforming the way their teams build software. You'll come away with insights from enterprise leaders about how real teams are building better software, and an inside look at our product roadmap.
Location
DeFabrique - Westkanaaldijk 7, Utrecht, the Netherlands
Agenda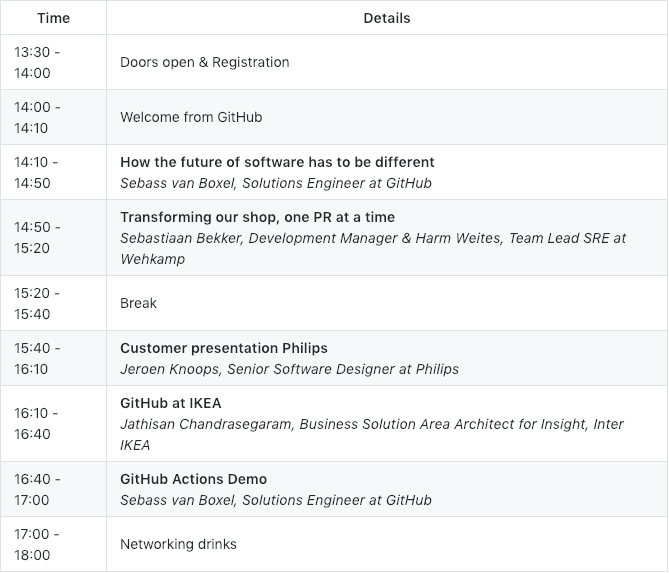 Why should you attend
Whether you're a team lead, an engineering director or CTO, you'll get the opportunity to focus on how software development is changing and what those changes mean for the future. You'll walk away with concrete strategies from other enterprise teams on how to successfully build, test, and maintain software, along with fresh information about GitHub's product roadmap.
The GitHub Enterprise Summit in Utrecht will feature several talks about how software development is changing, and attendees will:

Discuss with peers from companies like Wehkamp on how they use GitHub to build software faster

Hear from industry leaders

Meet the GitHub team

Glimpse into the future
Who is attending?
We're welcoming the GitHub community at our Netherlands Summit, including:
Customers using GitHub

Top partners building strong integrations with GitHub

Friends that support GitHub or want to learn more


Please let us know if you have any dietary requirements.