About this Event
Purchase your tickets now at eventbrite. $15 online and $17 at the door.
This show show will encompass the entire Cubby Bear space. 3 Floors of art and music! At the main stage, 2 funk bands - each performing live. Plus the incredible DJ Corey Bless will be spinning the entire night. Over 50 artist throughout 2 floors displaying a variety of Chicago's funkiest art. Libations and food available at the Cubby Bear. This show will be epic - We hope to see you there!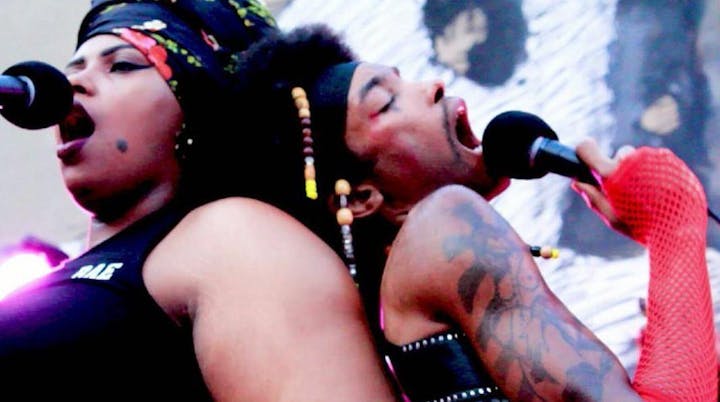 GIT LIT is super excited to be bringing you one of the most exciting and funkiest bands performing today. Tamarie T and the Elektra Kumpany! Here's a review from a recent performance at the House of Blues Chicago:
"I returned from vacation halfway around the world to check out some music a little closer to home. House Of Blues hosted a night of bands from around Chicago and I caught a couple of really talented acts that I'd never before seen. Both had a huge stage presence and a lot of energy.
First was Tamarie T and The Elektra Kumpany. If you're familiar with the music of Parliament Funkadelic or Sly & The Family Stone, you might be ready for what Tamarie T calls Exotic Funk. With a dozen people on stage, there was constantly something interesting going on. They feature a tap dancer, a great horn section, some brilliant guitarists, and singers that'll blow you away.
Still, the main draw is Tamarie T himself. He's a super-compelling frontman from whom it is nearly impossible to draw your eye away. His style reflects the 60's protest movement and glam rock fashion at the same time, with gold pants and high boots joining his native body and face paint." Review by JOSHTERZINO of MUSIC DEFINED 2018.
GIT LIT is also thrilled to have Goose Wayne and the Kozmik Rebel Alliance bringing their high energy Punk Funk to the stage. On goosewayne.com they are described as being influenced by "Freddy Mercury, Rick James, James Brown, Iggy Pop, David Lee Roth, Mick Jagger, and Kanye West. Whether Goose Wayne is passionately dancing back and forth like a mad man or sliding across the stage like Crisco oil covered the stage floor no doubt he is a top notch performer who creates very good music with a band that plays up to his mad man energy."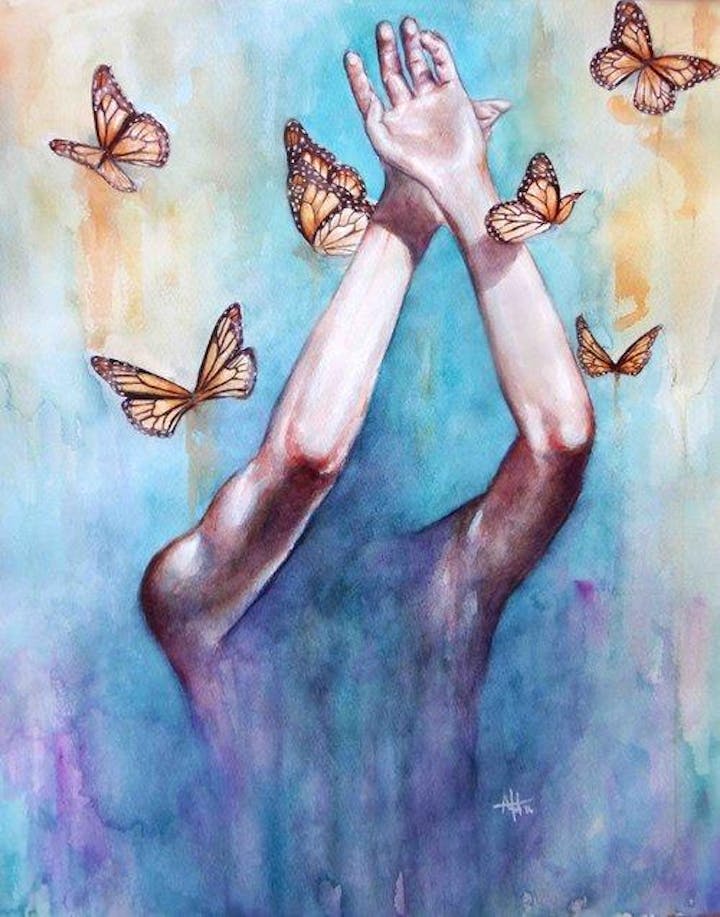 GITLIT FEATURED ARTIST: ARTHUR BRAUD
PAINTING TITLE: BLIND SIDED (water color on paper 16x20")
Arthur Braud is a Vietnamese American artist born and raised in Kalamazoo, MI. From a very early age, Braud was deemed a young perfectionist by those that surrounded him. He had a strong desire to be perfect at everything, but continually lacked self confidence and self value. His happiness was enshrouded by his own personal dissatisfaction at the mere age of 4.
Heavily influenced by portraiture artists such as Lucian Freud & Giacometti, Braud started to find self value at age 16. This is when he picked up his first drawing tool. After mastering observational drawing techniques in graphite & charcoal, Braud began to use his feeling of dissatisfaction and self destruction for self reflective work. He started with drawing, moved to oil & acrylic painting, then eventually made his way to watercolor in 2013. Though many are often surprised by the solemness in his creations, Braud uses his past struggles with his own acceptance as inspiration for his work.
For the entirety of his career, Braud has constantly juxtaposed the ideas of beauty and devastation. Braud portrays his subjects as psychological existences, rather than social beings. He focuses on the psychological state of humanity to instantly connect individuals through visual representation. Braud's new line of work is a reflection of self-identity in his social surroundings. Using "feminine" motifs, Braud aims to embrace the beauty of femininity, while also exploring its societal negative connotations and the role it plays on his natural spirit.
Braud has participated in over 20 gallery showings, including the Grand Rapids Art Prize, and has sold to several institutions across the globe.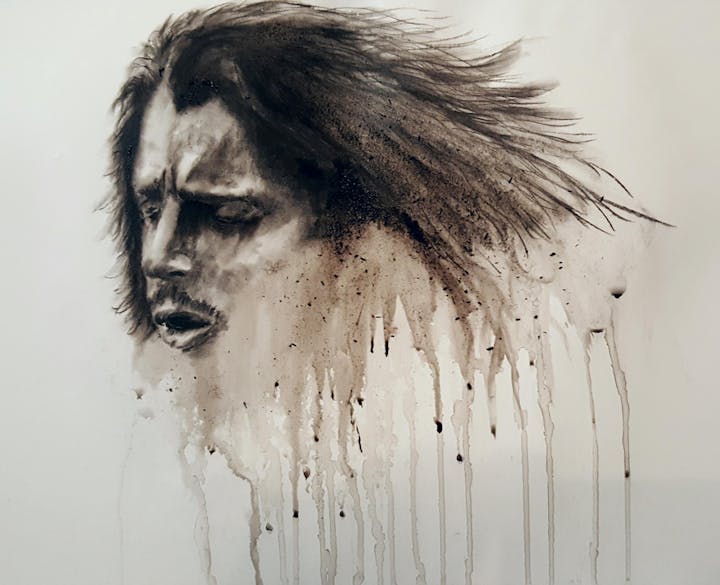 GITLIT FEATURED ARTIST: TIM BRANDT
PAINTING TITLE: Hurting Voice (Charcoal and ink on paper 11 x 14)
I was diagnosed with Parkinson's Disease 10 years ago and to say it changed my life is an understatement. I use my art as a way to deal, cope, express my daily struggles, thoughts and feelings. I primarily use charcoal because it's easier to work with when my tremors aren't quite under control. My subject matter is all over the board from portraiture, pop culture to erotic and all points in between. Where my mind goes my art follows.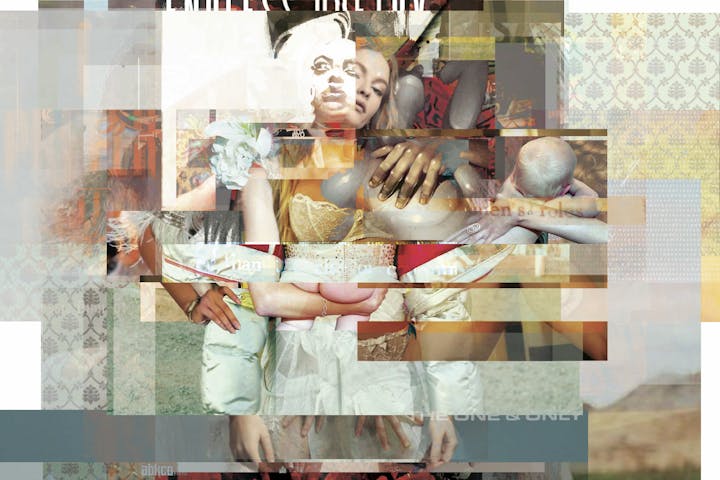 TAKAKO KONISHI: GIT LIT CO-FOUNDER & CURATOR
African American artist Takako Konishi (pseudonym) constructs collages that pay homage yet break with the traditional collage aesthetic. He describes his process as painting with images. Utilizing digital technology along with traditional methods he cuts, pastes, blends and mixes imagery, creating multi layered mashup compositions that burst with sexuality, anger, beauty and obsession. "Imagery makes the best paint, it's comes dripping with color and connotations." (Takako Konishi)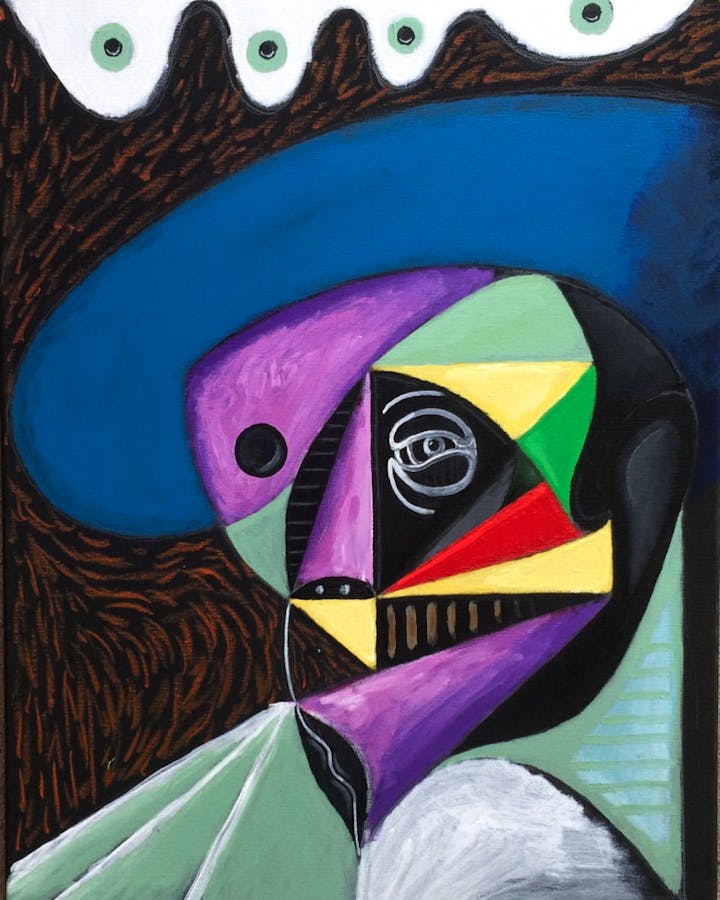 GITLIT FEATURED ARTIST: MATTHEW DICKS
Matthew Dicks is an African American artist from Gary, Indiana. He is best known for articulating brilliantly rendered images that emerge instinctively from his imagination in paintings and prints. Matthew frames elements of abstraction and figuration in geometry, anatomy, and metamodern philosophy. Matthew went into self-exile after the 2016 presidential election by relocating to Paris and eventually settling in Amsterdam to begin painting with a liberated soul free from oppression, poverty, and injustice. His works are a direct answer to the current provocations to identity, reality, free speech, and truth in a rising climate of xenophobia, nationalism, and isolationism around the world.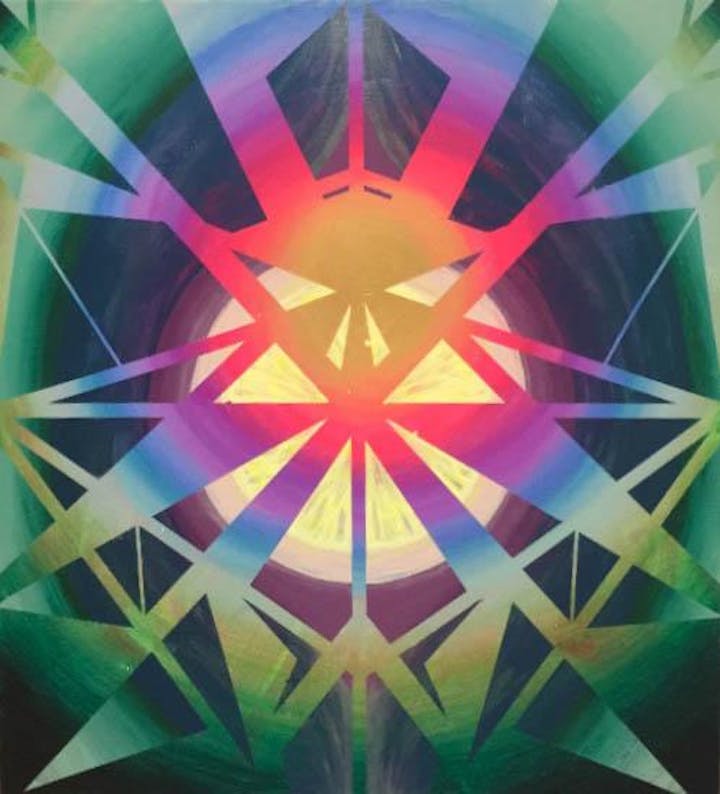 GITLIT FEATURED ARTIST: FRANKA DEL SANTO
Franka Del Santo is an indigenous artist, descendant from the Diaguita people native to the IV region in the "Little North" of Chile. Her work is a loving homage to her ancestors, who used geometric patterns to adorn their ceramics, jewelry and clothing. Very little else is known about the Diaguita culture, but observing their unique use of line and shape is enough to inspire an image that powerfully bonds the past to the present. Alive in the 21st century, Franka is invested in filling the historical gaps with a new kind of geometric abstraction, hoping to unearth more treasures buried deep within her DNA.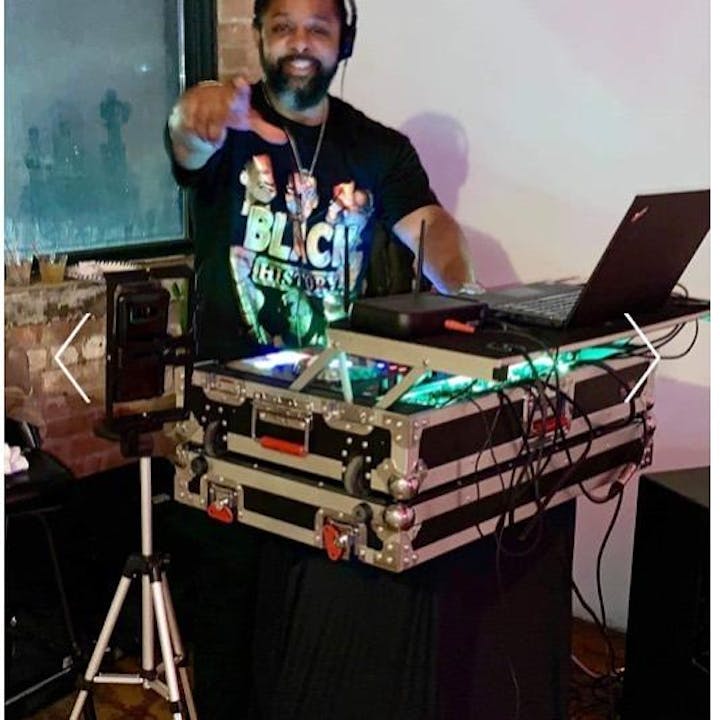 Who is DJ Corey Bless? Find out at GIT LIT's Chicago Art and Funk Fest! DJ Corey Bless is a well accomplished local DJ who has been rocking the Chicago music scene since the late 80's. His musical catalog covers the spectrum as he spins Reggae, Caribbean styles, Hip hop, Rnb, House music, Top 40 and many other genres. Corey has provided the grooves to several legendary local venues including the Cotton Club, The Dragon room, The Clique, Mr. Browns Lounge, Exodus, The Shrine, The Wild Hare and many other spots. Currently her has been making his home at several local establishments including the Island Party Hut on the Chicago Riverwalk where he will host the last party of the season OCt 5th. Git Lit is honored to have DJ Corey Bless spin at the Chicago Art and Funk Fest on Nov. 2nd at Cubby bear!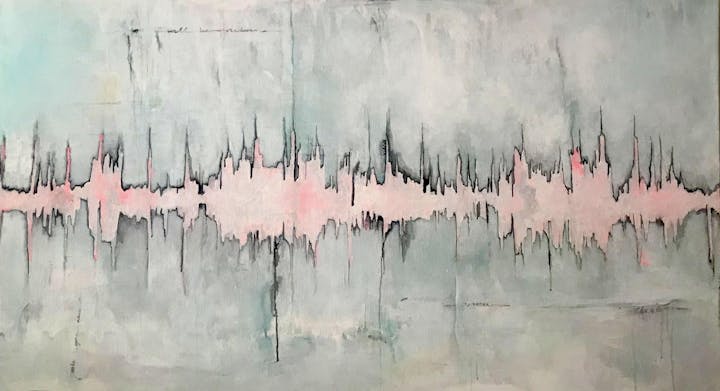 GITLIT FEATURED ARTIST: ERICA ROSE
I am inspired and intrigued by the worlds we cannot see with our eyes or rationalize with our minds. My focus especially ignites on the bridge between the visible and invisible, between the conscious and unconscious worlds.
What exists in the space where form begins to take shape…
What happens in the subtle, emotional, the in-between, the near visible, the liminal…
I believe these are the spaces that can be provoked into consciousness by feeling, tasting, hearing, sensing smelling. In my work I like to explore what it would look like to expand these transitional places of transformation.I want to push the edge of imagination and consciousness to explore the personal and universal truths found in the liminal world. What does a sound feel like, and how would it look if we could see inside a vibration or a bar of music? What color would the vibration of a baby's first heartbeat radiate? What songs will be sung in their lifetime? What texture could be seen in the scent of a rose, what harmony would it sing? What if we could expand an emotion and look inside of it… see how it morphs, forms and grows? What colors might exist that we cannot yet see? What shapes could we find in the liminal, slowly easing into light?
"the dissolution of order during liminality creates a fluid, malleable situation that enables new institutions and customs to become established." – Arpad Szakolczai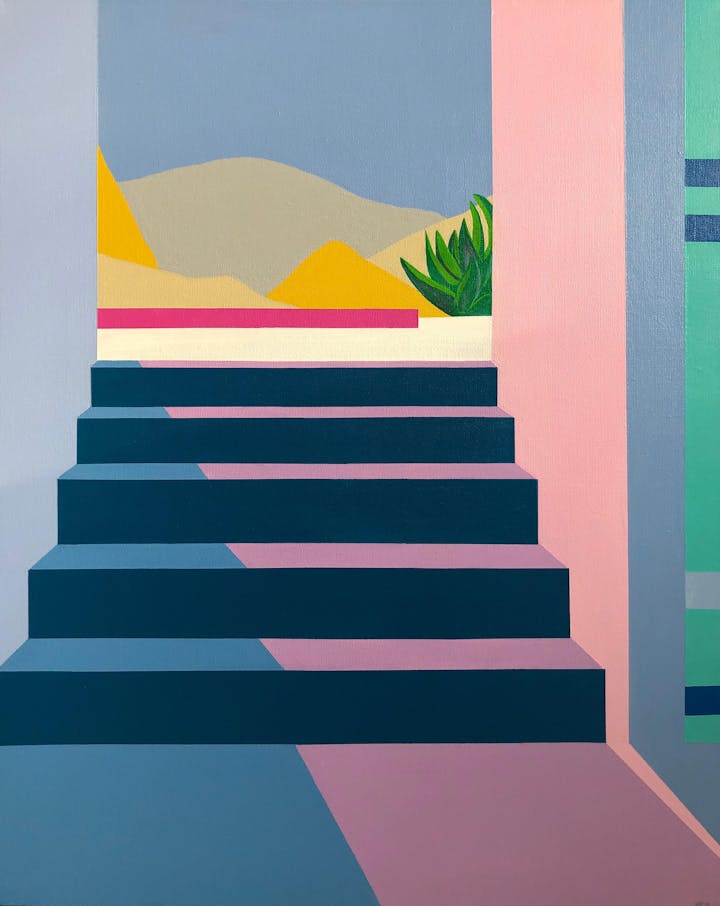 GITLIT FEATURED ARTIST: MARY FEDOROWSKI
OVERBITE STUDIO
My work examines how light and color fundamentally bring shapes to life. My
style is rooted in minimalism with a focus on the beauty of modern cityscapes
without the stain of human touch. Using crisp lines, an engaging palette, and
playing with space and movement, each work is a calm and vibrant respite
from the maximalist distractions of modern life. Whether by shadow or
greenery, my art suggests that life does exist right beyond the wall.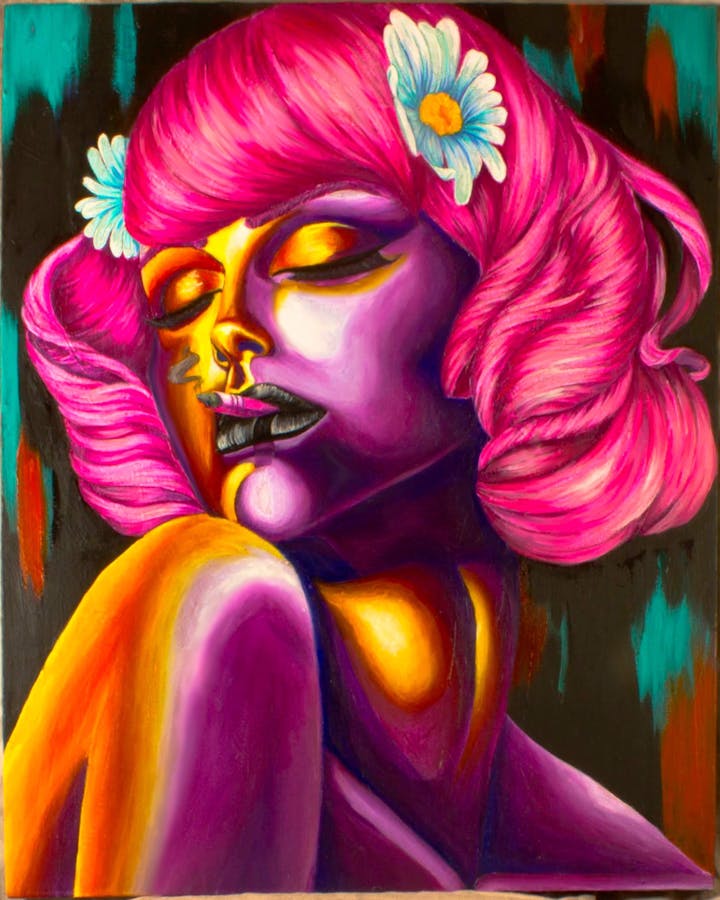 GITLIT FEATURED ARTIST: JENN WEISKOPF
Jenn is a, visual artist that mostly focuses on a surrealistic take on portrait work with vibrant colors and emotional imagery. She is a self-taught artist after being inspired by her mother painting since she was young. She has always had art in her life as a therapeutic and creative release. Even finding a muse in the artist themselves such as Frida Kahlo or Alexander Grey that were significant in helping her know that its beautiful to have a different perspective on the world.
Her influences range from 70s psychedelic rock, the pin up style of Gil Elvgren, and the electrifying color combination of graffiti-based art. Nature and nostalgia also play a heavy hand in the inspiration for the overall feeling of her art. A goal in mind when creating is to give an emotion to the painting, like getting lost in a song or your favorite old photo.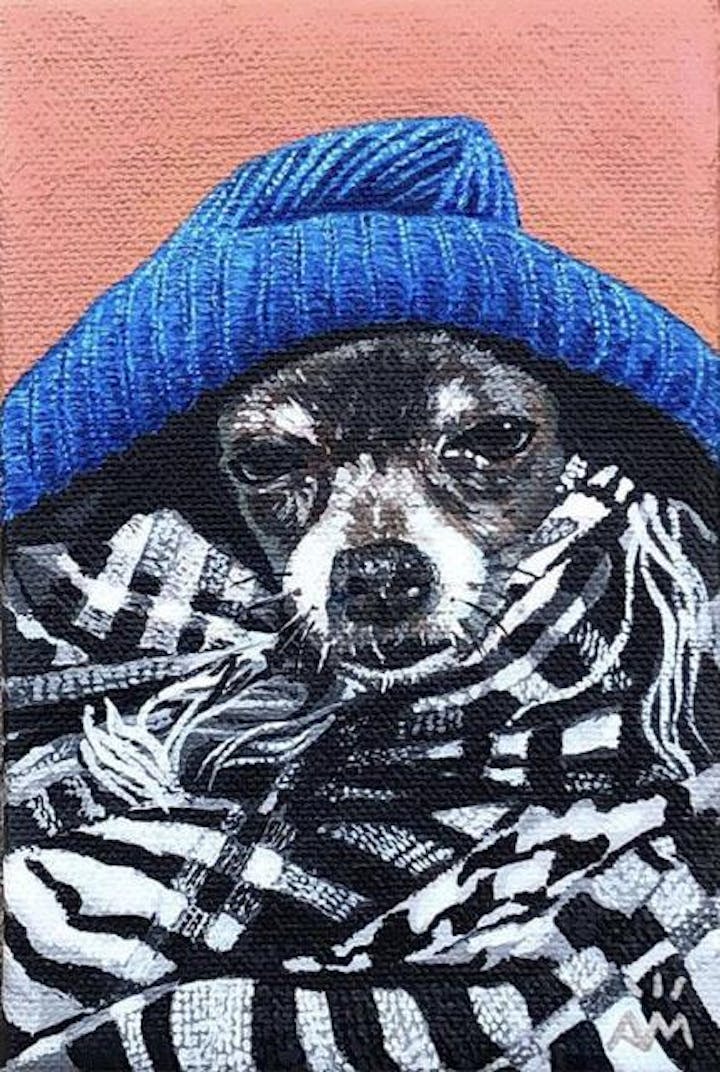 GITLIT FEATURED ARTIST: Adriana 'Dri' Miranda
Adriana "Dri" Miranda is a self taught artist from Addison, IL. Exploring all ventures either with medium and or subject matter, she believes an artist shouldn't limit oneself. See more samples of her work; instagram handle DRIFOREAL.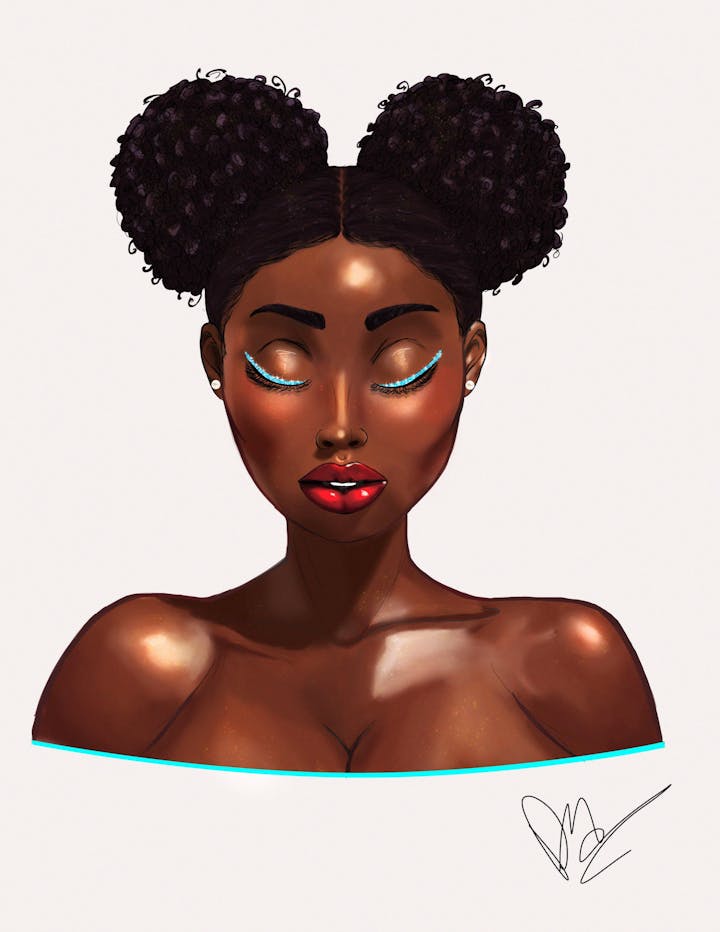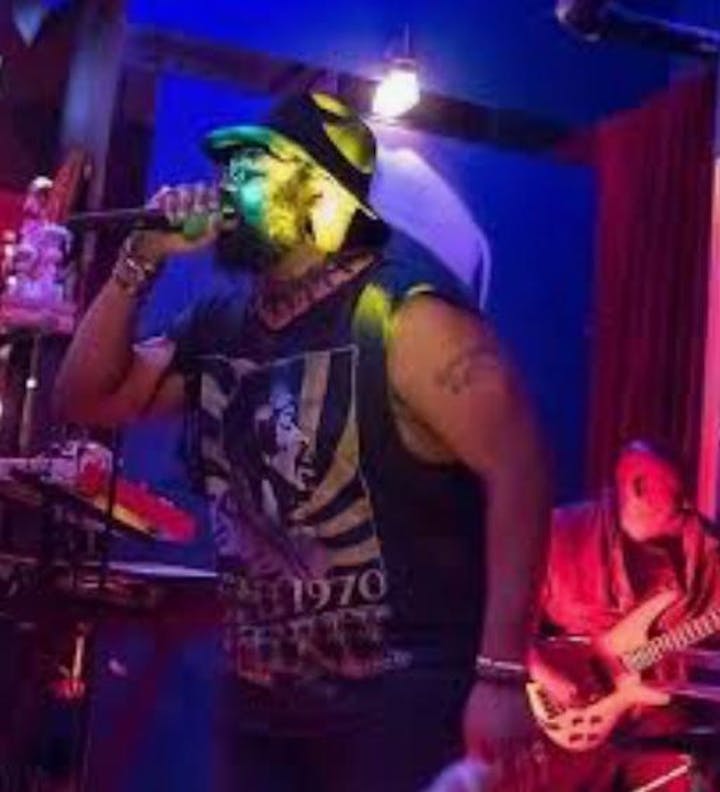 GIT LIT will be kicking things off with Goose Wayne and the Kozmik Rebel Alliance as the opening act! This band is going to set the tone for the Chicago Funk Festival!
GIT LIT FEATURED ARTIST: Dyona McQuay
I have always had an attraction to unique, complex, yet simple things. For example, the shape of the clouds have simple organic shapes, yet their size are monstrous and inspiring to view under the scattered rays of light from the sun- such an ordinary moment of life is often taken for granted. A perspective that appreciates the smallest, yet intricate things in the world is what inspires my work of art. The natural world is eccentric, weird and beautiful all at once and nothing can compare to the wondrous altitudes that man has taken to imitate its uniqueness. People are a distinct feature created by nature and my artwork works in harmony to embellish the diversity of the human spirit and natural wonders of the world into one, which I feel that we all should be striving for in one way or another.
GIT LIT FEATURED ARTIST: Katarina Jacobs
I am making my work with critical speculation of my experience as a girl and then as a woman. I have realized the power of female driven fantasies where women sometimes "perform" certain traditionally masculine traits in hope to readopt them as a normality of womanhood or as a tactic to deny societal norms. As a result, my work aims to place women into uncommon narratives that show the complexities that all people have, no matter their gender- to instigate normality to "uncommon female behavior". Some things I have noticed about traditional (public) female behavior in the U.S, is a lack of facial expression, loudness, sexual expression, and aggravation. I hope to re-evaluate our behavior as women in the media, so that women feel more comfortable expressing their raw emotions without a conscious or subconscious filter.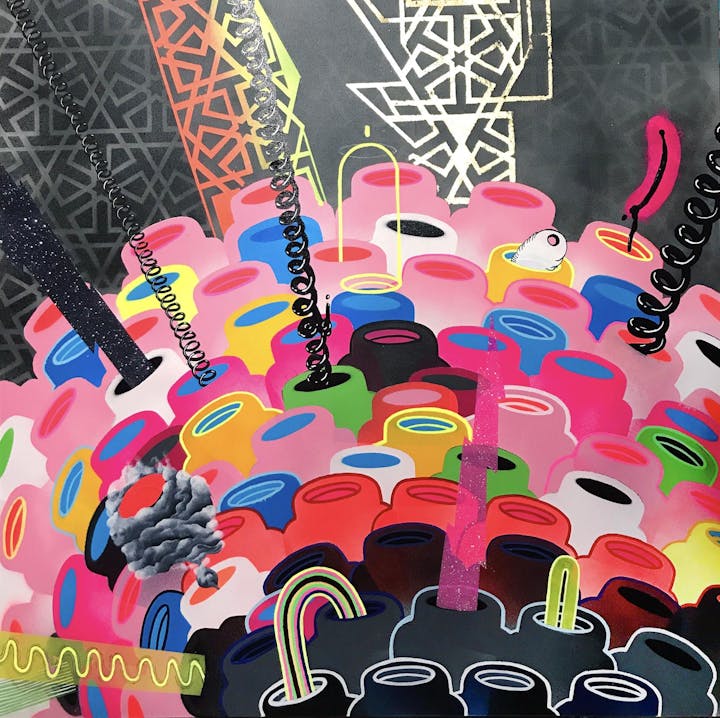 GITLIT FEATURED ARTIST: CJ Hungerman
cj-hungerman.squarespace.com – rrastudio24@yahoo.com - @cjhungerman
The desire of unity in our community is the base abstract concept I use in all my work. I do this to demonstrate the way all of us can interact with each other as we traverse through the friction of life. The lyrical design, color, or flow of the way humans are constructed at a cellular level is reflected with these organic shapes and vibrant colors. Each person is engineered the same way and turns out unique. We are all different shapes, sizes, and colors. The variety of shapes and colors I use in my work reflect those differences abstractly in each harmonious piece. The content of all my art reaches out with splashes of paint and lines of communication to all. The color choices are fun, uplifting, with an excited feeling of joy and love. When people are happy they gush with jubilant emotions and conversations. I abstractly depict those emotions, ideas, and interactions in my art.
In my personal work it is introspective contemplation that designs the objects or icons on the canvas successfully and satisfyingly. The opposite is quite true when I am creating a public piece of art. As important as the isolated contemplation is for my personal art, interacting with a panel of people to realize a public piece of art in a specific space is key. I enjoy the entire process of planning out art that has meaning for a town, city, corporation, or school.
I purposely use abstract shapes and vibrant colors so different individuals of all backgrounds can enjoy the work. The art allows people to create their own dialog with the piece, which stimulates intellectual activity.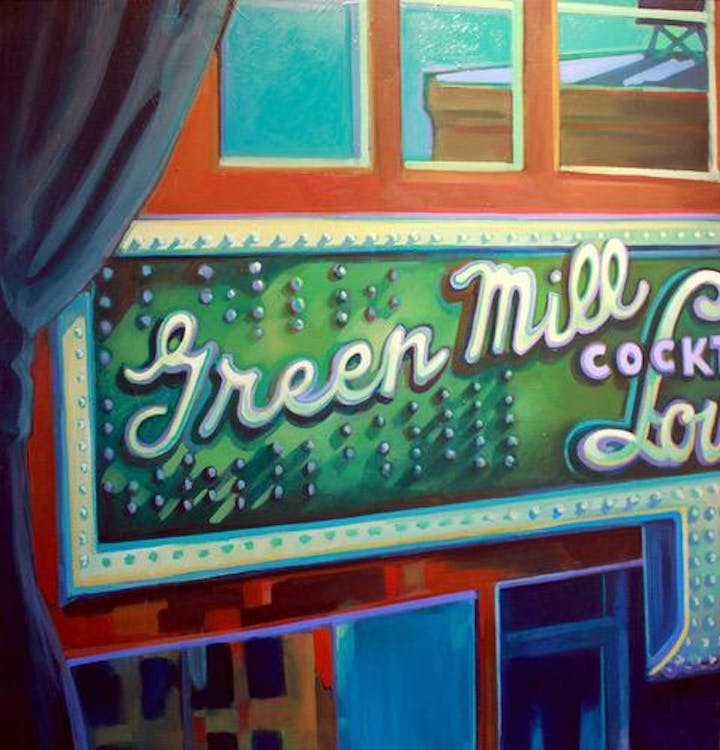 GITLIT FEATURED ARTIST: JASON WATTS
Jason Watts' work could only have evolved out of an intimate love and understanding of Americana. With a stylized realism, his work celebrates color and pattern with an emphasis on graphic compositions. Residing and working in Chicago as a studio painter and designer, he has recently turned his attention to larger exterior mural commissions and art installations. His recent successes include a mural commission for Lincoln Square in Chicago, a new mural for the Des Plaines History Center, a community mural for a West Loop development, and a large 2 sided mural for the city of Suwanee, Georgia. His studio paintings are part of many private and corporate collections.
"We see symbols, logos and icons everyday as part of daily life; from advertising to bar and club signage and to the brands that art steeped in local tradition. I like to think of my paintings as a mashup of the iconography, symbols and local references that are part of our past and present."