Location
1871
222 Merchandise Mart Plaza
Suite 1212
Chicago , IL 60654
Description
Join us at 1871 to hear pitches from twelve international startups who are visiting the US as part of the
GIST Entrepreneurship Journey, led by the U.S. Department of State and CRDF Global.

Agenda:
5:00-5:15 Registration
5:15-5:30 Welcome Address
- Ovidiu Bujorean, Senior Manager, Entrepreneurship & Innovation, CRDF Global
- Jonathan Margolis, Deputy Assistant Secretary for Science, Space, and Health, U.S. Department of State
- Howard A. Tullman, CEO, 1871
5:30-6:00 Keynote (Governor Pat Quinn is an invited guest of this event)
6:00-6:45 Panel Discussion on Positioning for Growth: Tech Startups from Emerging Markets
- Alex Muriu, Chief Geek and Co-Founder, Farmspace Africa
- Natali Ardianto, CTO and Co-Founder, Tiket.com
- Nermin Sa'd, CEO and Co-Founder, Handasiyet.net
6:45-7:15 Startup Pitches: The 12 entrepreneurs will each pitch for 2 minutes
7:15-8:00 Reception & Startup Showcase
During the networking reception 12 entrepreneurs showcase their products and answer questions from investors, seasoned entrepreneurs and other distinguished guests.
About Global Innovation through Science and Technology (GIST):
The GIST Initiative builds entrepreneurial ecosystems in 54 countries across the Middle East, Turkey,
Asia, and Africa by identifying, coaching and funding the most promising science and technology entrepreneurs through its flagship competitions, startup acceleration services, online social media platform and interactive mentorship programs. The GIST Initiative is a partnership led by the US Department of State and CRDF Global.

About the GIST Entrepreneurship Journey
12 of the most promising startups have competitively selected to visit entrepreneurship and innovation hubs in the U.S., specifically in Chicago, IL, and Washington, D.C., during the GIST Entrepreneurship Journey. During their two week visit, they will receive leadership and practical training and mentorship that is tailored to their startup. They will also get media exposure and opportunities to network with industry leaders, potential partners, and investors. Entrepreneurs also will have the opportunity to learn about American innovation and entrepreneurship ecosystems.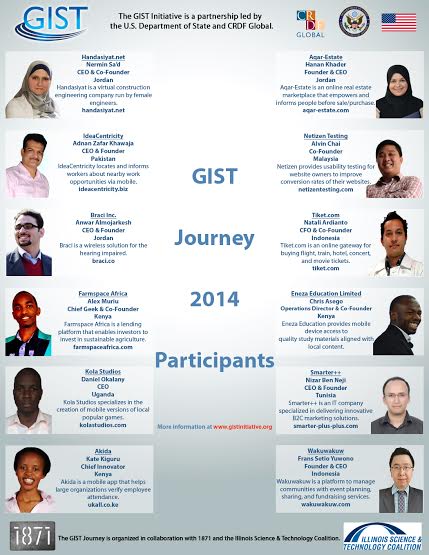 This Demo Day is sponsored by Barnes & Thornburg: