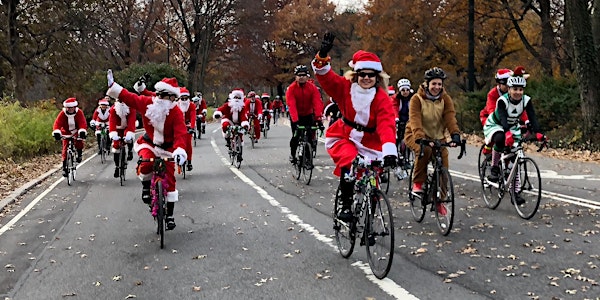 Giro di Santa
Tis' the season!! Join Empire Tri Club for the 13th Annual Giro di Santa, benefitting the Challenged Athletes Foundation!
When and where
Location
Central Park South And 7 Ave 180 Central Park South New York, NY 10018
Refund Policy
Contact the organizer to request a refund.
Eventbrite's fee is nonrefundable.
About this event
Tis' the season!! Combine the holidays with biking, cookies, hot cocoa and friends and what do you get? The most festive ride of the year! Dust off your bike, pump up your tires, and decorate it with tinsil, lights and bows. The Giro di Santa is just a few weeks away - a ride you won't want to miss! Please join us as we ride through the streets of New York, spreading holiday cheer, all while supporting the Challenged Athletes Foundation.
When: Sunday, December 4, 2022
Time: 9:30 am for photos. (You don't want to miss these!) The ride will start promptly at 10am.
Location: Meet at 7th Ave and Central Park South
Route: View Map on Strava https://www.strava.com/routes/22859676 *Route subject to change!
Attire: Every rider is encouraged to dress in a full SANTA SUIT! (we go ALL OUT- not just a hat, not something that sort of resembles Santa, but a full, head-to-toe Santa costume). All faiths welcome- so feel free to modify your Santa suit! Purchase a suit online, or find a retailer near you like New York Costumes or Ricky's. (select a shipping option that ensures it arrives in time!)
Santa Clause for a Cause:
For the 13th year in a row, all proceeds from this ride will go directly to the Challenged Athletes Foundation. Donations will help change a life by providing empowering adaptive equipment, encouragement from a fellow athlete or the funds to make training and travel possible – so a challenged athlete can participate in life-affirming sports.
Donate: We suggest a donation of $20 to participate in the ride, but will accept any amount greater or smaller that you are able to give. Please consider making a donation even if you are unable to attend the ride. Our goal is to raise $1000 at this event so please feel free to share with family & friends.
Ways to donate:
- Purchase a ticket on Facebook through Eventbrite
- Venmo: @Alison-kreideweis and include 2022 Giro di Santa in the notes
- Cash: bring to the event
Additional Details: This is a fun, leisure, holiday ride and we aim to stick together. If enough riders are present, we may split into a few pace groups if needed. While our goal is to stay together and ride as a group, please know the route and understand that the distance covered is approximately 20-30 miles. Not sure if you're up for the distance? Join us at the start of the ride to take pictures and send us off, or plan to watch us somewhere along the route!
This will be the most fun ride of the year, so come with lots of warm clothes and holiday cheer!
Some basic Do's and Don't's for the ride:
Do obey all rules of the road
Do wear a helmet
Do wear a full Santa costume (no, not just a hat)
Do bring water / sports drink to stay hydrated
Do dress up your bike with festive decorations
Do invite your friends to ride with us, or meet us on the course to take pictures and enjoy the fun
Do remember to bring a flat repair kit (even Santa's get flats sometimes!)
Do secure a front and rear light on your bike for safety
Do consider making a donation to CAF even if you can't attend the ride
Do consider making a larger contribution to the Challenged Athletes Foundation
Don't ride recklessly or disregard laws just because you're dressed up and having fun
Don't forget to DRESS WARM and dress in layers! Winter cycling gear, hats, gloves, etc. are strongly encouraged!
Don't forget to bring money and ID
Don't consume alcohol or drugs before or during the ride
Don't miss this ride! It will be the most fun ride of the year!
Please note, that every rider is responsible for his/her own safety. The Empire Tri Club and CAF are not responsible for any one who chooses to participate in the ride. Please note this is NOT a CAF-sponsored event, and this ride does not have SAG support, closed roads or police escorts. You MUST be able to handle the terrain, pace and distance without support. It is simply a fun ride that is raising money for CAF.
We ask that all riders follow safety protols to reduce the spread of COVID19, including wearing masks and social distancing!