Description
ONLINE TICKET SALES HAVE ENDED
(We're at Gramercy Theatre getting ready!)
But still join us for the hottest Friday night event of Internet Week!
You can purchase tickets at the door for $55 (GA) /$80 (VIP)
100% donated to She's the First!
VIP: Arrive at 7pm
General Admission: Doors Open at 8pm; Show Begins Promptly at 8:15pm
A ROCKSTAR HOST COMMITTEE
Robin Albin • Sloane Berrent • Nitika Chopra • Jerry Chu • Blair Cobb • David-Michel Davies • David Wilkenfeld • Karen Karpowich • Susan McPherson • Denise Restauri • Kane Sarhan • Nora Schultz • Susan Slocum
INVITES YOU TO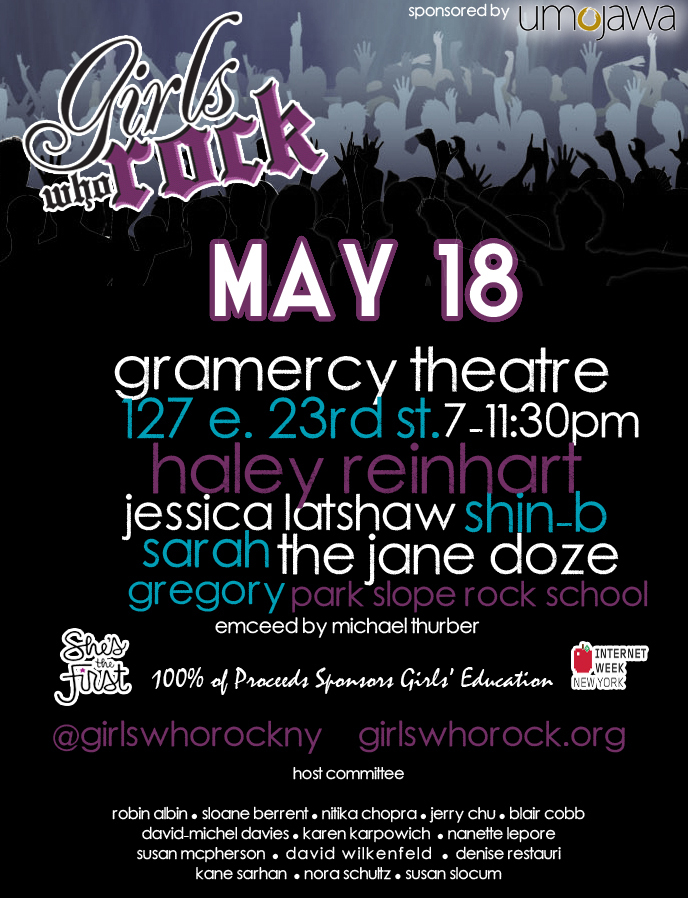 On May 18, GIRLS WHO ROCK Will Make the Largest Social Good Impact During Internet Week New York
The third annual concert will donate 100% of proceeds to sponsor girls' education in India with non-profit She's the First , while empowering local youth
GIRLS WHO ROCK, a star-studded concert benefiting educational non-profit She's the First and its partner school in India, Shanti Bhavan Children's Project, returns to Internet Week New York on Friday, May 18, at the Gramercy Theatre. Tickets are now available, starting at $50, athttp://gwr2012.eventbrite.com.
"We're honored to have partners who are as passionate and talented as the organizers of GIRLS WHO ROCK, and Internet Week wouldn't be the same without them," said Susan Slocum, Chief Revenue Officer of Internet Week NY/The Webby Awards.
GIRLS WHO ROCK features all-volunteer performances by American Idol Season 10 finalist Haley Reinhart (Interscope Records); Sarah Gregory, of Brooklyn's Sarah and the Stanleys; Jessica Latshaw, who soared to fame after a video of her performing on the subway went viral; Shin-B, a hip-hop artist who made the world's first music video with QR codes within the storyline[1] ; and mash-up artists The Jane Doze, along with emcee Michael Thurber[2] . The evening will feature a special performance by girls at the Park Slope Rock School; under Thurber's guidance, they composed and recorded an original song dedicated to their peers at Shanti Bhavan.
The concert begins at 8pm and is preceded at 7pm by red carpet interviews with the talent, hosted by actress and social entrepreneur Monique Coleman, on GIRLS WHO ROCK's UStream.tv page. Stay connected to GIRLS WHO ROCK via Twitter @GirlsWhoRockNY (named second most influential Twitter handle of Internet Week 2011) and on girlswhorock.org.
Special thanks to partners, sponsors and in-kind donors, including Eventbrite for a photo booth station, Livenation, Gramercy Theatre, Jetblue, Hotel Yotel, Carlton Hotel, Baluchi's Indian restaurant, Alize, the StyleEast Group for hair & makeup, and Popchips.


PERFORMERS
Haley Reinhart
Sarah Gregory
Jessica Latshaw
The Jane Doze
Shin-B
Emceed by Michael T
Park Slope Rock School


REFUNDS/CANCELLATIONS
Cancellations will be available through May 1, 2012 by contacting us and are subject to a $25 cancellation fee. After May 1, refunds will no longer be available.
PRESENTING SPONSOR



PHOTO BOOTH BY

Click here for FEATURED & SUPPORTING PARTNERS
Like to collaborate with us? Send us an email at hello@girlswhorock.org and we will make it happen!