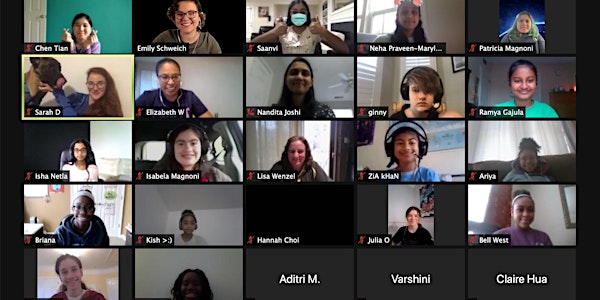 Girls Who Code of Howard County Spring 2021—Middle School
Girls Who Code is a national nonprofit organization aimed at closing the gender gap in technology.
About this event
Girls Who Code is a national nonprofit organization aimed at closing the gender gap in technology. This out-of-school program teaches girls teamwork, time management, communication skills, and confidence through computer science. Our club provides activities that support sisterhood along with structured curriculum to introduce and expose girls to the fundamental concepts of programming.
Eligibility: Girls Who Code is open by enrollment only to all girls and nonbinary students in grades 6–8. No experience necessary. Students will need access to an email address to participate. Parents/guardians, if your student does not have an email address, please help them create one or gain access to one before registering for the program.
Cost: Our club is FREE. All instruction, materials, and curriculum are generously provided by Girls Who Code. Donations to our club's sponsoring nonprofit, Tech Changers, are encouraged and appreciated to cover the cost of computing equipment, insurance, and activities. If you are interested in volunteering, please indicate your interest on the form below.
Schedule: We meet weekly on Sundays via Zoom from 2/21/2021 - 4/18/2021. Scheduled club activities run from 3 to 5 pm. We ask participants to commit to attend at least five of the scheduled meetings, barring unforeseen circumstances.
Instructors: 
Chen Tian has been a volunteer facilitator for Girls Who Code for since Fall 2017 (seven semesters) and a co-lead instructor of the Girls Who Code Middle School program since Fall 2018 (five semesters). She graduated from New York University Leonard N. Stern School of Business with a bachelor's degree in computer science and finance and works at an asset management firm as a quantitative analyst. She has experience in Java, C, .Net C#, C++, JavaScript, SQL, R, Python, MatLab - though recently, more focused on R and Python.
Emily Schweich has been a volunteer facilitator for Girls Who Code for since Fall 2017 (7 semesters) and a co-lead instructor of the Girls Who Code Middle School program since Fall 2018 (5 semesters). She holds a bachelor's degree in broadcast journalism, certificate in women's studies, and minor in vocal performance from the University of Maryland. She works in communications at a trade association in Washington, D.C., and is passionate about cultivating diversity in technology.
Housekeeping: Please review this media consent and release form before completing the registration questions.
For questions, email girlswhocode@techchangers.org
About Tech Changers Inc.: Tech Changers is a 501c(3) focused on creating a diverse community of youth makers, technologists, leaders, and innovators by providing all students, especially underrepresented and socioeconomically challenged groups, with opportunities to discover and foster their passion for STEM and computing. We offer a variety of no- and low-cost workshops for students of all genders and ages. Learn more at techchangers.org.