Description
Inspiring sessions. Incredible speakers. Hands-on fun. One unforgettable day.
Girls to the Moon invites girls age 10-14 and their caregivers to our 4th annual campference! Spend the day learning about everything from puberty and consent to confidence and creativity. Take some time to explore our interactive gallery, where we'll have everything from construction and robotics projects to a nail art bar.
****Here's a sampling of the sessions we're cooking up for the 2018 Campference. Complete lineup coming soon at GirlsToTheMoon.com!************


Failure Festival
50% of girls feel paralyzed by the fear of failure during puberty. That means they're opting out of key growth opportunities, like taking on challenges and trying new things. In this opening session, we'll celebrate failure instead of fear it, with a "failure festival" that turns the F-word into a mark of leadership, innovation, and risk-taking in pushing the boundaries of what is possible. Get ready to celebrate failure!
Bo$$ with Money
Smart girls know and understand the value of money, and how to manage it. This session will focus on some money management basics – spending, saving and investing. Girls will learn how to work with their own money, and the money they're going to have when they're out of school.
Different is the New Normal
"Am I normal?" It's a question we're constantly all asking ourselves, but why? No one knows what "normal" even looks like, and what makes you different is most likely to be what makes you great! In this session, we'll hear from a variety of self-proclaimed "weirdos" and talk about strategies for owning your uniqueness and celebrating it in others.
Speak Up: How Girls' Voices Can Change the World
OK, yes, you're too young to vote – but girls are FAR from powerless. Whether you're into the environment, animals, social justice, politics, or all of the above, this session will help girls channel their passions into action to help make our communities and world a better place.
Tiny Period Party
It's a menstruation celebration! Get all your questions answered as our pediatrician talks about the practical details of dealing with your period, and then participate in some fun and silly tampon and pad arts and crafts.
Calming Coping Skills for Big Feelings
We face a lot as girls and women and sometimes life can feel really tough. This session is going to be a safe place for us to talk about normal feelings like anxiety and anger and what we can do when we start to feel overwhelmed. Learn tips on how to handle stress, anxiety, depression and other things that can leave us feeling sad. We all need to practice self care and this session will guide us in the best ways to focus on us!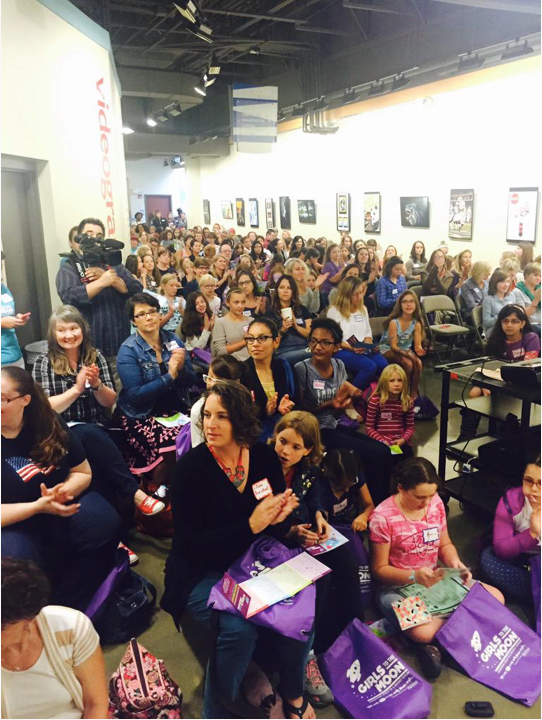 What your ticket gets you:
• A packed day of fun, learning and inspiration
• An all-access pass to all our hands-on gallery of exhibits and activities
• Box lunch
• GTTM backpack and goodies
• Discounted price on future GTTM events
Visit our website to see video and more photos from previous events.
• Nossi College of Art is wheelchair accessible and ADA compliant
• Public transportation available via the 36x bus that runs from downtown Nashville to Madison.
---
Thank you to our 2018 sponsors! Learn more about sponsoring our events.