Description
Tickets Go On Sale Sunday, Feb. 1st 2015
Girls to Pearls" Cocktail Soiree is dedicated to raise funds to benefit the charitable organization, Women of Integrity Inc. (WOI Inc) 5th Annual Prom Dress Drive for young girls in the Nassau County community.
The mission of Women of Integrity Inc. (www.womenofintegrityinc.com) is to support and empower women of all ages and ethnicities while fostering the confidence necessary to accomplish their goals, dreams and aspirations for the future.
Many young girls today lack positive role models. Most are left to believe that Reality TV is just that, "Reality". It is essential that that we as women recreate that image in our girls mind, by starting with encouraging and supporting one another in a positive light.
This event will include an various Hors d' oeuvres, Desserts, Unlimited Red & White Wine networking, raffles and entertainment!...Bring your Girls and Guys and lets ENJOI!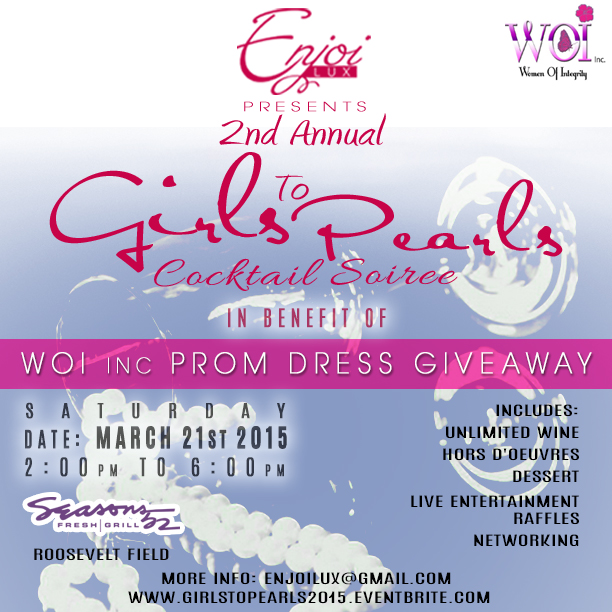 To reserve seating for a party of 8 or more please contact Enjoi for reservations(EnjoiLux@gmail.com)
We will also be accepting donations of newly or gently worn prom dresses, cocktail dresses, bridesmaid dresses, evening gowns, shoes & accessories.
*All dresses must be cleaned prior to donating.
We hope to see you there, bring your business cards and lets' come together as positive men & women to support and encourage one another while benefiting a wonderful cause.
This is a 21yrs+ event.
Tickets will NOT be sold at the door.
Vendors and Gift Bag Sponsor Inquiry. Please contact Enjoilux@gmail.com
Like us on Facebook : Enjoi Lux
Follow us on Instagram & Twitter: @Enjoilux
Like us on Facebook: Women Of Integrity Inc.
Follow us on Instagram & Facebook: @Woiinc
Visit www.womenofintegrityinc.com for drop off sites.
Organizer of Girls to Pearls Cocktail Soiree