Girls Talk Math - Imposter Syndrome Workshop with Blake O'Neal Turner and Kristyn Lue
About this event
Blake O'Neal Turner and Kristyn Lue will guide attendees in learning about imposter syndrome and the systemic biases intrinsic to educational settings in Science, Technology, Engineering, and Mathematics (STEM).
Impostered by the System — Blake O'Neal Turner and Kristyn Lue
Imposter syndrome — also known as imposter phenomenon — originated as a term in the 1970s to describe the phenomenon that accomplished women often felt: that they were only successful due to luck, and did not belong in the spaces they occupied. Since then, it has become a more widespread term that has also commonly characterized the experiences of women (and in particular, women of Color) in the Science, Technology, Engineering, and Mathematics (STEM) fields. While there has been an increased focus on helping women — and particularly, women of Color, who face a "double bind" — combat imposter syndrome in the STEM fields, much of this work focuses on what individuals can do to gain confidence and convince themselves that they do belong. Too often, what is missing from these discussions is an explicit understanding and critique of the structural norms, expectations, and culture of the STEM fields, which center whiteness. This is particularly true in the field of mathematics, which is a gateway for many other STEM fields. In this talk, we will deconstruct some of the ways in which our assumptions about mathematics and "math people'' center whiteness and continue to perpetuate norms and expectations that exclude women of Color — who are not only facing imposter syndrome but are being purposefully impostered by the system. We will then share strategies for managing and navigating these spaces that will be helpful for students and educators alike.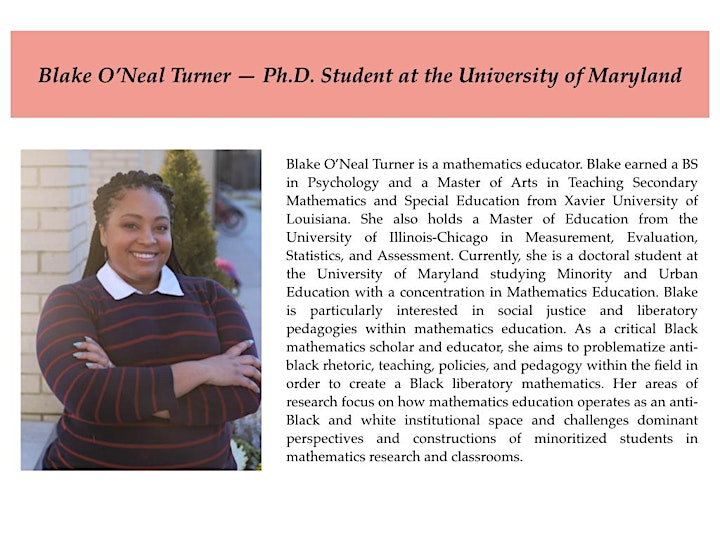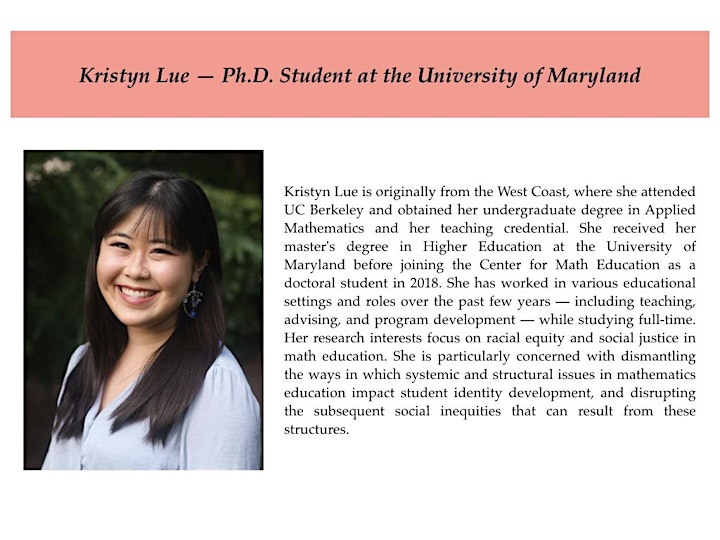 About Girls Talk Math
Girls Talk Math is a free summer camp for female and gender non-conforming rising 9th to 12th graders focused on mathematics and media. Founded in 2016 at the University of North Carolina at Chapel Hill by Francesca Bernardi and Katrina Morgan, Girls Talk Math now has three sister camps at the University of Maryland, at the University of Minnesota, and at the University of California, Los Angeles. In 2020 a reimagined online version of camp is underway with students from all Girls Talk Math locations.
At our in-person camps, students work in groups to tackle challenging mathematics topics and research the life and work of scientists from underrepresented groups. Campers write blog posts about the mathematics they learn and write and record podcasts about the scientist they research. Visit girlstalkmath.com to learn more about our program and explore campers-produced media on our blog, iTunes, and SoundCloud.