Description
---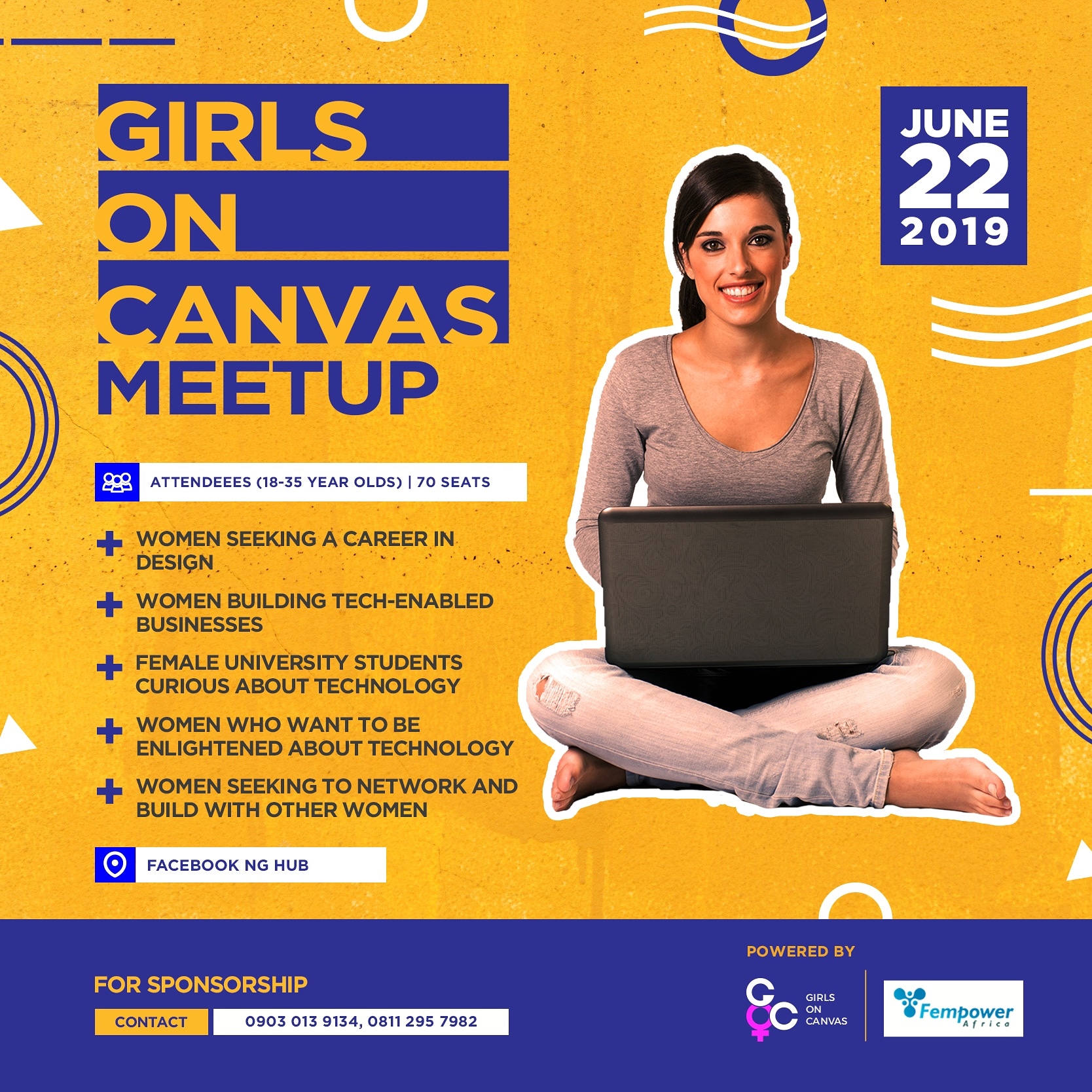 Girls on Canvas Event.
Organisers: Fempower Africa and Girls on Canvas
The Girls on Canvas Event is set to tackle the diversity problem in Design. We want to explore and have conversations about how we, women can thrive in design, creative arts, engineering and technology roles. This event features: Design Thinking Session, Fireside chat with top designers, and hands on Design Session. It features combinations of gritty and authentic conversations led by some of the most revered and talented African women in technology and business.
Female Design influencers in Nigeria get to share tales of their journey to the top, give career advice, and sage advice to the next generation of the female designers.
Event Purpose
Establish a Concrete Understanding of Design. We want to focus on empowering women to first understand the concept of design.
Help them learn how to use Technology to express their creativity: Women will learn the tools that they can use to express themselves creatively through technology.
Use Design to tackle Social Problems: Design is first Problem Solving, before aesthetics. It is also vital in improving environmental, social and economic performance.
Promote Diversity in the Creative and Technology Space in Africa: Africa is now the global pool of technology talents. We want to promote gender diversity in the creative and technology space. We know that equality, diversity in the space will help us build better products, create more inclusive user interfaces, product experiences which both sexes can relate to.
Economic Empowerment of Women: We are also creating more opportunities for capacity building for women in Nigeria. When we invest in women, we all benefit.
Who Are We?
Fempower Africa is a social enterprise that seeks to train, teach and equip women in Africa with technology skills, leadership skills, and entrepreneurship skills.
Girls on Canvas is a social enterprise that seeks to empower women in Arts, Design and Arichtecture.
Target Attendees (18 - 35 years old)- 70 women
Women seeking a career in design

Women building tech-enabled businesses

Female University Students curious about Technology

Women who want to be enlightened about Technology

Women seeking to network and build with other women
Who our sponsors are?
Organizations who want to build capacity in the women's community

Companies targeting women as a core demographic

Companies seeking to employ experienced women in 9.
Time: 10am to 4pm
Date: June 22nd, 2019
Where Facebook NG HUb, Yaba, Lagos Nigeria.
Participation Fee: Free
For sponsorship and Partnership details call, Sandra : +2349030139134, sandyajaja@gmail.com, Hannah: +2348148628852, girlsoncanvas@gmail.com