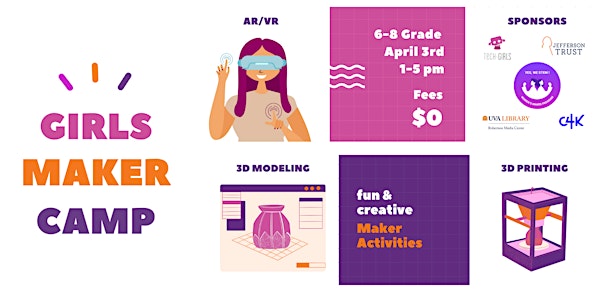 Girls Maker Camp
Join us for a half-day of fun and creative activities to learn about cutting edge makerspace technologies
When and where
Location
Clemons Library 164 McCormick Road Charlottesville, VA 22903
About this event
Participants will get hands-on with makerspace technologies including 3D Modeling, 3D Printing, Augmented Reality and Virtual Reality and see how they are used every day to make a difference in people's lives. The maker camp sessions will be run by UVA students who are part of the Women's Maker Program Residency. This camp is open to participants in 6th through 8th grade who identify as female or non-binary and is free of charge!
Camp objectives:
Research indicates that girls begin to lose confidence in their abilities and disconnect from STEM disciplines during the middle school years (see more information here). The Women's Maker Program (a UVA library makerspace program) is partnering local non-profits Tech-Girls and C4K to engage with local middle school girls at this critical age to participate in a half-day maker camp designed and implemented by UVA Women's Maker Program Residents and staff. We hope the camp will help educate middle school girls about gender equality issues in STEM, increase their interest and confidence in learning STEM, as well as bridge their experience gap in makerspace technologies that are widely used in STEM subjects.
More about the organizers and sponsors:
Special notes:
The event will be in the Robertson Media Center, Third Floor of Clemons Library
One parent/guardian may choose to accompany their child, but that is not required.
Masks will need to be worn in accordance with UVA policy.
Please DO NOT be a "no show". If your plans change, either cancel your registration or contact Kim (kim@tech-girls.org).