Description
FLY Math Club will host the Girls Love Math 2 Summit. Girls will participate in team-building activities, a career exploration fair, and hands-on STEM learning experiences. Parents will learn strategies to help their child foster a growth mindset, bridge home and school, and advocate for their learning needs.
Who: Girls in grades 5-8 and one parent of each girl are eligible to attend the summit. Registration is open on a first-come, first serve basis until we reach capacity.
When: Saturday, October 21, 2017 from 9:30 a.m. to 2:15 p.m. Registration starts at 9:30 a.m. and the summit will begin promptly at 10:00 a.m.
Where: 2225 Tyvola Rd, Charlotte, NC 28210 (Tyvola Senior Recreation Center)
Why: Girls ages 10-13 need a supportive and collaborative learning environment where they can build their math confidence and explore various career pathways from female STEM professionals.
Are you curious about the summit schedule? View our agenda below.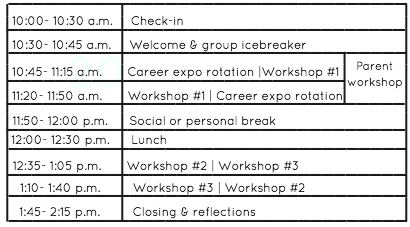 Frequently Asked Summit Questions:
Can parents attend the event?
We highly encourage one parent/guardian to stay during the parent workshop. In fact, it's designed specifically for you. After the opening ceremony, parents will separate from their daughters to attend the workshop. After the workshop ends, parents are encouraged to leave and return promptly at 2:15 p.m. for dismissal.
Can I bring other children that are not girls in grades 5-8?
Unfortunately, we are unable to accommodate additional children at the summit. Our space is limited to registered guests. Everyone entering the summit will need a ticket.
What is the attire?
We suggest girls wear casual, comfortable attire. Each registered girl will receive a "Girls Love Math 2" t-shirt to wear during the summit at check in.
Will I receive a reminder about the summit?
Of course! Please provide your best contact information when you register. We will share the final event schedule, sessions outcomes, and additional details about the event at least 48 hours in advance. For questions about your registration, visit www.flymathclub.com/contactus
How can I support the Girls Love Math 2 Summit?
We are searching for volunteers to help manage the event. Visit our volunteer page to learn more about available roles. We are also grateful to accept in-kind contributions.

Please note the following:
Permission and emergency medical attention

By registering, my student/child has permission to attend and participate in the Girls Love Math 2 Summit on Saturday, October 21, 2017. I agree not to hold Girls Love Math 2 Summit staff or its volunteers liable for any illness, injury, or accident, which may occur during the summit. As a result of this, I authorize Girls Love Math 2 Summit staff/volunteers to obtain appropriate medical attention for the registered student or myself if I'm unavailable for contact via telephone number (s) listed. Furthermore, I permit myself, and the registered student/child to appear in video and photography from the Girls Love Math 2 Summit for the website, print, or public-relations purposes.