Description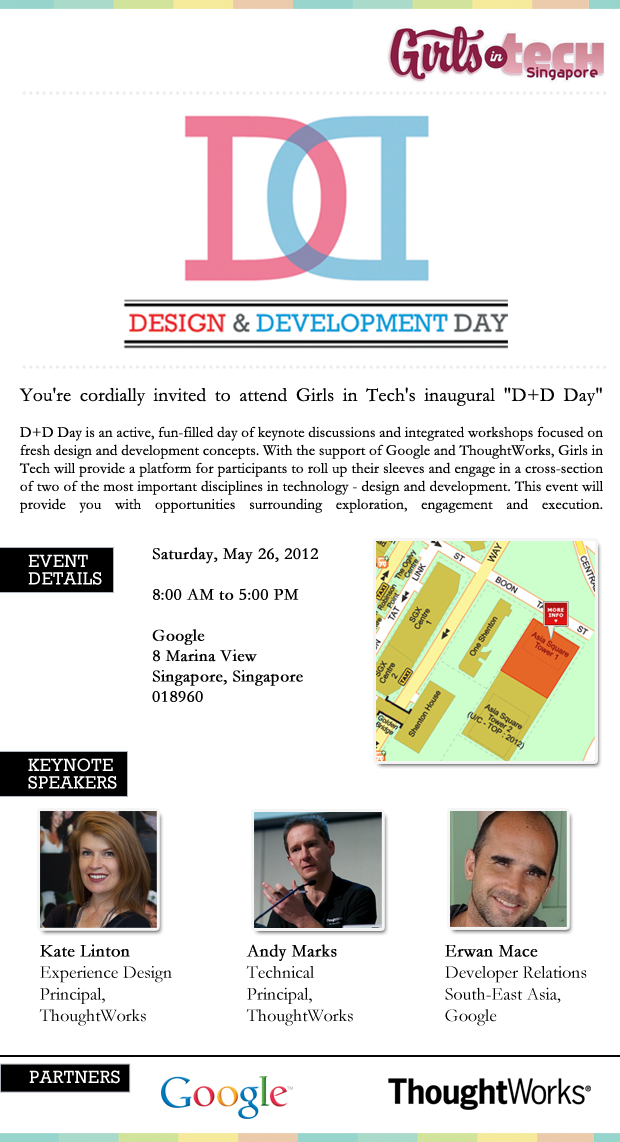 You're cordially invited to attend Girls in Tech's inaugural "D+D Day"
D+D Day is an active, fun-filled day of keynote discussions and integrated workshops focused on fresh design and development concepts. With the support of Google and ThoughtWorks, Girls in Tech will provide a platform for participants to roll up their sleeves and engage in a cross-section of two of the most important disciplines in technology - design and development. This event will provide you with opportunities surrounding exploration, engagement and execution.
*This event is open to all (women as well as men)

[Keynotes]
The many types of developer... which are you?: Software development is a profession that is almost infinite in scope, given the increasing presence of software in all aspects of society and the rampant pace of change in technology. Because of this, software developers come in all shapes and forms. As a software developer and consultant with over 10 years experience of working with development teams in a large variety of organisations, Andy has met many of the shapes and forms of software developer. In this presentation, Andy will describe some of these types of developer and explain why this is important if you're considering software development as a career.
"Agile Experience Design: A Team Sport": As Agile development practices become mainstream, the role of the designer is changing. No longer the preserve of cloistered design studios, designers are collaborating with customers, clients, developers and product managers to produce new and innovative experiences. Through collaboration and testing with customers, we are producing better products and delivering them faster. Part art/part science and heavily iterative, Agile Experience Design can mean the difference between an iPod and a Microsoft Zune. Kate will present an overview of Agile Experience Design through case studies and personal stories or her journey from traditional design practices to Agile Experience Design.
"An Overview of Google's Ecosystem": A discussion covering the various platforms, tools, languages and product API, which Google offers developers to build successful applications, services and businesses.
Including:
Android applications

Google App Engine (our main cloud computing platform)

Html5 / Javascript web applications
[Workshops]
"Software development in the small, the medium and the large": Recent technology emphasis on cloud computing and virtualisation have significantly expanded the definition of what constitutes "development" and where the responsibility of a traditional software developer stops. Using a variety of programming languages and environments, Andy will lead focussed tutorials showing how widely applicable the role of a developer is, from building small web-based widgets, fully fledged applications and entire environments of running software.
"Agile Experience Design: Game On!": Following on from the morning's keynote, Kate will take participants through a series of interactive exercises to help people better understand some of the key techniques of the role of Experience Design within an Agile context. Bring only your laptop and desire to create - all other materials will be provided.
"A Deep Dive Into Google Apps": During this hands-on workshop, Google's developer relations guru, will take a deep dive into the development and evolution of the following platforms:
Android applications

Google App Engine (our main cloud computing platform)

Html5 / Javascript web applications

What you will need to bring with you:
1. A laptop
2. A smile
Google is hosting a delicious breakfast, bento lunch as well as snacks during break time.
[Agenda]
Time
Activity
Lead
8:00:00
Check-in & breakfast
8:45:00
Introduction
Adriana/Sucheta
9:00:00
ThoughtWorks Design Keynote
Kate
10:00:00
Google Keynote
Erwan
10:30:00
ThoughtWorks Development Keynote
Andy
11:00:00
Icebreaker
Adriana/Sucheta
Noon
Lunch & Networking
1:00:00
Design Workshop // Development Workshop Track # 1 & Track #2

Kate/Erwan/Andy
1:45:00
Break
2:00:00
Design Workshop // Development Workshop Track #1 & Track #2

Kate/Erwan/Andy
4:00:00
Presentations
All
5:00:00
Closing Comments & Prizes
Adriana/Sucheta




[Keynote speaker bios]

Erwan Mace drives Google's Developer Relations activities in Southeast Asia. Prior to joining Google last November, Erwan shared his career between Europe and Asia, holding senior technical leadership positions in both big organisations (Alcatel, Akamai, Vivendi) as well as smaller internet startups (Spray, Soundbuzz). More recently, he started Bitsmedia, a Singapore based company specialising in the development of iOS and Android apps for corporate clients. Erwan holds two Master's degrees in Information Systems Engineering and in Management Sciences.
Kate Linton is and Experience Design Principal at ThoughtWorks. Her design experience stretches back over 22 years and she has experience in visual communications, interaction design, branding, information architecture, customer research and user testing. Kate has worked with a range of clients and industries including financial services, telcos, government, manufacturing and retail.
Since joining ThoughtWorks, Kate has adopted Agile design techniques and is an advocate for Continuous Design practices which encourage continuous measurement and improvement through validation and testing with customers.

Andy Marks is the Technical Principal for ThoughtWorks Singapore, having previously been Market Technical Lead for the Melbourne and Perth offices in ThoughtWorks Australia. Andy has been working at ThoughtWorks since 2002 and has significant experience leading, coaching and working in Agile software development teams. In his role of Principal Consultant at ThoughtWorks, he has been involved in solution delivery, coaching, mentoring teams and advising executive management on implementing agile processes.