| | |
| --- | --- |
| Girls in Tech Phoenix Monthly Mentoring Meetups | |
Event Details
Join us as we kickoff our Girls in Tech PHX one-of-a-kind monthly mentorship event! Come meet like-minded women and tech enthusiasts in a relaxed setting to connect, network, inspire, and gain career-building relationships. This event is targeted to tech professionals, all genders welcome!  
Who should attend: If you are passionate about advancing your career in tech and supporting women, this event is for YOU.
This event is strategically designed to promote mentorship by forming connections with one another that encourage professional and personal growth. Mentorship is not an everyday activity and includes a variety of expertise from industry specific to leadership to workplace politics. It is a support system you can call on when you need help, advice, or a new skill set.
It is hard to advance one's career in tech, but we want to shift that conversation and talk about how we can make it easier. We'll talk about:
- what you can do on any day, in life or at work, to make it easier for you and others
- how to promote positive change
- how to get involved
February Featured Mentor: Carine Dieude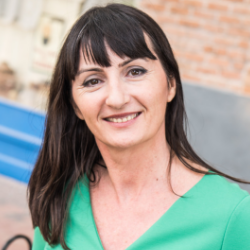 Carine Dieudé is a Partner and Director of Strategy at Altima Business Solutions, an 18-year old startup that funds, advise and support business owners and entrepreneurs from decision-making to execution. Engineer by education, Carine has over 25 years in business strategy, operation and process experience internationally in a wide range of industries. 
Focusing on critical path, commercialization of technologies and growth strategies, Carine Dieudé contributes to startups and small to medium-sized businesses by poking and probing their business model to discover gaps and develop the answers before the mistakes.
Peer Collaborator for the Nelson Mandela Fellowship Program, ASU Venture Devils Mentor, WP Carey School of Business Entrepreneurship Expert Mentor, National Science Foundation SBIR/STTR Grant Reviewer, Carine expanded her support to the community by joining the board of the Phoenix Chapter of Girls in Tech, a global non-profit focused on the engagement, education and empowerment of girls and women who are passionate about technology. She chairs the Mentorship Committee to create a culture of diversity in the Phoenix tech scene.

Schedule of event:
5:30 pm: Registration and networking
6:00 pm: Short interview with influential leader in tech
6:35 pm: Breakout group conversation
7:00 pm: Wrap-up!
Save This Event
When & Where

Keyser
4141 N Scottsdale Rd, AZ
#150
Scottsdale, AZ 85251


Organizer
The Phoenix chapter of Girls in Tech (GIT), a global non-profit focused on the engagement, education, and empowerment of women in technology and entrepreneurship. Our goal is to promote the growth and success of entrepreneurial and innovative women in the technology space. 
Girls in Tech was born out of a need to provide a place for women to cultivate ideas around their careers and business concepts involving technology and entrepreneurship. Girls in Tech offers a variety of initiatives for women and girls to enhance their professional aspirations. Our programs include Catalyst Conference, Lady Pitch Night Competitions, GIT M (Mentorship Program), GIT Hackathons, Bootcamps, XChange, GIT Work, and Global Classroom. 

---