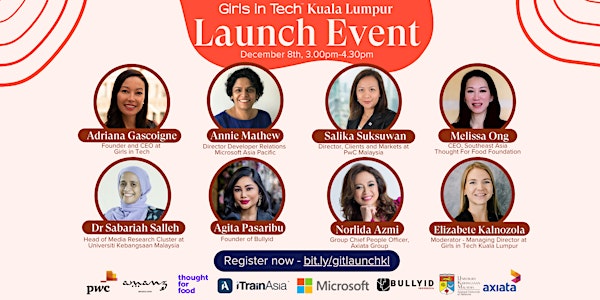 Girls in Tech Kuala Lumpur - Launch Event
Join our Launch Event to learn more about the Girls In Tech organization and its presence in Kuala Lumpur
About this event
We are excited to announce that the Girls In Tech Kuala Lumpur Chapter has officially launched! We would like to invite you to our Launch Event, where you will be able to learn more about the organization and its presence in Kuala Lumpur.
ABOUT GIRLS IN TECH
Founded in 2007 by Adriana Gascoigne, Girls in Tech is a nonprofit organization dedicated to eliminating the gender gap in tech. We have more than 60,000 members in 50+ chapters around the world.
Girls in Tech started with an idea: There is a strong, smart and outspoken girl within all of us. We exist to make sure that girl is heard. Because when every voice, every perspective, every personality is honored and respected, we do better work and live richer lives. At Girls in Tech, we are passionate about inclusivity, because we know that tech today requires people of all skills and backgrounds. Whether you're a data analyst, a creative, a strategist, an entrepreneur or a coder, you are needed.
SCHEDULE
3:00PM - 3:10PM Introduction
3:10PM - 3:15PM Welcoming Remarks: Adriana Gascoigne
3:15PM - 3:30PM The Battle for the Soul of AI: Annie Mathew
3:30PM - 4:15PM Panel Discussion: What does it mean to be a Woman in Tech (Salika Suksuwan, Norlida Azmi, Agita Pasaribu, Dr. Sabariah Salleh, Melissa Ong)
4:15PM - 4:30PM Live Q&A
MEET OUR SPEAKERS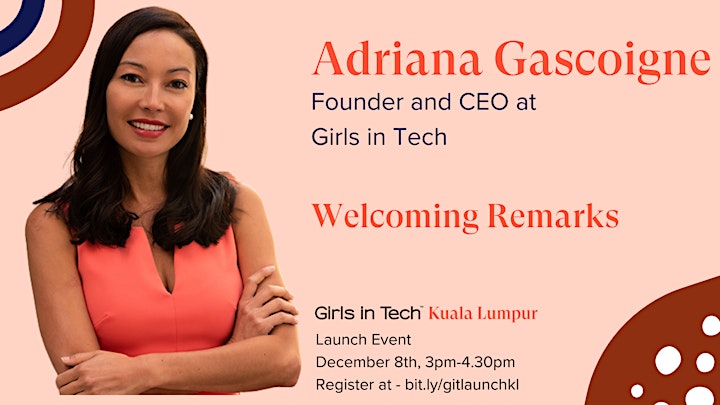 Adriana Gascoigne, Founder and CEO of Girls in Tech
A non-profit organization that has been running and empowering women with regard to technology since 2007. Adriana advises technology start-ups and large corporations in the development of their businesses and in establishing and elaborating their corporate strategies. https://www.linkedin.com/in/adrianagascoigne/
Annie Mathew, Director Developer Relations for Microsoft Asia Pacific
She works with developers to empower them to do more on cloud technologies. Annie enjoys being an active contributor to industry and is passionate about diversity and inclusion. She worked with Forbes Ignite Impact Fellowship for women in Healthcare AI, with HIMSS India as the first woman President. She currently leads Code Without Barriers a Microsoft program to improve diversity in technology industry.
Annie has received Chief Minister's recognition for her work with Kerala's startup ecosystem and was nominated for the Sthree Shakthi award. Annie's an electrical engineer with a post graduation in Management from Indian School of Business. She enjoys reading, travel and more recently K dramas.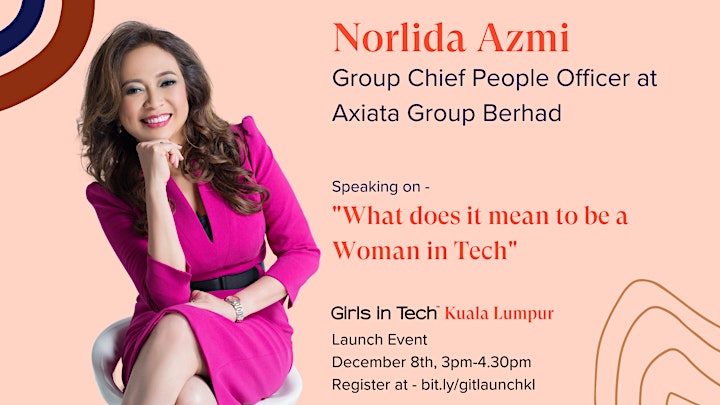 Norlida Azmi, Group Chief People Officer at Axiata Group Berhad
Norlida (Oli) Azmi is currently the Group Chief People Officer of Axiata Group Berhad driving the Group's People Strategy in line with Axiata's vision to become the Next Generation of Digital Champions. She also serves as a Non-Independent Non-Executive Director (Nominee of Axiata Group Berhad) on edotco Group.
After 18 years overseas, in 2014, she returned as Group Chief Human Capital Officer of UEM Group, driving the transformation of Human Capital across the Group. She was also a Board Member of Cement Industries of Malaysia Berhad. In 2018, she then joined HSBC Malaysia and PNB. She has held diverse roles as Business Head, COO, Strategic Planning Head and CHRO in various markets apart from Malaysia, including Singapore, the United Kingdom and the Middle East.
Norlida is a strong advocate of DE&I, digital, agile and total well-being. She actively mentors and coaches young talent and aspiring leaders on various platforms and leads the 30% Club Malaysia Communication and PR Working Group.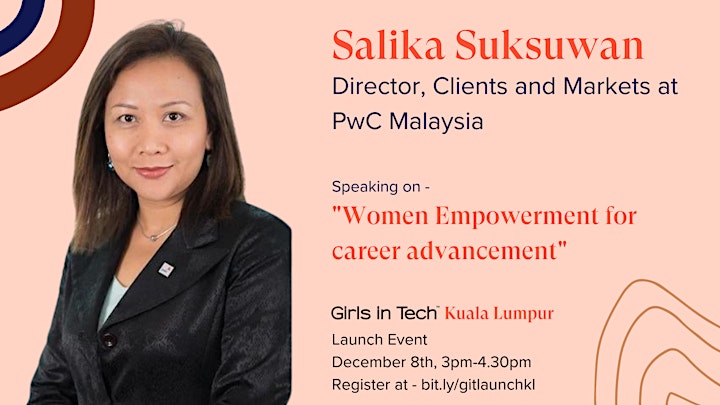 Salika Suksuwan, Director Clients and Markets at PwC Malaysia
Salika currently leads the Business Development and Research team in PwC Malaysia, after spending more than 20 years as a Human Resource professional.
Her passion lies in the areas of developing young talent and advancing women in the workforce. She's been a strong advocate of flexible work arrangements for over a decade, which led to the launch of flex+ programme and its ongoing enhancements in PwC Malaysia. Whilst on secondment to a government agency, she was involved in influencing national policies particularly towards raising women participation rate in the workforce. Among the notable programmes she spearheaded was the Career
Comeback Programme for women returning to work in Malaysia, flexible working arrangements in various sectors and the Women in Leadership mentoring programme. Salika is now challenging herself to adopt a growth mindset to improve on her digital fitness level at work, while learning technology tips from her younger colleagues. When she's not at work, Salika is often seen hiking and running in her neighbourhood. She's also trying to learn Mandarin from her teenage daughter.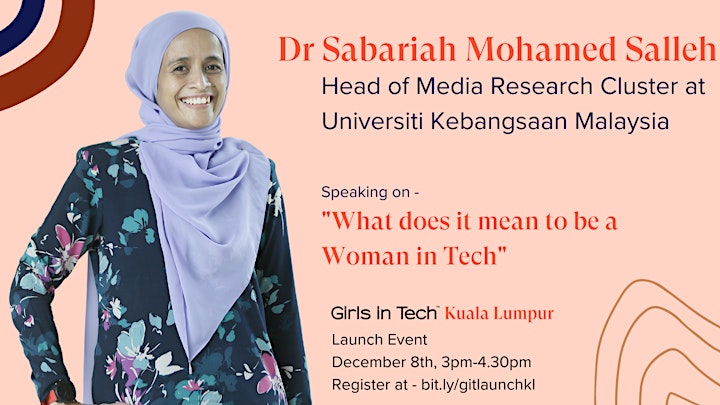 Associate Professor Dr Sabariah Mohamed Salleh is the Head of Media Research Cluster at Universiti Kebangsaan Malaysia.
An expert in media and information literacy, she works with educators to empower them with media and information literacy skill. She is currently a university supervisor with Faq Check Lab, Malaysia's independent fact checking organisation in debunking disinformation and misinformation. She has worked with UNESCO and Google in creating modules and inculcating media and information literacy skills for Malaysians. Previously a journalist with Malaysia's esteemed publication, The New Straits Times, Sabariah now publishes her thoughts in local papers and magazines. Sabariah received her PhD from University of Vienna in the area of Journalism and Communication Science. She enjoys travelling, hiking and is a self confessed foodie.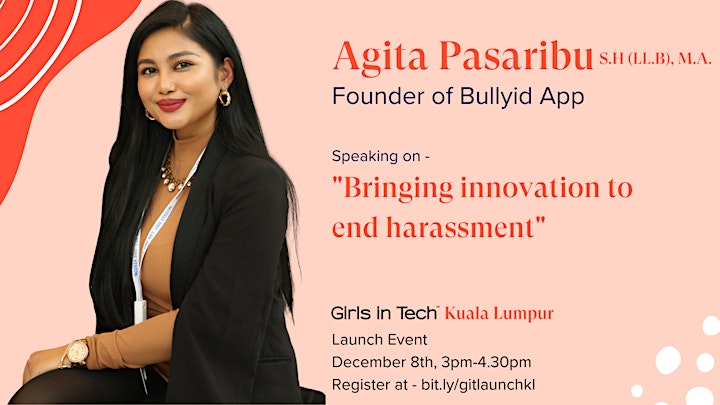 Agita Pasaribu S.H (LL.B), M.A., Founder of Bullyid App
Agita Pasaribu is currently the Founder of Bullyid App, an online platform that integrates Artificial Intelligence with psychologists & lawyers, to provide tele-health and tele-legal services for physical abuse and cyberbullying victims.
Bullyid works to provide online mental health and legal knowledge support for victims of cyberbullying, harassment and domestic violence in Indonesia. The organization dedicates to bring equality and justice accessible for everyone by raising awareness towards mental health and law enforcement. Agita has been advocating for progressive youth-related policies at various diplomatic and international forums to promote the UN Sustainable Development Goals.
Prior to founding Bullyid, Agita has contributed to youth empowerment initiatives both national and internationally for over a decade. She has co-founded Tweet Kuliah, Instilling Learning for Malaysian Unity, led Safer Internet Day 2020 celebrations in 11 countries and Youth IGF Movement (UN IGF recognised global youth initiative) in over 35 countries.
Her biggest interests are utilizing technology to solve deep social issues worldwide and benefiting the most vulnerable in society. Agita contribution and commitment to youth empowerment has been recognized and celebrated globally, she has been advocating to the UN, ITU and WHO on how Artificial Intelligence can be used to detect early symptoms of mental health illness on social media and to reduce cyberbullying cases.
Agita is the AI Ethics & Legal Advisor at the Care Innovation Corporation, expert member at the AI Policy Exchange, as well as part of working group member of WHO SDG 3.4 Global Youth, UN Major Group for Children & Youth and ITU-Indonesia Concern Forum. She is a Fred J. Hansen Fellow, ILive2Lead International Young Women's Alumnae, Southeast Asia Young Leader and Global Strategic Leadership Award 2019 "Social Cause Category" awardee from the AAFT University of Media & Arts and Top 10 of Asia & Starplanet.
Agita shared about "Experiencing Diversity" from her travel journey at TEDxTalk. She received LL.B (Criminal Law) from the University of Indonesia and M.A in International Relations-ASEAN Studies focusing on open data policy, open government partnership, cyberspace in Southeast Asia from University of Malaya.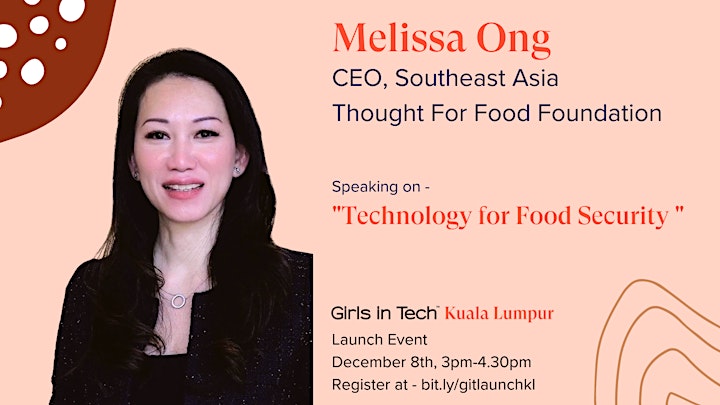 Melissa Ong, CEO, Southeast Asia at Thought For Food Foundation
Melissa has a wealth of over 25 years APAC regional experience in International Trade, Brand Communications, Market Research and Social Strategy. Melissa started her career with HSBC, before moving on to IOI Group, KL Sentral (MRCB), and TNS (Kantar) where she was responsible for multiple portfolios covering 33 countries across Asia Pacific, Latin America, Middle East and Africa. Melissa joined Thought For Food Foundation, a non-for-profit 501c3 world's pioneer and leader in next-gen food systems startup acceleration in Sept 2020. Prior to joining TFF, Melissa was the CEO of Asian Strategy and Leadership Institute (ASLI), an independent, non-partisan think tank governed by Jeffrey Cheah Foundation. Melissa spearheads the TFF Southeast Asia Regional Hub and work closely with young innovators in Malaysia and across SEA to develop locally-relevant solutions that address a wide-range of food and agriculture challenges across all parts of the food chain, from production to distribution through to consumption and waste.TFF operates in 175+ countries and work with 30k+ next generation leaders empowering them to generate and scale breakthrough business ventures that build sustainable, inclusive, and resilient food systems.

https://www.linkedin.com/in/elizabetekalnozola/
PRE-EVENT INFORMATION
Requirements
Please download zoom before the event. A link will be emailed to your Eventbrite email the day of the event.
TICKET INFORMATION
Note: Zoom link is shared via Eventbrite upon ticket purchase.
JOIN US!
Interested in joining our community? Let's join forces! Click this link to become a member.
As a member, you'll have access to in-person and virtual events and workshops designed to help you grow professionally and personally. Plus, find a mentor, build meaningful relationships, and take advantage of our opportunities to find a job that's right for you.